Andrew Wiggins finishes official visits to nation's top programs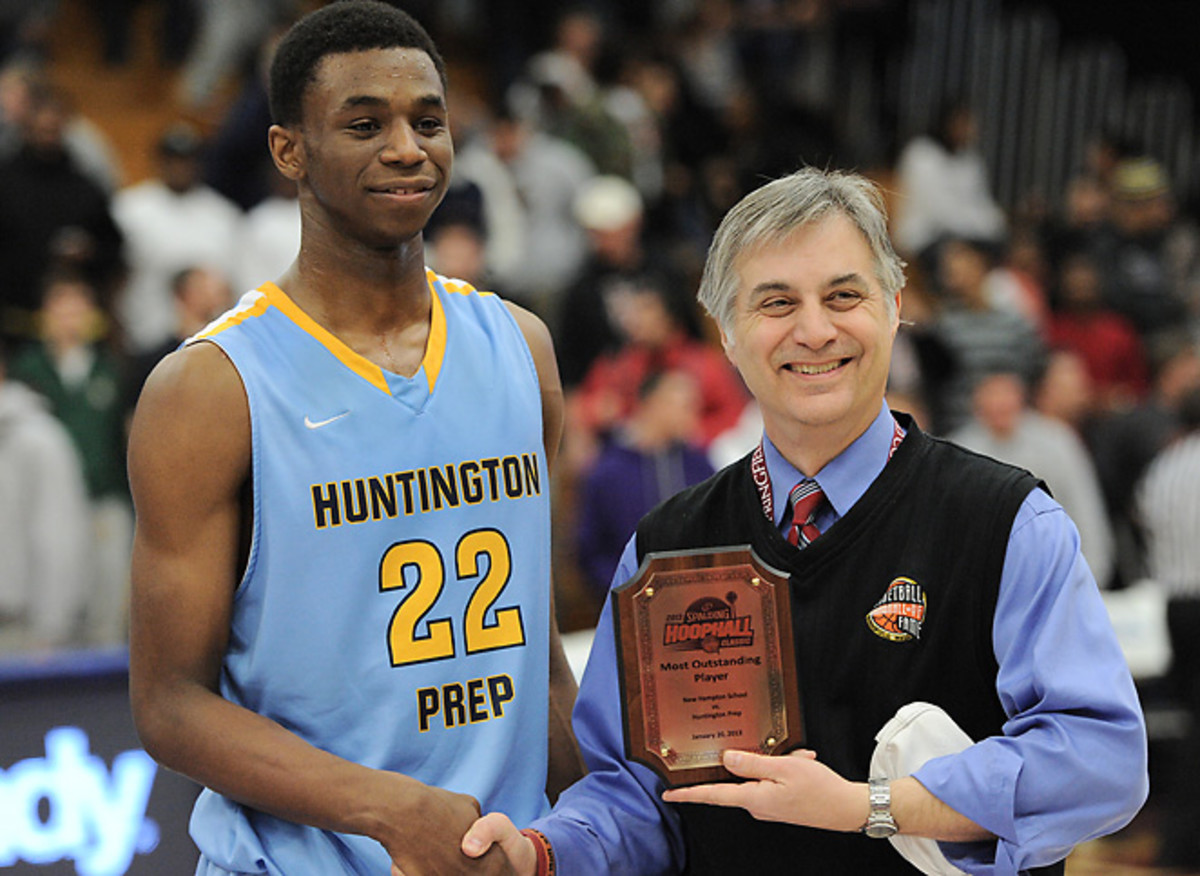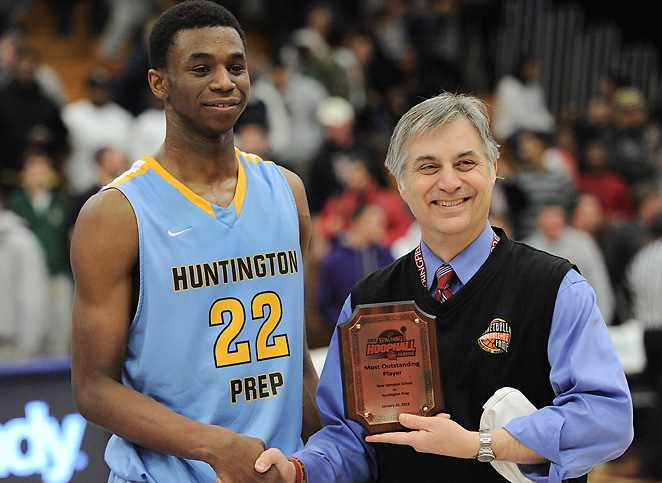 The past few weeks, Andrew Wiggins has been on a visit spree that would make any college hoops fan drool.
After visiting Florida State earlier in the season, the nation's top player in the class of 2013 took trips to Kentucky, Kansas and North Carolina in just over a week and a half.
The 6-foot-7, five-star wing has never been one to seek publicity, so not a lot of information has leaked out about his visits.
However, Wiggins' coach at Huntington (W.V.) Prep broke down his star player's visits and where he stands in the recruiting process.
First up -- or second if you factor in his previous FSU visit -- was Kentucky, where Wiggins saw the Wildcats host Mississippi State.
"He enjoyed the atmosphere at Rupp," Rob Fulford told Rivals.com. "He saw the North Carolina game there last year so he's seen Rupp at its best in that scenario, so he wasn't overly concerned about who they were playing and the crowd."
For Wiggins, the Kentucky visit was more about getting a feel for the people around the program and seeing how the players respond to the coaches.
"He was just trying to get a feel for the coaches outside of a game and in the gym scenario," Fulford said. "He got a chance to watch a game and to watch practice so it was important to see John Calipari interact with his guys. They've had a down year and Cal has been of of their biggest critics. Andrew understands the magnitude of Big Blue Nation and that anything less than a national championship is a disaster in their eyes."
After tripping to Kentucky, Wiggins made it back to Huntington for a few days before heading back out on the road, this time to Lawrence to see what Bill Self and the Jayhawks would offer.
"It was his first trip there and Phog is one of those venues that is a bucket list venue and everybody knows that," Fulford said. "He really enjoyed the atmosphere as far as the interaction he had with the fans and the players."
It seems that it was his time with the players that stood out during his visit to Lawrence.
"He spoke about being able to spend a little more personal time with the players," Fulford said. "I think he enjoyed the atmosphere there, and I'm not saying he enjoyed the atmosphere there more than others, but he talked about it more than the others."
Bossi: Justise Winslow, Rysheed Jordan highlight weekend visits
Finally, Wiggins spent part of Saturday and Sunday in Chapel Hill as Roy Williams and the Tar Heels hosted Duke.
"He didn't say a whole lot and we were kind of talking about some other things when I picked him up from the airport, so we'll talk more about it (Monday)," Fulford said. "He enjoyed it and obviously it's the Duke game, so the atmosphere is crazy. Carolina made a few runs and but Duke kind of punched them in the mouth."
Even though the game didn't go as Tar Heels fans or coaches would want it to go, Wiggins isn't going to be swayed by a win or a loss.
"He understands that teams don't win every game and it's not ideal to have recruits on campus for a game in that fashion," Fulford said. "But he gets that and he had a really good time. He knows Kennedy Meeks pretty well and talks to him some. he also knows some of those other guys, so he was still able to have a good time."
With the past three visits coming in such a short span, some may be forgetting about Florida State. The Seminoles certainly seemed a little more active earlier, but Wiggins gets that the coaches of his parents' alma mater have a job to do on top of chasing Wiggins around.
"They were in a lot in the early going when they were recruiting Xavier Rathan-Mayes and then after Xavier signed early," said Fulford. "We also played in Florida a couple of times and of course Leonard Hamilton was there to see him and they haven't backed off.
"They are in their season and they have their job so we make sure our guys understand that. Coach Hamilton has a job and chasing down Andrew's every move isn't going to help this year's team, but they've still been there."
So, what does this all mean? When will Wiggins decide?
For now, the only certainty appears to be that Wiggins is done with his official visits. He's slated to play in the McDonald's and Jordan Brand games and they'd both love to have him announce during their games. But nothing like that has been planned.
About the only thing that is certain is that the programs left on his list have a lot to do with the approach of their coaches.
"Each coach that is recruiting him has a little bit of a different style, but I think the thing they all have in common is that they are pretty laid back," Fulford said. "I think Andrew understands that they are all pretty laid-back guys. Andrew is laid back so he gravitates to people who are that way. He's more of an observer."
Though Fulford doesn't yet know where Wiggins will end up, he has been through the experience of recruiting the country's best player. Because of that, he can offer some advice as Wiggins' recruitment winds down.
"I always told people in the recruiting process that I saw him play 24 straight AAU games," Fulford said. "He knew me and I was around all the time and he developed a personal relationship with me. So when the decision had to be made, he knew where he wanted to come and his parents just had to sign off and I don't think this will be any different.
"Fans are important but I don't think they are as important as the people he is going to be associated with on a daily basis. The staff, the administration, the current players and the incoming recruits, he is going to want to feel total comfort with them all."