Live Updates from Day 3 of SEC Media Days
Like usual during the Nick Saban era, Alabama is considered the main event at media, while Vanderbilt, Mississippi State and Texas A&M will also take their turns
On Tuesday, Nick Saban stole the spotlight at the 2021 SEC Media Days, and he wasn't even there. 
The Alabama coach was more than 1,000 miles away, addressing the Texas High School Coaches Association's convention. 
But when word got out that Saban had said sophomore Bryce Young was due to make "ungodly numbers" in NIL deals that were "almost seven figures," it was like he pulled the rug out from underneath the coaches at the podium in Birmingham. 
That would include Georgia and Ole Miss, headed by two of his former assistant coaches, Kirby Smart and Lane Kiffin. Many are hailing the Bulldogs as the team to beat in the league this year, including the publishers of the FanNation sites associated with Sports Illustrated. 
Young, who signed with Creative Artists Agency on July 2, won't be at media days when Alabama gets its turn first thing Wednesday morning. 
But will be first up behind the podium, and also has the advantage of coaching the reigning national champions. He's in perfect position to head back to Tuscaloosa knowing that he won the week. 
To comment, or for more, check out our live thread on the BamaCentral forums.
Alabama: Nick Saban
• The Saban has arrived:
• This is an indication that we're moving back to normal. He then mentions the time years ago his dog was here (back when he was with LSU). 
• Said Alabama had a good good offseason. Saban said he's pleased with way things have sort of transitioned back into normal. Praises Dr. Rhea's injury-prevention approach. 
• The penalty for success when you win a national championship is losing players and coaches. The challenge is you have to quickly rebuild with players who are less experienced. How will they respond? Likes the way the new faces have embraced things and developed so far. "We're going to be a work in progress."
• Not having spring last year really limited the development of defensive players because they didn't have anyone to react to on the field. Hopefully having spring this year will pay off.
• Saban goes out of his way to praise the SEC leadership in dealing with COVID and everything else last year. 
• On off-field changes, Saban says that no matter he says will probably be wrong because there's no precedent for any of this. A year from now it'll be better. We need to focus on what we need to do on a day-to-day basis. 
• Looking forward to facing Miami in neutral-site game. (Saban's going longer than usual with introductory comments). Said the one thing the outgoing players said they hated about last year was not playing before a lot of fans. 
• Q&A: First question from Denis Dodd on yesterday's comments about Bryce Young. All we've done is create an opportunity, but the thing is that it won't be equal for everyone, which is different from everything we've done before. How it will impact teams I can't really answer that yet. 
• What's the key to coaching longevity? Winning. 
• On impact of sports performance center: Wanted to make the change years ago, go from power lifting to more velocity training. When Scott Cochran left were fortunate the best guys in that area were available. Soft-tissue injuries down 50 percent. Increased "explosive " power by about 5 percent. 
• Thought Henry To'o To'o was one of the best defensive players in the conference. If you have a good signal caller on defense it helps the whole defense and it's something he can do.
• We made a tremendous change with Lane Kiffin came in. Because of what Ole Miss had done against us with screens, etc. (making it ironic he's there now) we want to utilize a lot of that and Lane hadn't done that much of it either. Implemented and changed our offense. There's always been a mutual respect between us. None of this is a surprise to me. 
• Javion Cohen will likely be a starter at left guard. 
• Saban finally asked about Bill O'Brien. Says he's done a really good job. Sark had coached from the NFL, too. Systematically it's not that much different. We're not changing systems, and Bill has added to it. We're going to run the same type of offense. 
• Vaccines: There's two issues. A large majority of the players have had it. 1) It's a personal decision, which comes down to risk. Plus we don't know longterm impacts. 2) Competitive impact, how does it impact the team. North Carolina State is an example, although Saban said he doesn't know the details. Now the Yankees have a number of players out. The players have to understand that we can only control what you do in the building. Not who they're around outside of the building. With the vaccine you have a better chance of being on the field. Saban said they've had three doctors talk to the team to inform the players. Said close to 90 percent have had the vaccine, hopes for more. 
• Saban gets a defensive scheme question and totally messes with the reporter. Defenses are catching up and creating issues, and offenses are having some trouble adjusting. 
• Final question is about the mindset when the quality of opponents changes so much. Be as good as you can be on every single play. It's a question that's right in Saban's wheelhouse. Consistency and performance define success, we can't control what our opponent does, just on what we do. 
• Saban thanks the media for what they do to promote the game and players. "Thank you very much and Roll Tide!"
• Saban joins the ESPN set, with Laura Rutledge and Greg McElroy. Reiterates his point repeating is very difficult especially considering the turnover. 
• Does having so much experience on defense change your approach? "Not at all to me" because the way the game is going, wide open, and everyone can score points. 
• NIL: We tried to get the players to have the right mindset to this going in. You developing yourself as a player will create more value in the NFL than being concerned about who's getting what now.
• Saban gets transfer question, and uses "grass is always greener on top of a septic tank" line. There are some consequences to all this that may not always be beneficial to the player. 
• On offense, we're not looking to make significant changes, but you always want to promote the players that you have. Will still RPO and run the ball. Saban agrees with McElroy that the first month of the season will be tough, but doesn't comment on whether the offense will look more like it did with Tua Tagovailoa.
• On playoff expansion, there are still a lot of questions about it. Doesn't really like adding more games as players can already play 15. 
• I've already heard Saban mention three times how after having a hole-in-one this summer, 8 iron 154 yard, he double-bogeyed the hole the next time he played it. 
• First question Saban got in next room, what does he like to be referred to as by the media: "I'll respond to just about anything and I've been called just about everything." Says it doesn't matter if they call him coach or Nick. Same thing he said Day 1 on the job in 2007. 
• On Ohio State transfer wideout Jameson Williams: "He's been impressive." Added: "We felt like we needed to add someone with extra juice at the position after losing four first-round picks in two years."
• Tweeted out from Radio Row, Mathis: "For my last ride this season I KNOW they're gonna get lit for us. Tuscaloosa is gonna be on fire all season!"
• Metchie makes an SEC Network appearance. "It's been cool." he said. First question was if breakout game against Texas A&M was by design. Said it sort of just happened. 
• How NIL has changed things? It's a great opportunity, but it hasn't changed my mindset. I'm keeping the main thing, the main thing (playing football). 
• Who is the next speedster? He doesn't bite "It could potentially be a lot of people." We'll see when the season starts.  
Vanderbilt: Clark Lea 
• "Our expectation is to win."
• The biggest storyline may have been that the helmet next to him at the podium was his as a player 20 years ago. "It's a reminder to me to keep the focus on what's important."
• "There are no compromises here."
• "He's the smartest football coach that I know," Lea said of A&M defensive coordinator Mike Elko. Worked under him at three schools. 
• "Every decision I've made in my career was to hopefully have a chance at this job eventually."
Mississippi State: Mike Leach
• Skips an opening statement. Has already won over the room. "You can't see anything up here. The lights."
• Calls the most important thing about playing quarterback making the other 10 players better. 
• On transfer portal, there's way too many players in it and it's too easy to transfer. Sometimes you have to push through adversity.
• Praised Will Rogers and the way he played as a freshman last year. But sorting out the quarterback room may be the biggest priority of fall camp. Doubts they'll play two quarterbacks. 
• Leach the first coach to get a Bobby Bowden question. Said he knows him and is tremendous person. The game would be the same without him. 
• Leach calls 12-team playoff a "huge step in the right direction." Still pushing for a 64-team playoff.  
• When Saban things like his quarterback is close to seven figures, what kind of impact does NIL have on recruiting? Don't know, still evolving. I guess we'll find out. You still have encourage players to graduate. It has to be less attractive to transfer. What if when you sign a player he or she gets a lump sum if you graduate? The amount is no important, except we need to avoid bidding wars.
• Did you think you would get the job at Tennessee? "Nothing ever got nailed down. Then they had a coup d'etat. You can sort that out amongst yourselves. I didn't end up in the middle of a coup. Lucky for me."
• Called Kyle Field at Texas A&M one of the best venues in college football. "That's one of the Carnegie Halls of college football."
• Leach won't disclose if he's vaccinated. "If I was or wasn't, I wouldn't share it with you." Said he's leaving all that all to the medical experts. 
• Leach thinks it's a "good idea" to get rid of SEC's permanent crossover division opponents.
• Would consider teaching a class again. One of the advantages of coaching is you don't get in as much trouble for cursing. 
• Roman Harper correctly pointed out that Leach gave a hint as for which direction he may go with quarterback competition: Footwork and quick feet. That doesn't mean which quarterback can run better. 
Texas A&M:  Jimbo Fisher 
• First question he gets, of course, is about Bobby Bowden. "It's sad, it really is. ... He's meant everything to me." Asks everyone to keep him and his family in their prayers. R.C. Slocum as well. 
• Just before he took the podium, Houston Chronicle posted an exclusive: Texas, Oklahoma reach out to SEC about joining conference.
• Fisher makes it clear that he's for expanded the playoff. Not every team has a shot at winning the national championship, and some schools/league obviously have an advantage with four teams. "I think it's needed."
• Fisher on Alabama quote earlier this offseason, about beating Nick Saban's ass: "I don't have any regrets. That's what we're here for, isn't it?" You have to play at that high standard, and you have to do it every week. 
• On NIL: "Some people have been doing name, image and likeness for a long time. They just weren't telling anybody."
• Jimbo's talking a lot about Alabama, and trying to get over that hurdle. 
• Jimbo asked about Texas and Oklahoma inquiring about joining the league: "I bet they would. We got the greatest league in ball." Then just said that's he's too busy being worried about A&M. 
• "Our coach is confident in our team and I'm confident too," Texas A&M offensive lineman Kenyon Green
• Jimbo wraps up. Congratulations, you just saw the spark that will ignite the next round of realignment ... 
Wednesday's Schedule at SEC Media Days
9:05 a.m.: Alabama — Nick Saban; Phidarian Mathis, DL; John Metchie III, WR
10:30 a.m.: Vanderbilt — Clark Lea; Bradley Ashmore, OL; Daevion Davis, DL
1:30 p.m.: Mississippi State — Mike Leach; Aaron Brule, LB; Austin Williams, WR
2:55 p.m.: Texas A&M — Jimbo Fisher; Kenyon Green, OL; DeMarvin Leal, DL
Thursday: Missouri, Arkansas, Auburn 
2021 SEC Media Days, Part I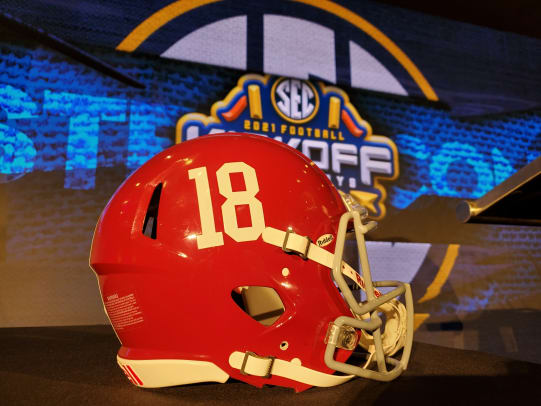 2021 SEC Media Days Part II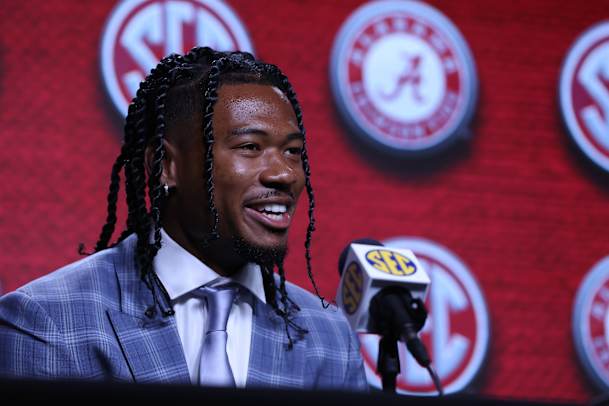 Tuesday's Highlights from SEC Media Days
• Ole Miss Coach Lane Kiffin Shocked by Bryce Young NIL Deals, Praises Nick Saban
• Is Georgia the SEC Team to Beat in 2021?
• Instant Analysis: Recapping Day 2 of 2021 SEC Football Media Days
• Linebacker Henry To'oTo'o's Former Teammates at Tennessee Share What Alabama is Getting
• Tennessee Coach Josh Heupel Discusses Third Saturday in October
• Georgia QB J.T. Daniels on Bryce Young "He's a Star Player"
• Live Updates From Day 2 of 2021 SEC Media Days
This story will be regularly updated.