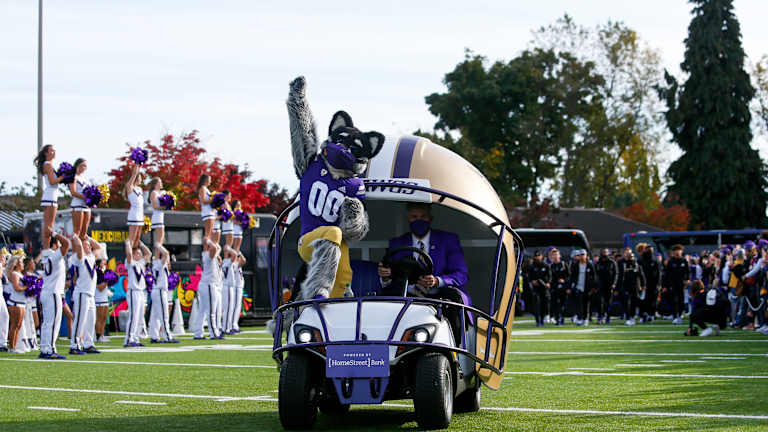 UCLA vs. Washington Week 7: Live Updates, Highlights, Analysis
Stay right here for all of the updates on the Bruins' game versus the Huskies.
UCLA football (4-2, 2-1 Pac-12) is playing Washington (2-3, 1-1) in Week 7 of the 2021 college football season, pitting two of the biggest brands in the Pac-12 against each other in Husky Stadium.
Stay tuned for injury and personnel updates, highlights and other key events to keep an eye on all day long.
FINAL: UCLA 24, Washington 17
8:51 p.m.: The Bruins successfully ran out the clock and escaped with the win.
Kirkwood turns potential game-tying throw into first career INT
8:37 p.m.: The Bruins' top freshman has officially arrived.
Cornerback Devin Kirkwood has been raising eyebrows since spring ball, and earning a starting spot as a true freshman meant he must have impressed the coaches in fall camp too.
Now, he's impressed the fans and everyone else watching.
Morris tried to hit receiver Jalen McMillan downfield, and Kirkwood was actually a step behind. The ball was a touch underthrown and Kirkwood caught up and used his long arms to break it up and eventually pick it off.
The interception came with 4:50 left in the game, and UCLA has the ball at its own 20 with a 24-17 lead.
Dulcich comes alive, Bruins go ahead late
8:25 p.m.: The announcers on FOX had just been talking about how Dulcich had been shut out all night.
Either he heard them from the field or it was just a classic announcers jinx, but either way, he made a big impact on that key fourth quarter drive.
The Bruins had been marching, finally converting on a third down after failing on their previous seven. It took a fourth down conversion on the next set, but they kept things rolling by converting with a QB sneak.
A few plays later, Dulcich hauled in a shovel pass and took it 16 yards deep into Husky territory. Then, he made a grade cut inside, shaking the defender and catching a 9-yard touchdown pass from Thompson-Robinson.
The drive took 13 plays and 5:47 to go 90 yards into the end zone.
UCLA now leads 24-17 with 8:19 left in the game.
END Q3: UCLA 17, Washington 17
8:11 p.m.: The Bruins had probably one really good play that quarter, and it came on the final snap.
Linebacker Ale Kaho got a tackles for loss to give the Huskies a 3rd-and-9 when they come back from the break. It was a much-needed bit of momentum after it seemed like UCLA's defense had done enough to force a punt, only for Blaylock to get called for a pass interference on 3rd-and-long.
Adding that incorrect call to to no-call on Calvert on Washington's last touchdown drive, UCLA has not been the benefit of many of the referees' decisions this Saturday night.
Last time, the wrong call led to points for the Huskies, and with them in Bruin territory to start the fourth quarter, it could happen again. After all, Washington is 7-of-11 on third down compared to UCLA's 1-of-8 mark.
Huskies use chunk plays to even things up
7:53 p.m.: After the Bruins failed to convert on a third down near midfield – credit to Husky defensive back Brendan Radley-Hiles for the pass break up on tight end Greg Dulcich – the Huskies 
Starting at the 25-yard line, it looked like UCLA could get the ball back quickly, forcing a 3rd-and-12 after a sack by defensive lineman Datona Jackson. Washington got away with holding linebacker Bo Calvert in pursuit on that third down try though, and it led to a long string of plays that broke the Bruins' back.
First, that third down play went for 23 yards and a first. The next two tries for the Huskies went 32 and 15 yard runs, giving them 67 yards on those three plays alone.
Washington nearly got into the end zone, but was pushed out on the dive and eventually faced a 4th-and-goal at the 1. Morris snuck it in for the easy score and tied things up at 17 apiece with 6:55 left in the third.
HALFTIME: UCLA 17, Washington 10
7:06 p.m.: The Huskies finally got some big plays going and they capped off their brief scoring drive with a 26-yard pass deep to the back left corner of the end zone.
Washington marched 69 yards in 2:35, turning the tables after getting snuffed out completely on their previous two possessions.
That gave the Bruins 52 seconds to try and string together a scoring drive with all three timeouts in their back pocket. Thompson-Robinson was moving the ball with both his legs and his arm, and he led the Bruins past midfield after just three plays.
Things stalled a bit, but Barr-Mira still had a chance to hit a 54-yarder. It ended up going wide right, and it probably didn't have enough distance anyways.
UCLA will start the second half with the ball.
TOTAL YARDS: UCLA 250, Washington 148
PASS YARDS: Washington 144, UCLA 117
RUSH YARDS: UCLA 133, Washington 4
FIRST DOWNS: UCLA 11, Washington 11
PASSING LEADERS
Dylan Morris (UW): 15-for-22, 144 yards, 1 TD, 1 INT
Dorian Thompson-Robinson (UCLA): 10-for-12, 117 yards, 1 TD

RUSHING LEADERS
Zach Charbonnet (UCLA): 8 attempts, 60 yards, 1 TD
Dorian Thompson-Robinson (UCLA): 6 attempts, 45 yards, 1 TD
Sean McGrew (UW): 10 attempts, 16 yards
RECEIVING LEADERS
Chase Cota (UCLA): 3 receptions, 60 yards
Rome Odunze (UW): 3 reception, 54 yards, 1 TD
Kam Brown (UCLA): 2 receptions, 23 yards, 1 TD
Close call leads to another score for UCLA

6:55 p.m.: Making the most of a short field, the Bruins' offense continues to execute.
Thompson-Robinson opened things up with a scramble that went 22 yards to his left, and then he hit Cota on a perfect pass 27 yards down field to get down into the red zone.
Facing a 4th-and-goal at the 1, Kelly elected to go for it, calling a quarterback sneak for Thompson-Robinson. It looked like he initially got stopped, but Brown came from behind and helped push him forward and into the end zone after quite the delay from the officials.
The Bruins' three scoring drives took six, eight and six plays.
UCLA is now up 17-3 with 3:33 left on the clock in the opening half.
Bruin defense imposing its will
6:47 p.m.: The Bruins extended their lead, but could have gone up by even more.
They were once again moving the ball efficiently with Charbonnet, Allen and Brittain Brown. The first six plays led to 49 yards, until Kelly once again called the weird formation with only two O-linemen and that killed most of their momentum. It still led to a 39-yard field goal by Nicholas Barr-Mira, though.
The Bruin defense came out and made sure the Husky offense couldn't make up those points the next drive, forcing a 3-and-out. Washington has a total of 3 yards on its last two drives.
UCLA has the ball up 10-3 with 5:52 left in the half, and they'll start their next drive near midfield.
END Q1: UCLA 7, Washington 3
6:26 p.m.: Giles Jackson took the kickoff out of the end zone when he probably shouldn't have, setting the Huskies up at their own 16-yard line.
Running back Sean McGrew rushed for two yards for the last play of the opening quarter. Time for the teams to flip fields.
Quick answer by the Bruins
6:21 p.m.: It took UCLA half as many plays to put together a scoring drive, and they also came away with enough points to vault them ahead.
The whole offense was working well, as the Bruins needed just six plays to go 75 yards and score. Thompson-Robinson hit Logan Loya and Chase Cota for gains of 18 and 19 yards.
After Charbonnet picked up 31 yards on three carries, Thompson-Robinson found Kam Brown on a bubble screen that turned into a 17-yard touchdown. It took a minute to review the play, with Brown stepping out of bounds right near the goal line, but there weren't any angles that could justify calling it back.
UCLA is now up 7-3 with 0:29 remaining in the opening quarter.
Huskies get on the board first
6:08 p.m.: It may have taken Washington 12 plays to get 74 yards, but they still managed to take the lead.
And the Bruins gave them every opportunity to score.
Two third-down penalties – a holding on safety Stephan Blaylock and a pass interference by cornerback Cam Johnson – gifted the Huskies a few first downs and they eventually got down into the Bruins' end zone.
After Rome Odunze stepped out of bounds trying to reach for the end zone, UCLA stood its ground inside the 3. Striker Martel Irby and defensive lineman Otito Ogbonnia both picked up tackles for loss, and then linebacker Jordan Genmark Heath and safety Quentin Lake double covered tight end Cade Otton and forced an incompletion on third down.
Washington went up 3-0 after hitting a 25-yard field goal with 3:23 left in the first quarter.
Pass rush creates turnover, offense gives it right back
5:57 p.m.: With a few different pass rush schemes, the Bruins seem to be getting to quarterback Dylan Morris early.
Sometimes rushing three, sometimes five, UCLA finally got to Morris, albeit not for a sack. Defensive lineman Tyler Manoa got right up in Morris' face and sent him to the ground as the signal-caller tried to force it deep to the right side.
Safety Quentin Lake camped under it and secured the interception, the Bruins' first since Week 3 against Fresno State.
UCLA seemed committed to running the ball on the first set of downs, leaning heavily on Zach Charbonnet to get a nice first down. Quarterback Dorian Thompson-Robinson hit Kazmeir Allen for a couple yards, and then things slowed down when Paul Grattan got called for a false start on the quirky two-OL formation.
A short run and incomplete screen meant the drive stalled near midfield, and the Bruins sent out the punt unit nice and early.
Clear skies, Kyle Philips missing
5:27 p.m.: The Bruins will be without one of their most reliable offensive weapons tonight.
Receiver Kyle Philips, who leads UCLA with 369 receiving yards and six touchdowns on 24 catches, was absent from the team's pregame warmups down on the field, according to multiple reports. UCLA Athletics later confirmed he would be "unavailable" for the game, which could mean anything from an injury to a positive COVID test or suspension. We'll probably have to wait until Monday's practice to get a clear answer on it.
For now, though, the Bruins may have to look elsewhere in the slot – perhaps Logan Loya, or Kam Brown.
UCLA may be able to throw the ball a bit more than initially expected though, with the rain that was supposed to hit Seattle looking like it's going to stay away long enough for the game to get wrapped up in a dry fashion.
The cold and wind still stand as a new environment for this Bruin squad, but we'll have to wait and see if or how it impacts them on the field.
Follow Connon on Twitter at @SamConnon
Follow All Bruins on Twitter at @SI_AllBruins
Like All Bruins on Facebook at @SI.AllBruins
Subscribe to All Bruins on YouTube
Read more UCLA stories: UCLA Bruins on Sports Illustrated
Read more UCLA football stories: UCLA Football on Sports Illustrated