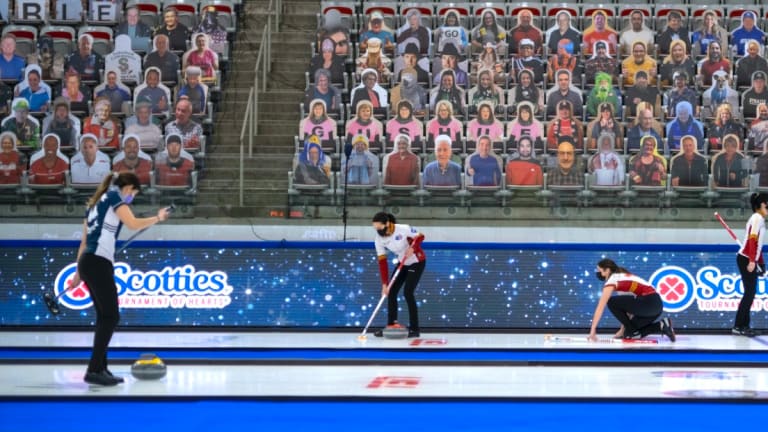 Sensory Deprivation Curling At Its Finest
Continuity mattered in the face of uncertainty.
Continuity mattered in the face of uncertainty.
From an empty hotel room to an empty arena and back for over a week. Talk about sensory deprivation overload.
They say sensory deprivation tanks are supposed to allow one to think more lucid and creatively. In the case of the Scotties and the Brier, they were also able to hear others think as well.
I can only imagine what was going through the skips' minds, playing in the oddest and least attended Canadian curling championships ever. You're already by yourself in the house holding the broom, but you're simply being watched by your cardboard and cameras. Just like the rest of us, in our houses for the last year, seen only by our decorations and our video chats, assuming we knew how to use our webcam.
Perhaps its moments like that when you lean on those who know you the most.
And wouldn't you know it, the two teams that won championships were teams that didn't make a single lineup change from last season. That's not to say Rachel Homan didn't make a shrewd move by bringing in Sarah Wilkes or Kevin Koe didn't upgrade his team with John Morris, but Jo Courtney and B.J. Neufeld, respectively, also had to learn new roles. Fifty percent of the team was new, after limited 'spiel action.
Perhaps that's why Brendan Bottcher was able to rely on his three teammates for the last four and a half years (throwing 97 percent in the final probably helped). Same with Kerri Einarson and her band of converted skips for the last three. They got through all this together, even if they couldn't spend much time throwing rocks. Through the silence, they knew what was asked of each of them.
For the last year, continuity mattered in the face of uncertainty. We're almost certainly—knock on granite—never going to have another #bubblespiel again, so this was a one-time advantage Bottcher and Einarson carried. By next season, when we have trials and hopefully the winter Olympics, everyone's going to be a bit more comfortable, and the noise will be back to flood everyone's senses.