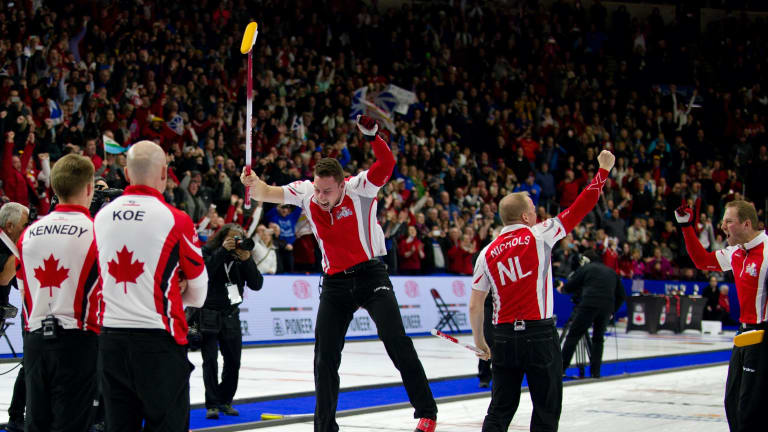 Defining a Curling Legacy
Will the 2021 Brier outcome be as inevitable today as it will in the years to come?
Will the 2021 Brier outcome be as inevitable today as it will in the years to come?
During the early months of the COVID-19 quarantine of 2020, ESPN released The Last Dance. The long-awaited Michael Jordan documentary pulled in 5.648 million U.S. viewers during its initial run and 23.8 million globally via Netflix. It preceded the NBA bubble playoffs and fourth title run of Lebron James.
In January we witnessed a middle-aged Tom Brady win his seventh Super Bowl. Rafael Nadal won his 20th Grand Slam last October at Roland Garros, a stadium which will one day bear his statue if not his name as well. The recent Tiger Woods documentary from HBO ends with his comeback victory at the 2019 Masters, his 15th professional major title.
In each case, as the drama unfolded, the word repeated most often by broadcasters and sportswriters was legacy.
Often, we look back on the career of the greatest athletes and it all seems inevitable in hindsight. The losses appear to be minor setbacks, chalked up to aberrations or excused by misaligned teammates or ownership, while the victories appear as crowning achievements in which the superstar bested all combatants with relative ease. The Last Dance reminded us this is not always the case. The Chicago Bulls' six championships came amidst roster changes, controversy, physical challenges and difficult competition. Remembering the moments, we believe Jordan could not be stopped, but watching the tapes we are reminded what might have been.
The 2021 Brier bubble championship presents another opportunity for curling legacy. Brad Gushue is looking to win his fourth Brier as a skip, hoping to join Ernie Richardson, Randy Ferbey and the two Kevins, Martin and Koe. Six of the last seven Briers have been won by Koe and Gushue, the lone aberration in 2015 being Koe's teammates from 2014. Should Kevin win the 2021 Brier he would hold the record for most victories as a skip and leave him one shy of Ferbey for most overall.
It seems obvious to us now that these two were the inevitable torch bearers—succeeding Kevin Martin, Glenn Howard and Jeff Stoughton—for Greatest of their Era. Koe appeared on the national scene a burnt stone away from winning the 1994 Canadian Juniors, followed by an Olympic Trials run in 2005 as third for John Morris. He finally broke through Alberta in 2010 and won his first Brier. Meanwhile, Gushue captured two world junior crowns and in 2006 threw last stones to win Olympic gold in Turin, on a team skipped by superstar recruit Russ Howard.
Looking back to December of 2013, however, were we at all certain of the legacy these men would leave on the sport?
In a soon-to -be-released podcast of Rock Logic with Mike Harris and Richard Hart, we watch and debate the ninth end of the 2013 Canadian Olympic Trials men's final. The game was won by Northern Ontario's Brad Jacobs over John Morris, who was representing British Columbia with Jim Cotter throwing fourth stones. The (at the time) one-time Brier winner Kevin Koe had flamed out with an 0-5 start to the week. Following a loss in the 2007 Brier final to Howard, Brad Gushue had yet to again reach a Brier final, and wouldn't until 2016. Gushue didn't even qualify for the 2013 Trials.
As Martin and Stoughton retired and Glenn Howard entered his later years, Jacobs followed up a 2013 Brier victory with an Olympic gold medal at Sochi in 2014. Other sharks were circling as well. With a near-repeat appearance at the Olympics, John Morris seemed destined for even greater heights. Mike McEwen was storming through the cash circuit and seemed ready to win multiple Bison titles with Stoughton's exit. John Epping also looked ready to break through from the Howard grip on the Ontario Tankard. Everything was uncertain except perhaps that the Brad of Northern Ontario, not Newfoundland and Labrador, appeared destined to lead the next Big 3 of his generation.
Koe, of course, rebounded from the Trials disappointment to win the 2014 Brier. Despite his opportunity to be the first skip of Team Canada at the 2015 Brier, he abdicated his throne and built a new team. It appeared to be a mistake when the "old" squad repeated in 2015 in spectacular fashion, swapping skip from John Morris to Pat Simmons midway through the week. However, Kevin's new curling tree bore fruit the following year with a 2016 Brier win, followed by a Trials victory in 2017. His legacy grew, capturing a fourth Brier in 2019 with yet another iteration of his squad.
Gushue lost his Olympic third Mark Nichols to Stoughton's team for a time and tinkered with lineups each year, trying to get the right adjustment to return to a Brier final. Residing in Newfoundland, competition was limited and a return each year to the national championship became automatic, but residency rules created barriers to building a team. Each Brier appearance after 2007 brought further disappointment and frustration. A tiebreaker exit in '08 was followed by a series of early playoff losses while failing to even reach the final weekend in 2012 and 2014.
In 2012, Brad teamed up with P.E.I. junior sensation Brett Gallant and two years later, Nichols returned from Winnipeg. Gushue finally reached the Brier final in 2016 after an eight-year absence. Since then, the 2017, 2018 and 2020 Brier winner has shifted a legacy from "what went wrong after Torino" to all-time great.
And Jacobs? He's been handed the cursed monkey hand from Gushue to become the new "what's wrong with Brad" Brad. Number one in the world might give bragging rights for a time, but legacy is defined by winning the biggest events. The dramatic extra-end loss to Pat Simmons in 2015 marked his last Brier final. Since then, Jacobs has been winning Grand Slams and taking home cash but return visits to international competitions wearing the Maple Leaf is noticeably absent. After a slow start at the 2020 Brier, Jacobs made a fantastic run; 4-0 in the Championship Pool and two tiebreakers, but fell short to eventual winner, the other Brad, in the 3 vs 4 playoff.
This year's Brier could further define the legacy for Kevin or one of the Brads, or stake a claim for Epping, McEwen, Saskatchewan's Matt Dunstone or Alberta's Brendan Bottcher to be part of a "Big 3." It will be exciting to see it unfold and reveal if the outcome is as inevitable today as it will be in the years to come.