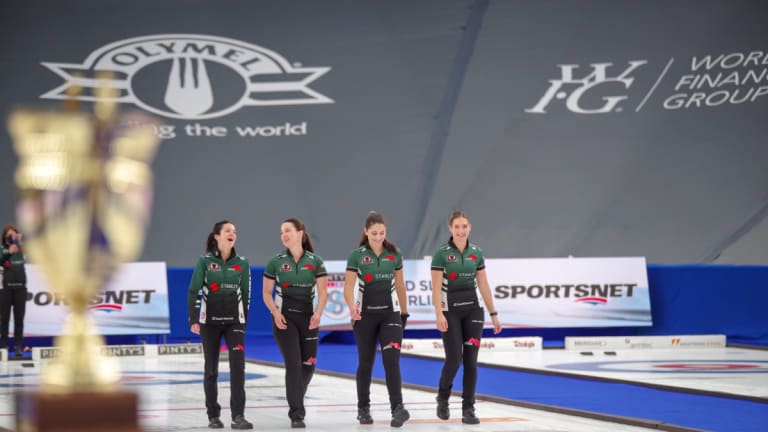 Mouat Mauling and Einarson vs Homan
A $100,000 Scottish payday is just one of the Slam stories.
If there's one story which dominated the last two weeks of bubble curling, it's Bruce Mouat's Scottish outfit.
The silver medallists at the recent men's worlds overcame their disappointment and went on to conquer the world's top men's curlers at not one but two Grand Slam of Curling events.
First the Mouat gang—Grant Hardie, Bobby Lammie and Hammy McMillan—went 6-1 to win the Champions Cup, losing only to Brad Gushue's St. John's foursome along the way. In the playoffs they edged world champion Niklas Edin of Sweden 6-5 and then Gushue 5-4 before taking out Edmonton's Brendan Bottcher 6-3 in the final.
A few days later, the squad went on a 7-0 unbeaten run to capture the Players' Championship, defeating Gushue 6-5 in the final. They beat Sault Ste. Marie's Brad Jacobs twice along the way (6-4 and 6-5) and rival Edin, again, by a 7-2 count.
We recently stated that Team Mouat is "knocking on the door." They've now smashed clean through. 
Mouat's men had been training throughout 2020 and 2021 at the new Scottish high-performance curling center in Stirling, where they were regularly challenged by rival squads skipped by Ross Paterson and Ross Whyte.
That kind of repeat competition played in strong ice conditions—with Scotland's world men's berth on the line—probably played a role in Mouat's eventual mastery of the Calgary bubble. Indeed, once selected to represent Scotland, he suspected his team might be ready for a ton of winning.
"We've had such a sustained period of training and I saw major gains in my strength," Mouat told The Herald in late March. "I feel stronger than I've ever been, which is a huge positive to come of all of this.
"I'm throwing better than I ever have which must be connected to my physical shape having improved."
Albertans Bottcher and Kevin Koe did fairly well at the Champions Cup—both finished with 4-2 won/loss records—but flamed out at the Players' at 1-4.
Kudos go to Mike McEwen's squad. The skip was missing due to his wife's childbirth and regular lead Colin Hodgson was replaced by young B.C. shooter Tyler Tardi to form a ragged three-player outfit. The makeshift team went 1-3 at the Champions Cup but rallied at the Players' to finish 4-2, losing out to Gushue in the semifinals by a 6-5 count.
On the women's side, it is now clear that the only team that can seem to stop Rachel Homan is Kerri Einarson's Winnipeg foursome.
After beating Homan to defend their Canadian women's championship crown—with their skip going on to team with Gushue and capture the mixed doubles title—Team Einarson watched Homan capture the Champions Cup with a 6-1 won/loss record, including a victory in the final over defending world champion Silvana Tirinzoni of Switzerland.
Homan herself wasn't sure she would be able to compete—having given birth to her second chaild after the Scotties final—and Laura Walker was in tow, ready to play. After first practice sessions, however, Homan proclaimed herself ready to go.
She and her Ottawa/Edmonton foursome lost their opening match to Einarson by a 6-3 count, and then rolled to six consecutive victories for the win, including a rematch with Einarson in the semifinal.
Homan went 5-3 at the Players, losing early on to Russia's Alina Kovaleva and Winnipeg's Jennifer Jones. Her 5-2 loss to Einarson in the final left the Manitobans with a 3-2 edge over Homan through three total competitions in the bubble.
Interestingly, all of Homan's Champions Cup matches came against Einarson (two games) and international teams. She scored wins over Elena Stern (SUI), Kovaleva, Tabitha Peterson (USA), Satsuki Fujisawa (JPN) and Tirinzoni.
Fujisawa also earns kudos for some three-player magic. After going 3-3 with all four players at the Champions Cup, lead Yurika Yoshida went home to Japan to quarantine prior to the World Mixed Doubles in Aberdeen. The three-player version of the squad went 3-3 again at the Players', winning games against Kovaleva, Jones and Scotland's Eve Muirhead before falling 7-6 to Sweden's Anna Hasselborg in the quarterfinals.
Hasselborg had shocked onlookers by going 0-5 at the Champions Cup. The defending Olympic champions, coached by Brier feel-good story Wayne Middaugh, rallied to go 5-2 at the Players' and lost to a 5-4 semifinal to Einarson.
Six of the Slam teams remain in Calgary for the women's world championship, slated to begin on Friday, Apr. 30. Yesterday it was announced that two players from one of the eight arriving world teams had tested positive for COVID-19.