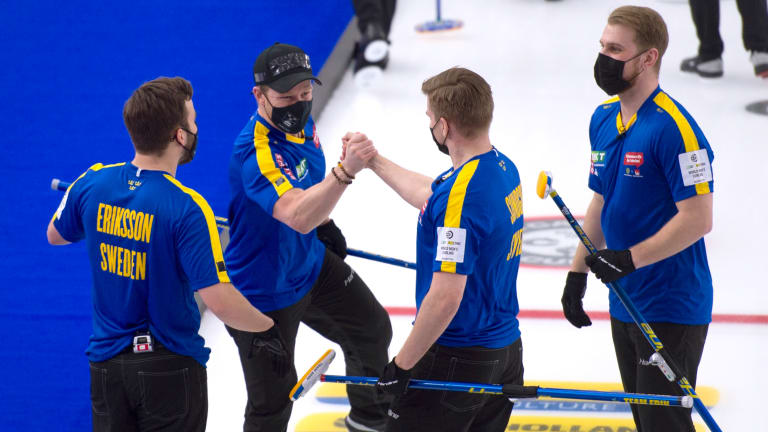 Sweden Wins Record Worlds Amid Testing Confusion
The search is on for what ails the curling bubble.
It took another world championship title earned by the Niklas Edin foursome of Sweden to restore faith.
Faith that all was eventually right in the curling world, even if the bubble wasn't.
Early Saturday, we reported said bubble—the Markin MacPhail Centre in Calgary, hosting the fourth of seven consecutive curling championships—had burst, with tests detecting multiple COVID-19 positives. The day's curling was wiped out as a new testing barrage ensued amid confusion and anxiety.
As the playoffs resumed on Sunday, holes quickly began puncturing the narrative. First, a playoff athlete had indeed been among the positive tests and couldn't compete. This was Chris Plys of Team USA, but he did in fact compete that morning—an elimination loss to Switzerland—after a successful intervention from the U.S. Olympic Committee (not USA Curling).
Plys, you see, had received the COVID-19 vaccine before the competition—both doses—along with his American teammates.
It was then revealed that all the positive results—including Plys'—had been followed by negative results, in the wave of Saturday testing that had paused the competition.
"Four people from four different teams, that had no close contact," Shuster told CBC Sports. "And everybody else was negative. I … yeah. I can't believe that. It just would have seemed impossible for that (to happen). So I think the bubble didn't break.
"I think my story is … the other thing that needs to be looked at is, did it? And I'm not sure that it did. Hopefully we find out it didn't."
"In any high-pressure event, when time is tight, it's a crisis management situation," said event chief medical officer Dr. Bob McCormack.
"The decision to allow the American team to go with their normal complement of players was arrived with less than 45 minutes prior to game time."
Indeed, this timing and general confusion led Canadian TV rights holder TSN to pull their crew from the facility and not televise Sunday's initial playoff round, the first of three rejigged games of the day. Fans could have watched the game in professional WCTV quality on the World Curling Federation's YouTube and Facebook pages—and some did—but many Canadian curling fans are still anchored to their basic cable packages, unaware of other options.
TSN returned to full coverage for the semifinals and final, and issued a statement as the semi was getting underway.
These were the first positive tests in almost seven weeks of the Calgary curling bubble's activation. Three previous Canadian championships took place—the women's Tournament of Hearts (Feb. 19-28), men's Brier (Mar. 5-14) and mixed doubles (Mar. 18-25)—without a single positive.
Dr. McCormack, Alberta Health and Curling Canada are seeking the root cause of the disparate testing results. There are three events remaining in the bubble—the Grand Slam's Champion's Cup runs this week, Apr. 14-18, and will be immediately followed by the Players' Championship Apr. 20-25.
The World Curling Federation and Curling Canada then return for the rescheduled women's world championship, the final event in the 10-week event series, Apr. 30 to May 9.
"It's very important for us to discern what happened, and if there's a gap for us to address it … and for us to decide if we need to do something more to make everybody confident that we have a secure bubble," McCormack told CBC Sports. "Clearly we've had an occurrence that we didn't want and we hoped would not occur.
"We get to zero risk by not having the bubble at all. There's no such thing as risk in anything in life; it's about risk mitigation. And throughout all of this Covid pandemic, everything we do is about risk mitigation."
In the final, which was rescheduled to start more in the Pacific-Asia time zone, Scotland came out firing on all cylinders and Edin had to make a draw against four to score a single point.
In the fifth end, tied 3-3, Edin took a long time to decide on a draw, which he made perfectly behind a guard and a Scottish counter. Mouat now had a decision to make. He rolled the dice and threw a lovely down-weight hit and flop to lie two, and Edin drew against two.
Back and forth they went. Edin was chasing a record fifth world championship title, and his third in a row. The Scots were matching him, throw after throw, in a fine display of precision curling.
The Swedes were the favorites, to be certain, but many prognosticators seemed unaware that Mouat had bested Edin to win the 2018 European men's championship, a not insignificant curling crown.
Edin gassed a thin double attempt on his first stone of the seventh, but he didn't seem perturbed. He made another draw for another single—facing three—on his second. Ho hum.
In the eighth, it was Mouat's turn to draw against two. It was clear where this was headed. Would anyone blink first?
It happened. In the ninth end. Both seconds missed, things got congested, Mouat's final attempt was on line but slightly light, and Edin faced a decision. The reward was too good to pass up, and he went for a runback double and a possible five. He made it.
The inflated 10-5 scoreline didn't really tell the tale, but a semblance of sanity had returned to a weird world championship that had been thrown into a tizzy.
Niklas Edin has been cemented as a legend of curling. He boasts a won/loss record of 39-4 in the last three worlds, and he's the first curler to win three world titles in a row. All he needs is Olympic gold to go along with silver (2018) and bronze (2014) and Beijing is less than 10 months away.
Mouat is knocking louder on the door. He'll need to get by a couple of strong Scottish rivals to make it to Beijing but he's got the inside track.
Switzerland's Peter de Cruz has now won five world bronze medals in the last seven championships. This to go along with Olympic bronze three years ago. Yesterday's podium finish should be enough to satisfy his association and book his tickets to Beijing.
RCF's Sergey Glukhov lost both playoff matches, but there's no normalcy here at all. The not-allowed-to-be-called-Russians went 11-2 in the round-robin, winning double the games any Russian men's team had ever won before. This was the performance of the tournament and we'll have more on Mr. Glukhov later this week.
Team USA and Canada both had strong weeks, with both bowing out at the first playoff level. Their effort plus those of the playoff teams above them qualified their countries for next year's Olympic Winter Games.
The Pacific-Asia representatives will need to improve to have any hope of a podium place in Beijing, and that improvement comes soon at the WCF's yet-to-be-announced Olympic Qualification Event in either November or December. They will be up against the lower tier of European teams for the final Olympic berths, although China is already confirmed for Beijing 2022 as host nation.
The final standings saw Sweden finish at 13-3, Scotland at 11-5, Switzerland at 10-6 and RCF at 11-4.
USA wound up 10-4 and Canada at 9-5.
Italy's Joël Retornaz and Norway's Steffen Walstad finished 7-6. The Norwegians won their first five matches and went to 7-1 before losing their last five games in a row.
Japan's Yuta Matsumura won four of his last five games to wind up 6-7, while Germany's Sixten Totzek lodged a 4-9 mark. Denmark's Mads Noergaard went 3-10.
Three teams tied at 2-11; Jaap Van Dorp of the Netherlands, South Korea's Yeong Seok Jeong and China's Qiang Zou.