Wednesday's Hot Clicks: Caitlin Ricketts; Karate Kid Enemies Reunite for New Sequel
In Wednesday's Hot Clicks, Karate Kid enemies reunite. Plus a look at the lovely Caitlin Ricketts.
Paging Karate Kid fans
I know, I know. I should be leading with baseball since it is the World Series. But this is much more important: Former film enemies Ralph Macchio and William Zabka were reunited on the Atlanta set of Cobra Kai, the sequel series to the 1984 hit film. Nobody left in a body bag.
World Series Round-Up
Clayton Kershaw and the Dodgers shut down the Astros 3-1 in Game 1. Here's a look at what went down: Yasiel Puig stepped up his hair game for the Series ... Ranking all 50 players on the Astros and Dodgers ... My pal Gabe wrote a nice piece about why he's pulling for L.A. ... ​The Dodgers randomly gave four-year old pins to members of the press ... Vin Scully received a standing ovation from Dodgers fans ... First pitch home runs are never a bad thing ... Justin Turner's two-run home run was the difference ... ESPN forgot about the White Sox (again) ... ​Wonder if Adrian Gonzalez had time to catch the game.
JuJu Smith-Shuster had an interesting Tuesday
Steelers rookie receiver JuJu Smith-Shuster had a busy Tuesday. It started with the discovery that his bike was stolen, which is a bummer when you ride your bike to work every day. It ended with him viciously shutting down former adult film star Mia Khalifa. Can't wait to see what Wednesday has in store.
Lovely Lady of the Day
Caitlin Ricketts: 2018 Sports Illustrated Casting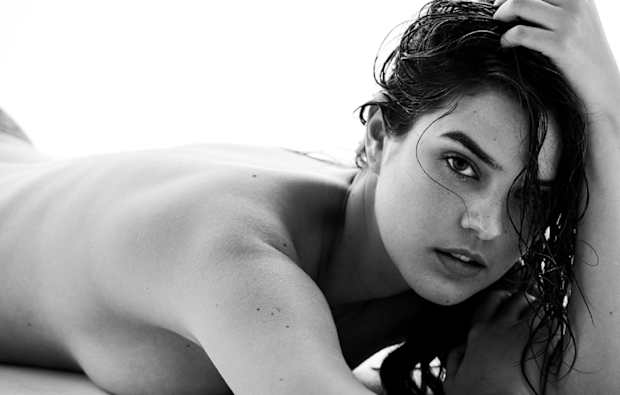 Texas native Caitlin Rickettsstopped by the SI office for a Swimsuit Casting, and it was a magnificent day. She is today's LLOD (click for full-size gallery).
The most absurd TV clip of 2016
Adrienne Bailon, co-host of The Real, doesn't know how to tell time. The woman next to her is everything.
Here's a Facebook page of UPS drivers and dogs they encounter
This is excellent. Thanks to Jim in Virginia for the tip.
I'm on Team Sterger
In case you missed yesterday's controversy, Jenn Sterger was in the news after revealing the sexual harassment she faced from ESPN years ago. Jenn wrote for SI way back when and I still keep in touch with her. She's always been super cool and I'm glad her story is getting out there, even though it sucked for her at the time.
Hot Clicks Giveaway
Football season is here and you finally have an excuse to undo your belt, fill up your plate and pig out. That's where our friends at Midea America come in. They have two items - an Induction Cooker and Slow Cooker - that are perfect for your living room tailgate. Buy yours today! As you likely guessed, I have three prize packages to give away with each item. I'll send to the 100th, 200th and 300th person who emails me (andy_gray@simail.com) a good suggestion of what to make in my slow cooker. Please make the subject line "Midea America."
How cool was Earl Campbell?
This is the dream
This should make NHL fans angry
Clayton Kershaw has never looked better
Odds & Ends
This World Series final out compilation will give you the chills ... If you're wondering, the fine for hitting your opponent in the goods is $15,000 ... Rudy Gobert got destroyed last night by Blake Griffin ... Good video here of Kevin Durantreacting to Gordon Hayward's injury ... YouTube is probably happy about this accidental brilliance ... I can't believe someone would pay $700 for these shoes ... Hollywood took to Twitter to remember Robert Guillaume ... Shocking news: Mariah Carey is still a huge diva ... KFC is pretty clever on Twitter (but the chicken is still gross) ... Here are the public figures who have been accused of sexual misconduct since the Weinstein story broke.
Where Will Eric Bledsoe Land?
Alexa is mean
That second pass is just unfair
Katy Perry crashes random wedding
[youtube:https://youtu.be/LVM618ZKtHg]
One Way Out
Email Andy (andy_gray@simail.com) with any questions or visit him on Twitter. Previous editions of Hot Clicks can be found here.