Summitt honored at Toledo-Marquette game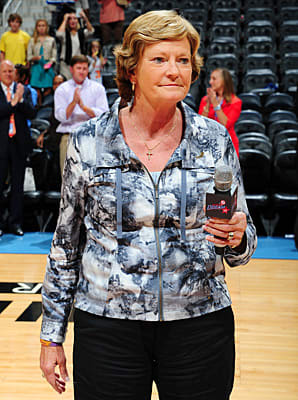 MILWAUKEE (AP) -- Pat Summitt was honored on Saturday night during a "We Back Pat" ceremony at halftime of the Toledo-Marquette women's basketball game.
The ex-Tennessee coach and her son, Tyler, a Marquette assistant coach, spoke briefly at the Al McGuire Center.
"It's a special night to have my son here and to have everybody backin' Pat," Summit said before receiving a standing ovation.
Many of the fans were wearing "We Back Pat" T-shirts bought to honor Summitt, who had 1,098 victories - more than any college coach, male or female - and won eight national championships.
Proceeds from sale of the shirts go to the Pat Summit Foundation to fight Alzheimer's disease, which forced Summitt to end her 38-year career after last season.