Kansas raises Chalmers' jersey to AFH rafters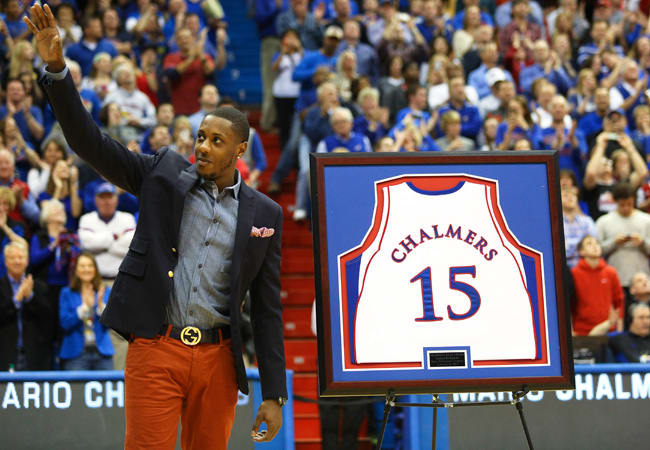 There's a montage of some of the greatest moments in the history of Kansas basketball that is played before every game at Allen Fieldhouse, and almost without fail, the loudest ovation comes at the moment when Mario Chalmers hits "the shot."
Never has the ovation been louder than it was Saturday night.
Chalmers was on hand for the No. 14 Jayhawks' game against Texas to have his jersey retired at halftime. But perhaps the biggest smile that was brought to his face came before the opening tip, when the montage played on the video boards hanging over the court.
"The shot," of course, refers to his buzzer-beating 3-pointer to force overtime in the 2008 national title game, which the Jayhawks eventually won over Memphis for their fifth championship.
"I'd say in the hundreds," Chalmers said, when asked how many times he's seen the clip of him hitting the fade-away jump shot. "Yesterday was the first time in a couple of years."
The familiar No. 15 of the current Miami Heat point guard was unveiled between the No. 23 of Wayne Simien, who starred for the Jayhawks from 2002-05, and Max Falkenstien, who has the No. 60 hanging from the end of Allen Fieldhouse after spending 60 years announcing Kansas games.
Among his company: Wilt Chamberlain, Paul Pierce and Clyde Lovellette.
"As a kid, you dream of being in a position like this, and for me to be here, standing in front of you fans, where it all began for me, it feels good," Chalmers said during his halftime speech, taking the time to thank the coaching staff and all of his former teammates.
Chalmers recalled how he wanted to transfer during his freshman season, when things weren't going well, and how former teammate Jeff Hawkins convinced him to stick around.
"It would have been the worst decision I ever made," Chalmers said. "This will always be my home, no matter what. I love Kansas."
Chalmers was joined at Allen Fieldhouse on Saturday night by several other former Jayhawks who managed to slip away from their NBA teams because of the All-Star weekend.
Chalmers only averaged a shade over 12 points during his three-year career in Lawrence, but he dished out more than 400 assists, had nearly 100 steals each year and became the guy at the end of games who craved the ball for the final shot.
That was the case in the national title game against Memphis.
In one of the enduring images of Kansas basketball, Chalmers came off a screen at the top of the key, pulled up for a 3-pointer and let it rip just as the game clock expired. It was on line the whole way, going through the net and sending the Jayhawks on to a 75-68 victory.
Kansas coach Bill Self called Chalmers, the first player he's recruited to have his jersey retired, one of the best "clutch" players that he's ever coached.
"Oh yeah, we thought he'd be great," Self said earlier in the week. "We knew Mario would be special. It took him a while to get on track, get used to me and vice versa, but after we got to know each other a bit, he was on his way."
Chalmers made it to his old stomping grounds in time to watch practice and speak to the team on Friday, and was honored at a reception later in the evening.
"It's something you always hope for," he said. "That was one of my dreams growing up, to leave my mark on whatever school I chose to go to, and it just happened to be Kansas."
Chalmers was asked whether winning the NBA title with LeBron James, Dwyane Wade and Co. last season trumped winning his national title at Kansas, and he unleashed that trademark smile that made him one of the most beloved players the school has ever known.
"To have that moment recognized in Kansas history," he said, "it means a lot to me."