Mayweather beats Pacquiao but will never have victory he wants the most
Floyd Mayweather has defeated every fighter he has faced, including Manny Pacquiao on Saturday. But with his adoption of a villain persona, and his history of violence against women, he'll never win what he really wants: the public's approval.
LAS VEGAS — The Fight of the Century ended, and what seemed like half of the arena swarmed inside the ring. Mostly, they just stood there. But not Floyd Mayweather Jr. He had an image to reinforce.
It's not easy to be the most hated athlete in professional sports.
Mayweather climbed up each corner and thumped his chest and pointed at the crowd that booed him throughout Saturday. "I know I won!" he shouted. Then he thumped his chest. Then they booed him. Thump. Boo. Thump. Boo. "I know I won!" he shouted once again.
The crowd booed and booed and booed. The crowd booed when the announcer proclaimed Mayweather the winner by unanimous decision, booed when broadcaster Jim Gray interviewed Mayweather in the ring, booed especially loudly when Mayweather turned his eyes toward history, and, more specifically, to his place in it. To the surprise of no one, he places himself at the top.
Mayweather thanked God. Boo! Mayweather thanked his father. Boo! Mayweather thanked his team. Boo!
Crowd boos after Floyd Mayweather beats Manny Pacquiao
​This is how it goes with Mayweather, how it always is with Mayweather. He may have made upwards of $180 million Saturday, and he further cemented his status as the best boxer of his generation. But there is one fight—that of public perception; to be known as a world-class fighter, not a serial batterer—that he cannot win.
What Mayweather doesn't realize, and what none of his acolytes have the heart to tell him, is he arrived in this space largely through his own design. He turned himself into a villain and mocked those who accused him of domestic violence and incited the hatred that now defines him. He wants all of it to go away now, but most seem to be past that point. At once Mayweather can topple Pacquiao and still remain in a fight he cannot win.
He wants, now more than ever, to be known for nights like Saturday. It went the way most Mayweather fights go. Pacquiao spent most of the past month saying what all Mayweather opponents say: that he would be aggressive, force the pace, get inside, rough Mayweather up. Everyone says that. But it's one thing to say it. And another thing to do it. And yet another thing to win.
Pacquiao did pursue Mayweather. He followed him into the corners and stalked him around the ring. In the fourth round, Pacquiao landed a straight left hand that staggered Mayweather backward and brought the crowd to its collective feet. Pacquiao continued to throw punches in flurries, continued to land, and at that point it seemed possible, if only momentarily, that Mayweather would lose. Mayweather leaned back on the ropes and shook his head, as if to say, Not tonight.
"As long as I moved on the outside, I was O.K.," Mayweather said. "It was only when I stayed in the pocket that he was able to get me."
Fight stats: Judges agree on Mayweather-Pacquiao results
​Celebrities descended on Las Vegas throughout Fight Week. Most wanted Mayweather to lose. The stands at the Grand Garden Arena looked like some sort of Hollywood red carpet: Clint Eastwood, Andre Agassi, SteffiGraf, Paris Hilton, Ben Affleck, Michael Jordan, Magic Johnson, Tom Brady, Mark Wahlberg and Denzel Washington all showed up, as did anyone who could afford to spend the price of a new car or a college fund on a ridiculously expensive ticket.
They came to see Pacquiao knock some of the hubris off Mayweather, to see Pacquiao shut Mayweather up. As Pacquiao followed Mayweather around the ring, he smiled at him. He kept smiling at him. But for all the smiles, and for all the boos the crowd rained down on Mayweather, Pacquiao could not connect the way he wanted to.
Pacquiao threw 429 total punches, when more like 800 were expected if he was to win. He landed only 19 percent, to 34 percent for Mayweather, who connected on nearly half (48 percent) of his power punches and threw more punches overall. Still, Pacquiao said afterward, "I thought I won the fight."
• Pacquiao: 'I thought I won the fight,' Mayweather 'didn't do nothing'
He also said, "I thought I caught him more than he caught me."
The scoring presented a central question. Should the judges favor the boxer who is throwing punches? Or in favor of the boxer who is dodging them?
They clearly sided with Mayweather in that regard. One judge had him ahead 118-110.
Celebrity Sightings at the Mayweather vs Pacquiao fight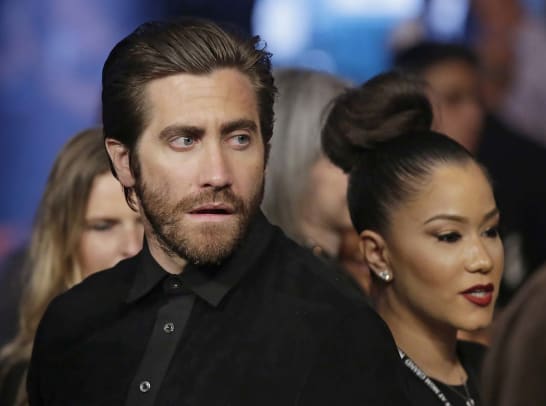 ​​The crowd filtered out of the arena, quietly for the most part. Some booed. The Fight of the Century wasn't a dud, not even close. But it didn't live up to the hype, either, and in that regard it never had a chance. The hype was simply too great. It set an impossible bar.
​​Inside the ring, as the boos continued, Mayweather said he would fight once more in September and then call it a career. He seems tired of all this, of defending himself against opponents and a public that has for the most part turned against him. Much of the talk for this fight centered on Mayweather's police record, and another controversy surfaced on Saturday, when two female television reporters who have been critical of Mayweather both said they had been denied credentials for the fight. (Mayweather's camp denied that.)
Here Mayweather did what many thought he would never do. He met Pacquiao in the ring, and not only did he beat him, but he beat him convincingly, in a fight that was close but not that close. Mayweather surely must have hoped that it would cement his place on boxing's Mount Rushmore, with Sugar Ray Robinson and Muhammad Ali and Sugar Ray Leonard. And maybe it will, in time. But that's not likely.
The boxer who has never lost has one fight he cannot win.
Mayweather climbed down from the ring and made his way back toward the locker room.
The crowd showered him with boos.
GALLERY: SI's BEST PHOTOS OF MAYWEATHER-PACQUIAO
Mayweather vs Pacquiao: SI's Best Photos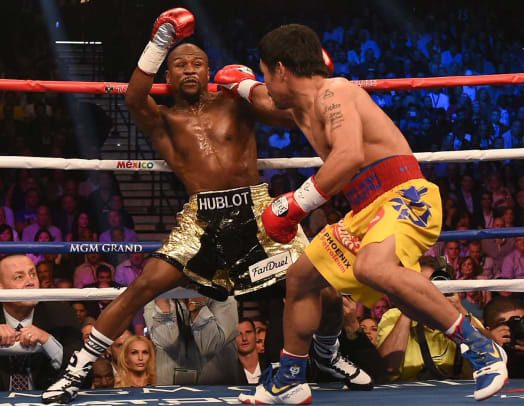 ​