Mayweather-Pacquiao fight fails to live up to hype after years of waiting
Floyd Mayweather and Manny Pacquiao finally met on Saturday night. After years of build-up and months of hype, the end result was nothing more than a dud. Mayweather scored a nice win, but this fight will not be remembered fondly.
LAS VEGAS — After five years of negotiations, of stops and starts, of back and forth and more expletive-laced insults than a Tarantino movie, we finally had it: Floyd Mayweather and Manny Pacquiao, the fight of the century, the (latest) fight to save boxing.
What a disappointment.
For 12 rounds, Mayweather did what he always does. He counterpunched, avoided trouble and landed crisp, clean shots. He connected on 148 of his 435 punches, according to CompuBox, including 81 of his 168 power shots. He controlled the tempo and at times made Pacquiao look amateurish. Pacquiao landed just 19 percent of his punches (81 of 429), the 14th straight opponent Mayweather held under 40%. He won a unanimous, and not at all controversial, ​decision.
• Fight stats: Judges agree on Mayweather-Pacquiao results
And in front of a sellout crowd of 16,507 at the MGM Grand Garden Arena and what is expected to be a record-setting pay-per-view audience, he made no new fans in the process.
Mayweather beats Pacquiao but will never have victory he wants the most
​It's difficult to describe the evolution of emotion on a night like this. At just after midnight—the main event was purposely delayed to accommodate prospective buyers who were dealing with ordering issues on Time Warner Cable—the two biggest stars of this generation stood in opposite corners. It's something so few believed would actually happen, creating a palpable buzz in the building. That buzz faded soon after the opening bell, like air slowly leaking from a balloon. A cutting Pacquiao right hand in the fourth round provided a temporary lift—until Mayweather recovered and resumed picking Pacquiao apart.
"​He had some moments in the fight,"​ said Mayweather. "​But I kept him on the outside. I was a smart fighter."
No one refutes that. Mayweather is a surgeon. He's not exciting and he's not even in the conversation for the best of all time, not with a Swiss cheese-holed resume that is missing far too many important pieces. But he is a master tactician who evolves in the ring; he identifies opponents' best weapon, like Pacquiao's loaded left hand, and neutralizes it. Beyond that fourth-round punch, Pacquiao didn't land anything of substance.
​Drama? Suspense? Not here. The only intrigue came earlier on Saturday, when CNN's Rachel Nichols and ESPN's Michelle Beadle—two media members who have been outspoken critics of Mayweather's history of domestic violence—tweeted that they had been denied credentials by Team Mayweather.
Manny Pacquiao: 'I thought I won the fight'
​Mayweather's camp was quick to deny it, but Beadle said there were emails confirming her suspicions and Nichols said a public relations person told her this week that she would not be credentialed. Nichols is a longtime newspaper reporter who is now the face of sports at CNN; Mayweather pushes the theory that domestic violence doesn't exist without photographic evidence of it. You choose who to believe.
You can't be critical of Mayweather's performance because, hey, what do you expect? He's the most well conditioned athlete in sports, a fighter who, at 38, probably could have 2-3 more years left at the top if he wants because of how hard he works. "You have to appreciate the genius of Floyd,"​ said Ross Greenburg, former president of HBO Sports. And you do. But you appreciate the skills of Willie Pep and Pernell Whitaker, too; doesn't mean you want to watch them.
Mayweather will wake up on Sunday $100 million richer, and the money won't stop rolling in from there. HBO vice president Mark Taffet says he has never seen this kind of buy rate, making the question not ifMayweather-Pacquiao will eclipse three million pay per view buys, but by how many.
• Mayweather says he will retire after one more fight
He will check an open box on his resume, padding an impressive legacy. Yes, everyone would have preferred to see Mayweather-Pacquiao in 2010. A younger, less shopworn Pacquiao might have had more success penetrating Mayweather's defense and Mayweather, says Greenburg, "​might not have been so brave."​ Late, though, is still better than never.
Mayweather will be remembered for winning this fight, even though this fight will not be remembered. There will be no Mayweather-Pacquiao II, no further collaboration between HBO and Showtime, two competing networks that make the interactions between the Montagues and the Capulets look civil by comparison. Mayweather and Pacquiao will go their separate ways, and they should: As much as everyone wanted to see it happen, no one wants to see that again.
GALLERY: SI's BEST PHOTOS OF MAYWEATHER-PACQUIAO
Mayweather vs Pacquiao: SI's Best Photos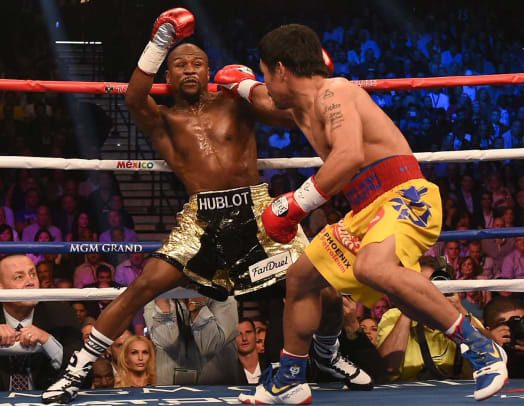 ​