Muhammad Ali, boxing legend and activist, has died at 74
He entered the hospital on Thursday for a respiratory issue. 
Boxing legend Muhammad Ali has died, NBC News reported early Saturday morning. He was 74.
A family spokesman told the Associated Press on Saturday that Ali died at 9:10 p.m. Friday of septic shock, "due to unspecified natural causes."
Ali entered the hospital on June 2 to be treated for a respiratory issue. He died with his family at his side as his conditioned worsened. 
Ali, born Cassius Clay, was widely considered to be one of the greatest boxers of all time. In 1964, a 22-year-old Ali defeated Sonny Liston in a massive upset to claim his first world heavyweight championship.
In 1967, three years after joining the Nation of Islam, Ali was arrested and stripped of his boxing title for refusing to join the United States military for the Vietnam War.
Ali would not box for almost four years, as he appealed his arrest all the way to the Supreme Court, which overturned his conviction. Ali would go on to win the heavyweight title two more times, in 1974 and 1978. Along the way, Ali fought in some of the most iconic bouts in boxing history, including a trilogy of fights with rival Joe Frazier and "The Rumble in the Jungle" against George Foreman.
• From the Vault: The Thrilla in Manilla (10.13.75)
In 1984, Ali was diagnosed with Parkinson's disease, though he maintained a public presence for many years following. In recent years, Ali largely remained out of the spotlight, as his health declined in light of his disease. 
Ali's legacy in and out of the ring made him one of the most well-known Americans ever. Sports Illustrated named him Sportsman of the Century in 1999, while the BBC named him Sports Personality of the Century. Last year, SI renamed its Legacy Award in Ali's honor.
GALLERY: SI's 100 greatest photos of Muhammad Ali
SI's 100 Greatest Photos of Muhammad Ali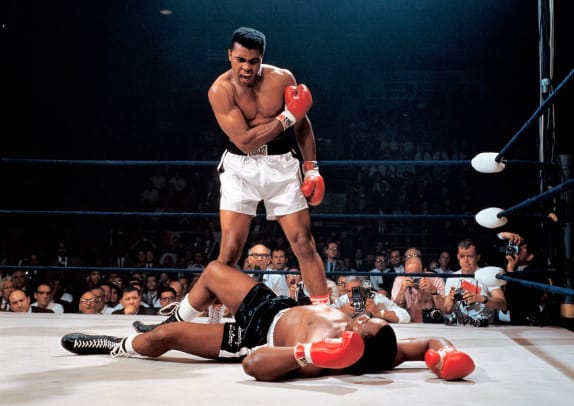 Ali is survived by his wife Lonnie and nine children.
– Bill Carey & Rohan Nadkarni