After Months of Hype, Mayweather and McGregor Deliver a Boxing Spectacle
Conor McGregor defied expectations early in his boxing debut, but when the referee stopped the fight in the 10th round, it was Floyd Mayweather, the man most expected to win, earning the victory by TKO.
LAS VEGAS — Conor McGregor got tired. He got woozy. He ended up on the ropes, staggering around, futilely attempting to grab Floyd Mayweather and struggling to stay standing. But the proud Irish UFC champion refused to go down. And referee Robert Byrd stopped the fight anyway, mercilessly ending the punishment, even if McGregor thought it was ended too early.  One minute and five seconds into the 10th round. About 25 minutes longer than most thought it would last.
Yes, Floyd Mayweather won his 50th professional fight on Saturday night in front of a raucous crowd that rarely sat down and left the arena feeling a way that they haven't in many years after a Floyd Mayweather fight—satisfied. Yes, Mayweather did what he has done in 49 other fights. He won.  And that was to be expected, really.  But it didn't happen quite as we would have expected.
Well, the spectacle was exactly what we thought it would be. Celebrities abounded, from LeBron James to James Harden to Ray Lewis to Jamie Foxx to Diddy to Alex Rodriguez to Jennifer Lopez to Bruce Willis to Nas to Julius Erving and even the Jack Links' Sasquatch. There were so many people buying the event on pay-per-view that Showtime had to delay the start of the fight because of scattered outages. The atmosphere was more rock concert than sporting event.
Floyd Mayweather vs. Conor McGregor: Recap, Round-by-Round Analysis
The crowd erupted when McGregor strutted to the ring, an Irish flag draped around his neck, holding his arms up over his head. It was an understated look compared to the spectacle that has been the build up to the fight. Mayweather came out next, a black ski mask covering his face, an all black outfit on that looked like a combination of an executioner, a dominatrix and Mortal Kombat character. He was head-to-toe bedazzled in gold. As McGregor preened around the ring, holding his arms up over his head, Mayweather barely moved. He smirked, looking like he knew exactly what was going to happen next.
Then the announcer yelled, "It's showtime," and—after three year of being teased that this day would come, and three months of anticipation after we knew it would—the crowd erupted again.
For the first few rounds, Conor McGregor, the UFC fighter, looked like a boxer. A competent boxer. Dare we say, even a good boxer. He looked like he might even do what he had been telling us he'd do for the last three months: beat Mayweather at his own sport, outbox one of the best boxers of all time.
In the first round Mayweather threw five total punches. McGregor charged forward, looking like he wanted to make good on his promise that he'd drop Mayweather in the first round. He put his arms behind his back, taunting Mayweather. He threw jabs and landed them. He countered a Mayweather attack with an uppercut, something that very few professional boxers have ever done. The vastly pro-McGregor crowd broke out in an olé chant, thinking their hero was going to do the impossible, again, just like he told them he would.
"You will see him box," McGregor's coach, John Kavanagh, told SI last month. "You will see him out-box him. It's a boxing match. It's going to be a boxing match."
And it was. Over the next few rounds McGregor was a real boxer.  Yes, he had an unusual stance, with his legs wide. And he was throwing punches from angles not seen in boxing rings, sometime downward onto the top of Maywather's head.  And he frequently wound up clinching Mayweather from behind, the two wrapped up in what looked like a deleted scene from Dirty Dancing.  And he was warned by the ref over and over that he needed to stop punching in the back of the head.  But he was landing punches. Many of them. He looked fast. He looked good.
Floyd Mayweather Jr. vs. Conor McGregor: "The Money Fight"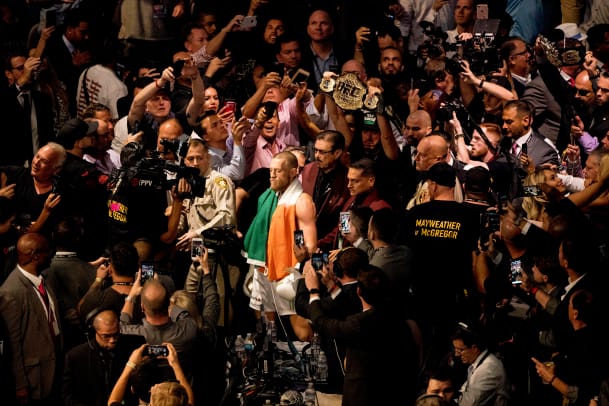 But there was Mayweather, still smiling.
"It got to be calculated."  Mayweather said to a friend in the bowels of the Staples Center on July 12, after appraising his performance in one of the fight's world tour press conferences.
"There's no one more calculated than you," the friend said back.
Twitter Reacts to Floyd Mayweather and Conor McGregor's Theatrical Entrances
After six rounds, McGregor was winning the fight. Or so it seemed. Mayweather is calculated. We soon learned that he had McGregor exactly where he wanted him. In the seventh round, Mayweather came out attacking. McGregor was noticeably slower.  In the eighth, Floyd came out lunging, chasing McGregor around the ring. The dynamic had switched completely, the mood in the arena palpably different. In the ninth, McGregor began wobbling. It looks like he struggling to stay standing. McGregor was hurt, he was falling over the ropes, attempting to clinch but getting repeatedly rebuffed. Mayweather smelled blood, he wanted to do what he had told everyone he would: Not let the fight go the full 12 rounds.
It was all too much eventually for McGregor. He stayed on his feet, he showed the same toughness and grit and determination that has defined his career. He wouldn't go down, despite the repeated punishment. But in the 10th round, after Mayweather continued to land blow after blow, Byrd, the referee, had to stop it.
Mayweather jumped onto the ropes, hands raised, McGregor looked incredulous. He wanted to keep fighting. He was wrong, but he felt he could keep going.  Then the two competitors, after months of calling each other every single curse word in the English language, hugged in the middle of the ring.
"He's a tough competitor," Mayweather would say.  "He's a lot better than I thought he was. Conor McGregor you're a hell of a champion.
"But I guaranteed everybody that this fight wouldn't go the distance."
Mayweather then told us that what we thought we all saw was actually wrong. McGregor wasn't winning the early rounds. He was doing exactly what Mayweather wanted him to do. He was tiring himself out and giving Mayweather a blueprint for what type of boxer he is.
"Our game plan was to let him punch early and then figure him out," Mayweather said. "Me and my dad talked about we wanted him to shoot the heavy shots in the early rounds."
Yet there was McGregor, still smiling. He went 10 rounds. He proved he was a true fighter, that he wasn't all bluster. Nine opponents in Floyd Mayweather's career have landed less than 100 punches against him over 12 rounds. Conor McGregor landed 111 in less than 10 rounds.
Floyd Mayweather: Conor McGregor 'A Lot Better Than I Thought He Was'
"I thought it was close," he said. "I didn't hit the floor. It was fatigue. I thought the ref could have let it keep going. Let the man put me down."
After all the hype, the fight actually delivered. It started unlike we expected and ended exactly as we expected. Floyd Mayweather won his 50th fight, still never having lost, passing Rocky Marciano for the best unblemished record in boxing history. His legacy will be mixed, of course, but he can sell an event unlike any athlete ever.  That no one denies. But it did seem that, finally, Maywather is ready to leave the ring for good—run his promotion company, spend every night at his strip club, post photos with bundles of cash on Instagram. And never box again.
"This was my last fight tonight ladies and gentlemen," Mayweather said, seemingly at peace. "Tonight was my last fight. And I chose the right dance partner to dance with."