Everything Changes, But Don King Will Always Be Don King
At 86, boxing promoter Don King is the same as he ever was and he's telling Sports Illustrated to hold its cover for boxer Bermane Stiverne.
"Who is it?" Don King asks the person who is handing him a cell phone on Thursday in Brooklyn. He means, who is on the other end? Which really means, who am I selling now and how am I going to sell that person?
It doesn't matter, really. It never matters when Don King is on the sell. Hand him a phone and he will not speak but shout into it. This is a man who will debate with dial tones, or give 10 minutes to one of those automated airplane updates that's announcing a flight delay. To, "Your flight now leaves at 5:45 p.m.," it's, "Did I ever tell you about the time in Vegas with Tyson …" He'll launch into diatribes on America and athlete activism and Clark Gable and white supremacists and how millennials love magazines. He did all that in five minutes on Thursday afternoon. Some of it may even have been true. It wasn't easy to keep up.
"Sports Illustrated!" he shouts, repeating the name and louder, in case it hadn't echoed properly. "The one! The only! I, sir, am ready to go back on the cover of Sports Illustrated. After Saturday night you're gonna be coming after me like a hungry dog. Get that cover ready!"
A Day With Deontay Wilder Involves Posing, Pizza and Lots of Laughs
King is 86 now and still, incredibly, in boxing, still selling the storylines of fighters, still trying to make fights. Even on the sport's fringe, even toward the end of his colorful career, he's still Don King, the boxing promoter whose hairstyle is forever wet-finger-in-electric-socket. He drops references to the years he promoted Muhammad Ali and describes the fights he made in the heavyweight division back when it mattered to causal sports fans. "Only in America!" he says over 100 times a day.
The event he is referring to on Saturday is a heavyweight boxing match in Brooklyn at the Barclays Center. It features King's fighter, Bermane Stiverne, in a rematch against Deontay Wilder, who holds a 38-0 record, has 37 knockouts and topped Stiverne by unanimous decision (his only non-knockout in a professional fight) in Jan. 2015. They're fighting again because the opponent Wilder chose, Luis Ortiz, failed a drug test in September and Stiverne was already on the undercard. "Bermane will shock the world!" King says, unsurprisingly and convincingly all at once. "Deontay never met a guy like him. He took everything Deontay threw at him. He's gonna win this time. So get that cover ready!"
SI's Best Photos of Don King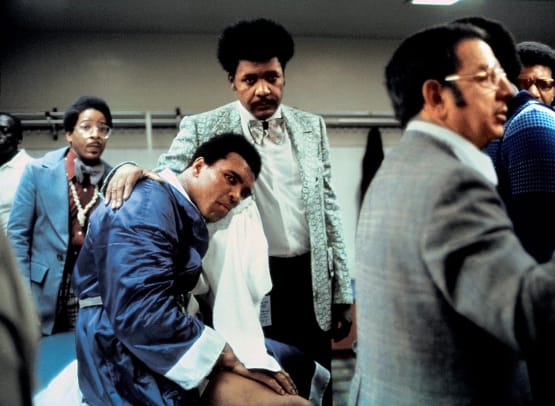 "Only in America!" he says again.
He's picking up speed now, jabbering away, sentences ramming into other sentences like bumper cars. A conversation with King, however brief, unfolds like a tsunami, approaching slowly and spinning faster and faster and faster and faster and faster untilyou'reinitandit'shardtoseparatewhereonewordendsandanotherbegins. He says something about how he never really left boxing and never plans to retire. Maybe. He says the sport is in the "doldrums" and has "prepared to fail." Sure? "Thekeypartisthepeople," he says (we think). "Thepeoplearethemostimportant. Wehavetowinbacktherespectandadorationofthepeople."
"Only in America!" he says again.
It's impressive, really, that a man can say the same things in the same way not for years but decades, personalizing the message but never changing it. "Americanisthegreatestcountryintheworldanationfoundedonfreedomandqualityandlibertyandjustice," he says, cramming a high school civics lesson into a sentence without a pause. He says we need laws that specifically make white supremacy a crime.
"WehavetodealwithwhatisrealnknowwhatI'msaying?"
Kind of. He notes that Ali gave up the prime of his career to stand for what he believed in. So I started to ask King what Ali would make of 2017, with President Donald Trump, NFL owners and star football players locked in an endless debate over the anthem and whether it's OK to kneel for it. With Trump calling players "sons of b------" and owners saying Trump is jealous he could never join their club and buy a team.
Retirement, Helping Puerto Rico Occupy Miguel Cotto's Recent Thoughts
King, though, is already moving forward. He's on to the next sell. Is this the end? His last fight of significance? It's hard to say. He's the one who's talking, his cadence slower now—slower being relative, in this instance and all instances with King.
"SI, hear my cry, the greatest magazine alive, and will not be denied!" he shouts, as he hands the phone back to whomever gave it to him, as if dropping the mic at the end of a rap battle. The room spins a little as the tornado of words halts. An ear rings, the one nearest to the phone.
"Don is gone," the voice says, and it sounds like the voice of God himself.
"Is that enough?"
Always.
"Get that cover ready!"