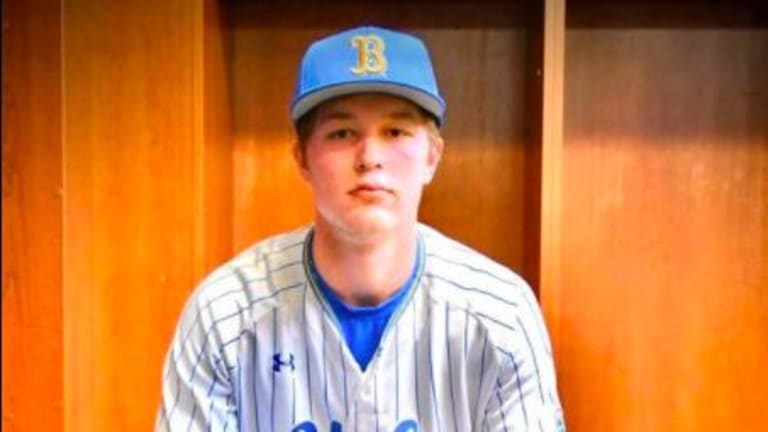 UCLA Baseball Recruiting Class Spotlight: RHP Nate Leibold
One of the top arms in the Pacific Northwest joins the Bruins for the 2022 season.
UCLA baseball has 14 new players coming to Westwood this fall to replace the 10 who got picked in the 2021 MLB Draft and even more who graduated and went elsewhere. From top recruits to under-the-radar prospects and high-profile transfers, All Bruins is breaking all of them down to see what they could offer UCLA in 2022 and beyond.
Here is the scoop on incoming freshman Nate Leibold.
From the state of Washington comes a long-term right-handed pitching prospect with a knack for strikeouts.
One of two players not from California set to join UCLA baseball this spring, pitcher Nate Leibold may have to wait before making an impact in Westwood, but he brings an intriguing profile to the table. Playing his high school career at Ballard High School (WA), Leibold was the anchor of its pitching staff in 2021 whilst playing third base as well. Leibold's future lies at pitcher and coach John Savage brought the right-hander to Westwood to compete on the mound.
Ranked by Perfect Game as the No. 500 player and No. 296 pitcher nationally, Leibold has less expectations in the frontside of his college career compared to some of the other arms joining the roster this year. Within the state of Washington, Leibold was ranked the No. 11 player and No. 6 pitcher overall, but those numbers mean less than they would in a talent-dense state such as California.
When UCLA released its 2021 Recruiting Class, Savage said he was looking forward to molding Leibold's game moving forward.
"Nate is one of the best right-handed pitchers in the state of Washington," Savage said in the recruiting class announcement. "He's a physical pitcher who has power stuff and who we think will be very good in college. I'm looking forward to being a part of his future and watching his development in our program."
The Seattle native features a pitching stance that has a small dropdown to his right side before releasing the ball, creating some deceptiveness as it's released. Leibold's fastball reaches into the low 90s, while the right-hander's slider is being looked at as a putaway pitch.
Leibold played his summer ball with the Portland Pickles of the West Coast League. Playing alongside fellow incoming freshman Alonzo Tredwell, Leibold got ample playing time.
In nine games with the Pickles, Leibold had a 2.19 ERA with 22 strikeouts and four walks, all within 12.1 innings. His standout performance from the summer came on Aug. 11 against Port Angeles, when Leibold pitched 4.1 innings, allowed one earned run and struck out seven.
The 6-foot-3 righty could carve himself a role out in the bullpen, but Leibold, who returned from an injury to pitch for the Pickles this summer, will likely be eased into the fold.
Prediction
Leibold is a pitcher that coach Savage will probably build up over time instead of pushing out onto the mound to start his career. Do not be surprised if the right-hander from Seattle redshirts in year one as coach Savage does not rush pitchers physically or developmentally. Leibold has a solid chunk of the pitching staff ahead of him on the depth chart, but his summer performances could allow for a second look at where he will lie this spring. Leibold provides a fascinating option nonetheless.
Follow Royer on Twitter at @thebenroyer
Follow All Bruins on Twitter at @SI_AllBruins
Like All Bruins on Facebook at @SI.AllBruins
Read more UCLA stories: UCLA Bruins on Sports Illustrated
Read more UCLA baseball stories: UCLA Baseball on Sports Illustrated