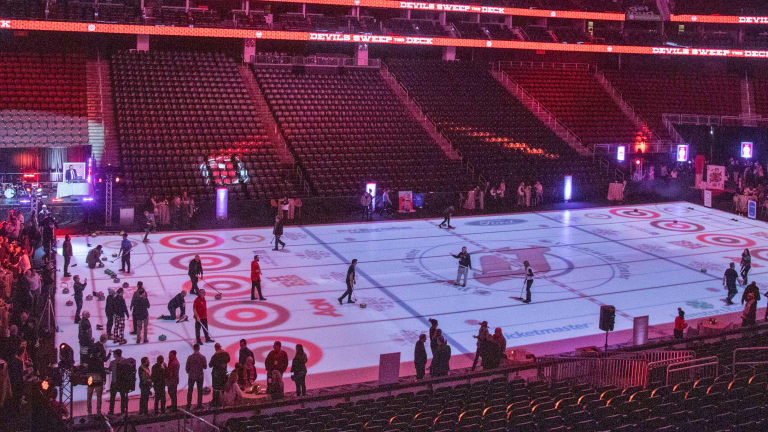 NHL's Devils Go Curling For Charity
Devils and their fans curled on the ice, gambled at the casino at one end, and enjoyed high-end dining at the other – as the jazz/funk band played on.
Convincing Americans to try curling has been a challenge as there simply haven't been enough places where Americans can play. We've made great progress on that front in recent years, with new dedicated facilities all over the country – including places like Phoenix, Portland, Pittsburgh, and North Carolina. But with more than 300 million people living in the U.S., we still have a long way to go.
A few years ago, along with some great partners, I started a company in the Tri-State area called CurlNYC. Today, we have enough equipment for 11 sheets of curling.
It's been an evolution of sorts for me. You see, I was a curling snob, and thought it was an affront to the sport to introduce it to people on, say, outdoor skating ice. Or with our definitely-not-matched granite. But over the past few years, I've seen that as long as we teach people a slide delivery like they've seen during the Olympics – the step-on slider being one of the better inventions in the sport – and we make sure they have a good time, curling wins.
We've run events and shown people how to curl on rooftop ice overlooking the East River, in Bryant Park in the middle of Manhattan, on a rink covered by a leaky roof in hipster Brooklyn. Guess what? Bring a sense of humor and let people know they're not doing exactly what they've seen on TV, and everyone will have a good time… and they'll try it again if they can, too.
So when the New Jersey Devils and Devils Care – their foundation that supports worthy causes in the Newark area – called us about running a curling fundraiser at the Prudential Center, we didn't hesitate. Fans of the team would curl on the ice, gamble at the casino at one end, and enjoy high-end dining at the other. All of this would be happening while a jazz/funk band played. The date was set for February 10, pre-pandemic.
We started working with Joe Altenau, Vice President of Event Operations and Guest Experience for the Prudential Center and the New Jersey Devils, and his team to promote the event. We shot video with Devils players, in their practice rink and on the ice at the "Pru."
A few weeks in advance, MSG broadcasters Ken Daneyko and Erika Wachter came to my home club in South Plainfield, N.J., where I taught them to curl and shot footage that was shown during a Devils game.
The Devils are a first-class operation and this event, called Sweep the Deck, reflected that. Instead of using our Sharpie to quickly mark the houses on the ice, everything was light projected – rings, center lines, hog lines – in some magical way I never quite figured out. Turn on the projector and we had a curling rink; turn it off at the end of the night and Prudential Center head ice technician Bryan Bawiec could start preparing the surface that would host an NHL game the very next night.
Sure, the back lines were a little off and the sheets were only about 100 feet long, but who cares? It looked awesome.
We arrived in the early afternoon on the day of the event to prep the ice. Freeze in the hacks, lug the rocks in, start pebbling. The team at the Pru adjusted the surface temperature, so we went from ice that was dead-slow to lightning fast by the time the event started at 6:30 p.m.
Olympic curling champion Tyler George was on the ice with us. Nearly the entire Devils team got out there. Toronto native P.K. Subban was the player who picked it up the quickest, with Thunder Bay's Mackenzie Blackwood just behind him. Orlando-born (but grew up in Mississauga, Ont.) Jack Hughes – well, let's say he's definitely a hockey player.
Curling ran non-stop from 5:45 until 9:30 p.m. When we run these kinds of events, we use just four rocks per team on each sheet – it's safer, there's more chances to for people to get the excitement of winning an end, and finally… it's easier on our backs. This former curling purist doesn't even bother trying to explain what a skip does – I tell people in the hack where to aim and which way to rotate it. Then I tell them that on each shot, we'll have one thrower, two brushers, and one drinker. Everyone loves to throw, sweep, and yell – nobody wants to stand in the rings and watch their friends have a great time.
What professional hockey team wouldn't want to do this kind of event? The Devils gave their diehard fans a chance to get on the home ice, and do something fun with some of their favorite players. It also humanized the players – most of them were first-time curlers and they struggled just as much as anyone.
Right now in the United States, people love our sport and millions want to try it. Whether it's an event like this or something else, we're all about bringing the game to them. Many will fall in love with it, and figure out how to play it regularly as soon as they can.