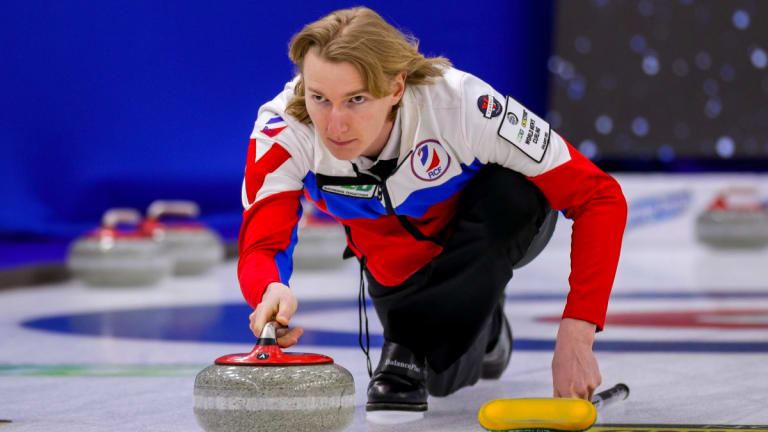 He Curled. And Watched. And Learned.
Sergey Glukhov didn't really come out of nowhere. And now he's back to the grind in Russia.
Just over a week ago, Sergey Glukhov's RCF team lost two playoff games to finish fourth at the 2021 world men's curling championship in Calgary.
The losses came after a spectacular week in which his squad tied eventual world champ Niklas Edin of Sweden with an impressive 11-2 round robin won/loss record.
This was the closest any Russi—sorry, RCF—team had ever come to a men's worlds podium. It was a remarkable achievement considering the literal doghouse which Russia's doping-scarred sports scene finds itself in.
Sergey Glukhov is now back in Russia. He went curling today, of course, at the Ice Cube venue in Sochi, which hosted the 2014 Olympic curling competition. He played against former Russian national team skip Alexey Timofeev and lost, 6-5 in an extra end. 
Back to work. Back to the grind. Congratulatory slaps on the back from your fellow Russians, one would expect, and then hit the ice so they can try to thump you. 
If the Russian curlers aren't actually curling, which they do all the time in Sochi, they're watching. Watching and learning. That's how it's done, in all the curling countries, and it was only a matter of time before we saw a Russian men's breakthrough.
Their women came first. They've won five medals at the women's worlds, four bronze and a silver, all of them since 2014. They've scored medals at the European Championships, including gold, and I was there to see the very first one, back in 2006, at the St. Jakobshalle in Basel, Switzerland.
Liudmilla Privivkova defeated another women's curling minnow nation—Italy—in that final, and it was really something. It left the usual powerhouse European teams wondering … what just happened?
When Anna Sidorova led her Russian women's squad—which included Privivkova at third—to another gold in 2012, we decided to put their team on the cover of the January 2013 issue. After all, Sochi 2014 was just a year away.
The men took longer to develop. Andrey Drosdov won five games for his country at those same 2012 Europeans, good enough to qualify Russia for their first world men's championship appearance.
And now, almost a decade later, the Russian men have finally arrived as podium threats.
It was fun to see curling media types scramble about, seeking information on Russian men's curling and Glukhov in particular. Olympic and multiple world champion skip Kevin Martin, commentating for World Curling Television, admitted he had never previously heard of Glukhov and had no idea where he came from, while marvelling at his shotmaking through the week.
Dr. Google told Martin and others that Glukhov had competed in three previous men's worlds plus two Europeans, and won silver at the 2013 world juniors. And that's about it.
I remember seeing Glukhov at the Sochi 2014 Olympic Winter Games. A Games where Russia qualified as host nation and the men's team didn't make much of a mark. Except for a memorable on-ice wipeout, which left Drozdov with a welt on his face.
There was also an amusing pre-game image when Russia played Sweden, and the Russian lead—an absolutely huge fellow named Petr Dron–stood beside the diminutive Swedish skip Niklas Edin.
Glukhov wasn't competing in those Olympics, but I saw him anyway. Prior to the start of the round robin, he and a large group of young Russian curlers were outfitted in volunteer uniforms and given the opportunity to play practice ends on the Ice Cube surface, while the Olympic Broadcast Services television crew tested their coverage systems.
Glukhov was noticeable then—tall and rangy, with longish blonde hair. Those locks positively flowed as he powered out of the hack. A young blonde woman was also hard to miss, particularly when she appeared on my TV monitor as Jennifer Jones of Canada (they were testing the chyron as well).
She would soon become well known as Victoria Moiseeva, skip of a new, young Russian women's team that would win Euro gold in 2016 and world bronze in 2018 before retiring.
Glukhov, Moiseeva and their peers were all quite noticeable. Their deliveries were technically perfect. They delighted in their opportunity to break in that Olympic ice surface. They clearly loved to play.
It would only be a matter of time, I figured, before these youngsters were challenging their country's top dogs for the right to wear the national team colors.
And many of them, unbeknownst to North American curling media, had been toiling on the European leg of the World Curling Tour for years, making shots, missing shots, getting their butts kicked—and watching. And learning.
One of them was Glukhov, who made this shot at the Oslo Cup in Norway way back in 2012, months before his podium appearance at the World Juniors. This indescribable shot, which simply ranks as one of the greatest things you've never seen.
Glukhov went on to lose that game to a Norwegian team skipped by Sander Rolvag. But there he was, Glukhov and his mates, travelling and curling. And watching. And learning.
The Russians are most definitely here, at the top high performance level, in both genders. They would already own an Olympic medal, their first, if their male competitor in mixed doubles hadn't been nailed with a doping violation at PyeongChang 2018. That would have been a medal for the "OAR" of course, but you get the picture.
So take it easy on Kevin Martin, who didn't know who Sergey Glukhov was. Even after the two met, during the Continental Cup in Las Vegas in 2018 (this is the first image on Glukhov's Instagram account).
Kevin wouldn't remember this because Gluhkov wasn't competing in Vegas. 
He was obviously there to watch. And learn.