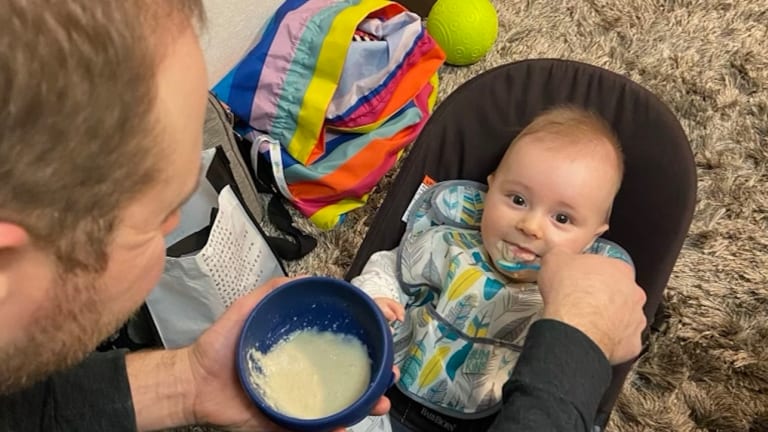 "I Haven't Seen Them Since The Night We Won The Brier"
It's been a lengthy series of life bubbles for one man.
If little Liam weren't around, Geoff Walker probably would not be enjoying the Calgary curling bubble nearly as much as he is.
"I would say it's pretty boring," Walker says of his extended time spent in a hotel room, "but I've got a little baby to look after so that takes up a lot of my time."
Laura Walker, of course, has a monumental task this week. She is playing in a major competition and looking after a newborn child at the same time, skipping Team Alberta at the Scotties.
A huge assist goes to husband Geoff, though, and his daddy-daycare back at the hotel. The man who'll once again play lead for Brad Gushue's Team Canada foursome at the Brier is up for the challenge.
"They're lookin' good," Walker says with a chuckle, when asked to size up his diaper-changing skills. Those skills, he brags, have been pretty sharp from the get-go, actually, ever since Liam arrived last September.
"That's the easy part," Walker adds. "It's trying to get him to sleep that can be the hard part, especially when he gets tired and cranky. It can be a little bit of a grind for sure. It's definitely testing my patience over the last few days," he says chuckling.
He isn't complaining, of course. Still basking in the glow of newly-minted parenthood, Walker marvels at how much comes at him at high speed as a new father, especially in a bubble that sees just he and his son hanging out for long stretches.
"It seems like you're always learning different things," he says of his role as a father.
Daddy skills? Getting better. Curling skills? They're gonna be rusty, for certain, when Team Gushue takes the ice for The Brier beginning March 6.
Walker hasn't been with his teammates—Gushue, Mark Nichols and Brett Gallant—in almost exactly one year.
"I haven't seen, in person, Mark, Brett and Brad since the night we won the Brier," says Walker of the 2020 championship, held in Kingston, Ontario. "We had a couple of drinks at a local pub. I haven't seen 'em since. It's crazy. I'll see 'em again once they are out of isolation."
While Gushue, Gallant and Nichols have been able to play together back in Newfoundland and Labrador this season—that is until a provincial lockdown came into effect earlier this month—Walker has been left to his own devices in Edmonton, with very little practice time under his belt. He threw a bit in October and November. But that's pretty much it.
"Because we've thrown so many rocks in our life I think it won't take long to get back," says Walker of the shooting component of his game. He takes his cue on that from Laura, in some ways, marvelling at how well his wife has returned to form after shaking off some competition rust.
"She hasn't had the time on the ice, in the fall, that I was able to have so that's a little bit of an adjustment but I think she's handling it pretty well and the team's playing pretty well," says Walker. "Hopefully that's only a start and they're only going to get better as the week goes on."
The other very important part of Walker's game—the sweeping—well, that's another story.
There is absolutely a "game shape" consideration in curling as there is in other sports. For Walker and others like him, who are known for high levels of physicality and staying power in their broom work, it is definitely a concern.
"There's no, you know, pre-season as you'd see in other sports," he says. "So it's getting right into the intense games right off the bat and that's where there might be issues with the body. There's gonna be some soreness and hopefully no (muscle) pulls or anything like that."
"You can practice all you want but you're not sweeping with the same intensity that you are in a game. So that'll be the biggest thing."
And with lockdowns being the norm, workouts have been harder to come by, Walker says. "Yeah, that's been tough," he admits. "I mean, not being able to actually go and do some hard sweeps or just, you know, heavy cardio workouts."
He's tried to accomplish what he could in a makeshift gym in his basement, but it seems that most of his cardio, these days, comes from 'hopping to it' in seeing to little Liam.
Soon, mom and dad's roles will be reversed, when the Brier begins. After that, however, there's more daddy-daycare in store for Walker, when Laura pairs with Kirk Muyres at the Canadian Mixed Doubles Championship.
With the World Men's Championship and two Grand Slams scheduled to cap the season, Walker is looking at, quite possibly, a very long stay in the bubble. Up to nearly 10 weeks, he figures. If Team Gushue fails to win the Brier, that would give them a chance to "de-bubble" for a couple of weeks, but Walker isn't hoping for that. "I think we would take another Brier win for sure," he says.
All of that is ahead, though. For now, there is dad, Liam and a hotel room.
So far, Walker has resisted the urge to get out of that room and over to the rink to watch Laura play in person. He fears that if Liam were to get fussy, that might be a bit of a distraction. But if the cabin fever gets to be a bit much, you might just catch a glimpse of them behind the cardboard cut-outs lining the stands.
"You know it might be good for a change of scenery, because Liam's gettin' sick of the hotel room as well," Walker says with a laugh.