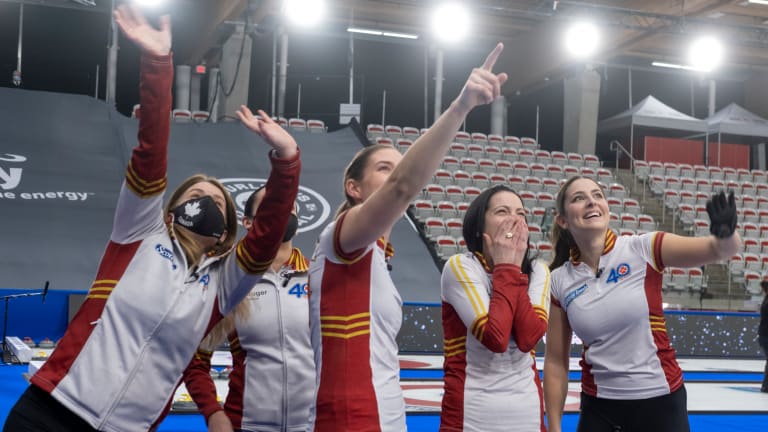 One Down, Five To Go
A weird but wonderful STOH wrapped up in Calgary.
A weird but wonderful STOH wrapped up in Calgary.
Phase one of the curling bubble went off without a hitch—most importantly, no COVID cases.
That's quite an accomplishment, given the various groups and sub-groups involved. Almost 120 athletes and coaches were there, plus the icemaking crew, officiating crew, television broadcast crew, event organizing staff, facility management staff and so on.
There won't be any official asterisk beside the winner's names—that's Team Canada's Kerri Einarson, who defeated Ontario's Rachel Homan in the Scotties Tournament of Hearts final for the second year in a row—because this very strange event, played in a live spectator vacuum, was still solid in its foundation. The cream of Canada's women's curling crop steadily rose to the top through the week, and not even enthused but super-finicky curling fans can disagree with that.
The vibe of weirdness echoed throughout the tournament.
The darling of the event, Quebec's youthful Laurie St-Georges—promptly nicknamed Elsa from Disney's Frozen film franchise–skipped one of the teams that never qualified in the traditional sense; they had lost last year's Quebec final and got the nod to compete in Calgary from a selection panel.
A number of players and teams declined the invitation, resulting in some interesting names on uniforms. Chelsea Carey ended up skipping team Fleury—dubbed Flarey— which also had Sherry Middaugh wearing a bison on her back. Randy Ferbey, a king of Alberta curling, ended up coaching Homan's Ontario squad when regular coach Marcel Rocque, one of the original Ferbey Four team members, couldn't make it to Calgary.
Jennifer Jones set a new record for career STOH wins—beating the mark set by Nova Scotia legend Colleen Jones—and looked to have a tiebreaker well in hand, but flashed a double-takeout attempt for the game. Alberta skip Laura Walker then drew for three points and the win. Since her sixth STOH victory in 2018, JJ has finished seventh, third and fourth.
The cardboard cutout spectators were odd, despite the fact we'd seen such things since the Korean baseball league last spring. The relative silence on the ice was very odd for everyone—the competitors, the event staff, the fans watching on television or online, even the broadcasters.
Manitoba skip Beth Peterson, one of three healthcare front-liners in the field, had packed her curling gear away in her garage back in November, convinced her season was over. Pregnant when she got the call for Calgary, she started lying on her house floor in curling's slide delivery pose, preparing her body for the ordeal to come. Her unheralded Wild Card 3 squad finished in fifth place with an admirable 7-5 won/loss record.
And what an ordeal for Homan, who competed right up to the 10th end of the championship final while eight months pregnant. "Can we talk about skipper here?" asked Ontario third Emma Miskew. She's right. Both the Canadian and International Olympic Committees should have been trumpeting about their 2018 Olympian gutting it out so late in her term … but there's been silence on that front.
With the initial women's world championship cancelled for the second year in a row, the victorious Team Einarson will now receive red and white uniform jackets and gear they probably won't wear—for the second year in a row.
Weirdness aside, the first of six championship events is done. The ice technicians will carve out the STOH sponsor logos and replace them with Brier monikers. The electronic side and end boards will be reprogrammed. Some athletes will leave the bubble and others will arrive, while some settle in for what could be a very long haul.
One down, five to go. And if COVID-19 can continue to be kept outside the bubble, this will be one of the most memorable curling event series' of all time.