Chef's Table: Cooking for Sports' Superstars
If what an athlete puts into his body is just as important to performance as how he works out, then Glenn Lyman is one of sports' most unsung coaches. The personal chef has been responsible for feeding and meeting the massive nutritional needs of some of the U.S.'s most preeminent athletes, including LeBron James, Olympic swimmer Ryan Lochte, four-time NASCAR Cup champ Jeff Gordon, Ravens wide receiver Steve Smith, and a dozen other top performers in a variety of sports. Lyman has helped turn these athletes' diets upside down, moving LeBron, for example, from eating Fruit Loops out of a mixing bowl for breakfast to drinking raw juices and preferring organic leafy greens. The chef has made culinary magic out of some of the oddest requests—whole, slaughtered hog for now-retired Giants wide receiver Joe Jurevicius or braised oxtails for James' former girlfriend—and has converted nearly every unhealthy food into a meal conducive to optimal athletic performance.
Yet for Lyman, who owns the culinary-service company GGooks, all that is just part of the job. "I only keep a handful of athletes at one time," says Lyman, who currently works only with Lochte and Gordon. "I like to keep the best of the best, and I don't answer every call from every player. They have to want to eat healthy, and we have to get along. We have to have a program that works for both of us."
Part of that program includes little to no red meat and an emphasis on fresh, natural, and seasonal foods. "I try to get the red meat out of their diet pretty quickly, using turkey and chicken instead," he says. "We stick with organic, we use local ingredients, and no processed foods at all. Lean proteins, leafy greens, and complex carbs—those are my three with any of these guys' diets."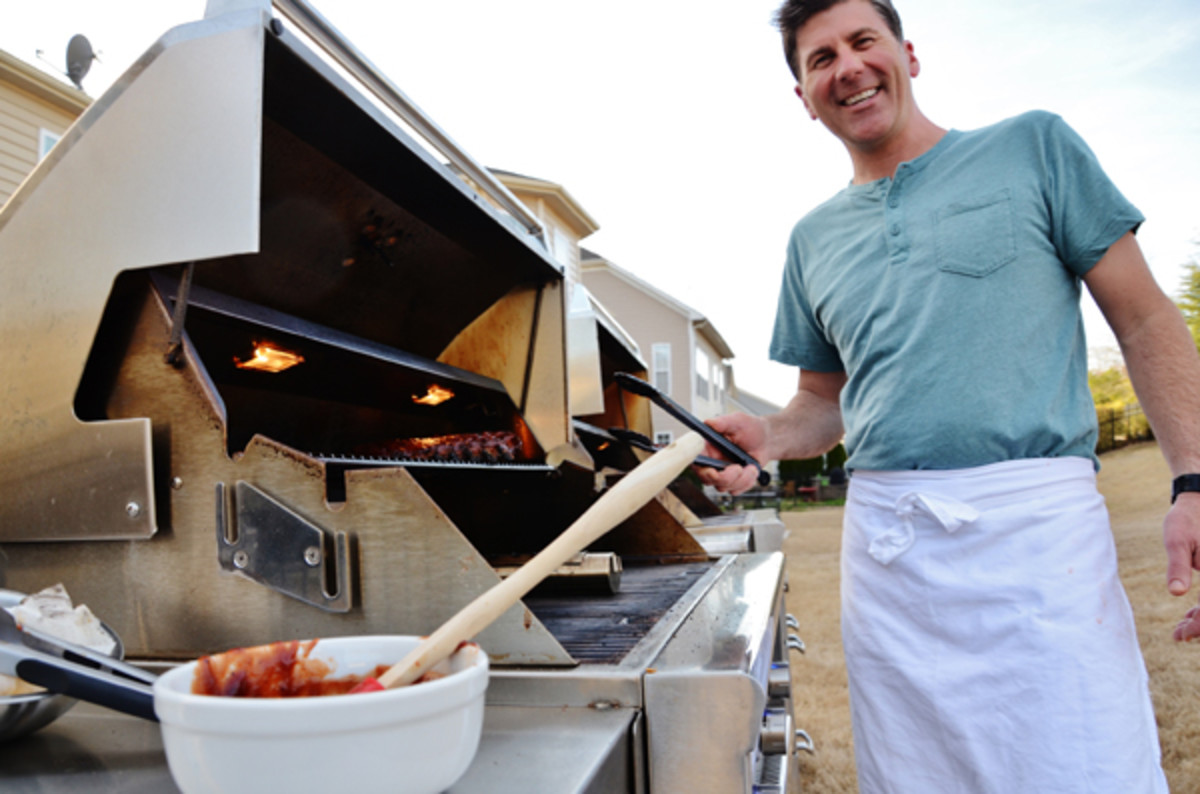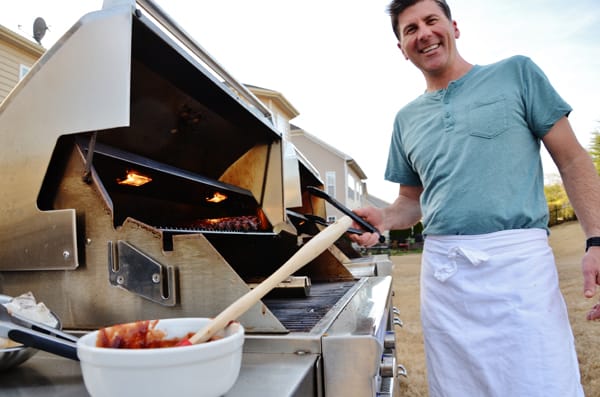 , who eats up to 12,000 calories per day to meet his energy demands. "He understands the kind of nutrients professional athletes need and makes food that tastes really good at the same time."
Cooking for high-profile athletes like Lochte and James, though, isn't without its trying moments—the biggest perhaps coming for Lyman at the end of a Cavs game in 2007, when he was asked to shop for, prepare, and serve dinner to 20-plus film executives at LeBron's home with less than three hours' notice. "All I was thinking was how the hell I was going to do this," Lyman recalls. "But I just left the game, got some coffee, and went to the supermarket. The next thing you know [comedian] Jimmy Kimmel was in the kitchen talking to me about cooking. It was an amazing challenge."
Lyman balances these infrequent difficult times with the preponderance of comfortable ones—the everyday routine of spending time in an athlete's kitchen, cooking his favorite meals. "It's usually the stuff they want on their days off that's the most fun to cook," Lyman says. "I say 'lean and clean during the week, and low and slow on your days off.' So 'low and slow' might be barbecue, and I'll throw a slab of ribs on the grill for a couple hours." (Get the recipe for his famous ribs here.)
But Lyman says his most requested meal by far is chicken wings, which he makes healthy by roasting the meat and then flavoring it with honey and crushed red pepper flakes. (Get Lyman's wing recipe here.) Wings aside, every athlete has his favorite dishes: LeBron, whom Lyman worked with for five seasons, liked breakfast foods the best—"I used to make him stacks of whole-grain French toast, turkey sausage, and grits"—Lochte prefers Lyman's chicken, broccoli, rice, and cheese casserole, and NASCAR's Gordon is big into salads. "Jeff has a garden in his backyard, and I'm always pulling vegetables out of there to make salads," Lyman says.
But the chef is much more than a short-order cook, he says. Rather, Lyman describes himself as a "liaison" between an athlete and that athlete's nutritional needs. "When these guys talk to a nutritionist, they have no idea what they're talking about—they have no idea how to get complex carbs, proteins, and leafy greens into their diet every day," he says. "And that's when they call me."
Cooking for Amar'e
Lyman isn't the only chef in the employ of star athletes, of course. Most top-level pros have their own personal chefs, including Knicks forward Amar'e Stoudemire, who works with Chef Maxwell Hardy III. "It's tough because you're cooking so many meals per day for him," says Hardy, who makes up to four meals per day for the NBA star. "And he changes his diet so much because he's very health-oriented. So he might want to go vegetarian or stay off meats for a month. And we play a lot with his diet to see how he feels and how he responds on the court."
Like Lyman, Hardy rehabs many unhealthy dishes for his athlete clients—which have included Matt Kemp of the Dodgers and Prince Fielder of the Rangers—to be suitable for consumption before any athletic event, whether the World Series or the NBA playoffs. "Instead of stewed collard greens, I'll make sautéed, so you're not losing any nutrients," says Hardy, who lives in New York City and Miami. "And instead of frying chicken, I'll roll it in cornflakes and bake it. Just subtle things like that done in a healthier way."
More From Sarah Toland:
​Playoff Preview: NBA Star Trainer Tim Grover On What It Takes To Win
Coaching the Masters: 10 Tips for Mastering the Moment
Fridge Raider: Stars Defenseman Brenden Dillon
Over the five seasons Hardy has worked with the Knicks player, the chef says he has seen Stoudemire overhaul his nutrition dramatically. "When I first started with him, he was a French fry and steak-and-potato guy," Hardy says. "Now, he's more into culinary arts, and he's an author of the cookbook, Cooking with Amar'e  [which Hardy co-wrote], so it's easier now to manipulate him to eat better."
Hardy does this by creating a weekly program for Stoudemire and his family that amounts to a mini-culinary trip around the world.  "Monday is Italian, Tuesday is Mexican, Wednesday in Caribbean, Thursday is Asian, and Friday is play day, where we have some room," says Hardy. "Saturday I'm off, and then Sunday is a soul-food Sunday."
Like any other athlete, Stoudemire still has requests for his favorite foods. "He's big on sea bass, and of course, barbecued beef ribs are an all-time favorite—that's on the menu for dinner tonight," says Hardy. And similarly, there are certain off-limit foods for the NBA megastar. "Tofu is definitely out," Hardy laughs. "One time when he went vegetarian or vegan, I tried that and he said, 'No, Chef, you can't do that.' He also doesn't eat eggplant or beets. In fact, he can't stand them."