Fridge Raider: Buffalo Bills Quarterback EJ Manuel
A young quarterback can get away with making a few mistakes during his first year in the NFL. But now that the EJ Manuel is going into his sophomore season with the Buffalo Bills—and fully recovered from a knee injury that limited him to only 10 games of play last year—the 24-year-old says he's fine-tuning every aspect of his performance, including his diet. "Last season, as a rookie coming from college, I was lazy," says the Florida State grad, a first-round and 16th overall draft pick for Buffalo in 2013. "My diet was good at the facility, but at home in the evening, it could use a lot of work."
Manuel, who threw for 11 touchdowns, but had nine interceptions in his 10 games last season, says his nutritional program used to be mostly made up of Wendy's meals. "I would get a salad thinking I was being healthy," he says. "But as an NFL quarterback, you can't be eating that—it's still Wendy's!" So about a month ago, Manuel met with the Bills' team nutritionist, Dan Liburd, who took the quarterback supermarket shopping to show him exactly what food should be in his fridge.
Four weeks later, Manuel says he's pleased how much he has transformed his eating, especially as his workouts continue to ramp up in OTAs. "I've done a really good job, I really pat myself on the back," he says. Bills fans can only hope that patting turns to touchdowns this fall. 
RELATED: Fridge Raider: New Orleans Saints Defensive End Cameron Jordan
Pedialyte: The single biggest staple in Maneul's fridge is fruit juice—and Pedialyte. Yes, we're talking about the medicinal-looking electrolyte-replacement drink parents buy for infants with diarrhea or vomiting. "It's like Gatorade," says Manuel, adding that he gets his Pedialyte at the Bills' facility. "I think it helps your body recover and get hydrated. It's high in sodium, so it gets the salt back in you so you don't crap out on the field the next day." That said, Manuel prefers the taste of fruit juice. "Dan [Liburd] told me to buy things I like, and I like fruit juices," he says of his stockpile of bottled lemonade and orange juice. "I try to stay away from the concentrated stuff. It's kind of sugary, but you can taper it down if you add water."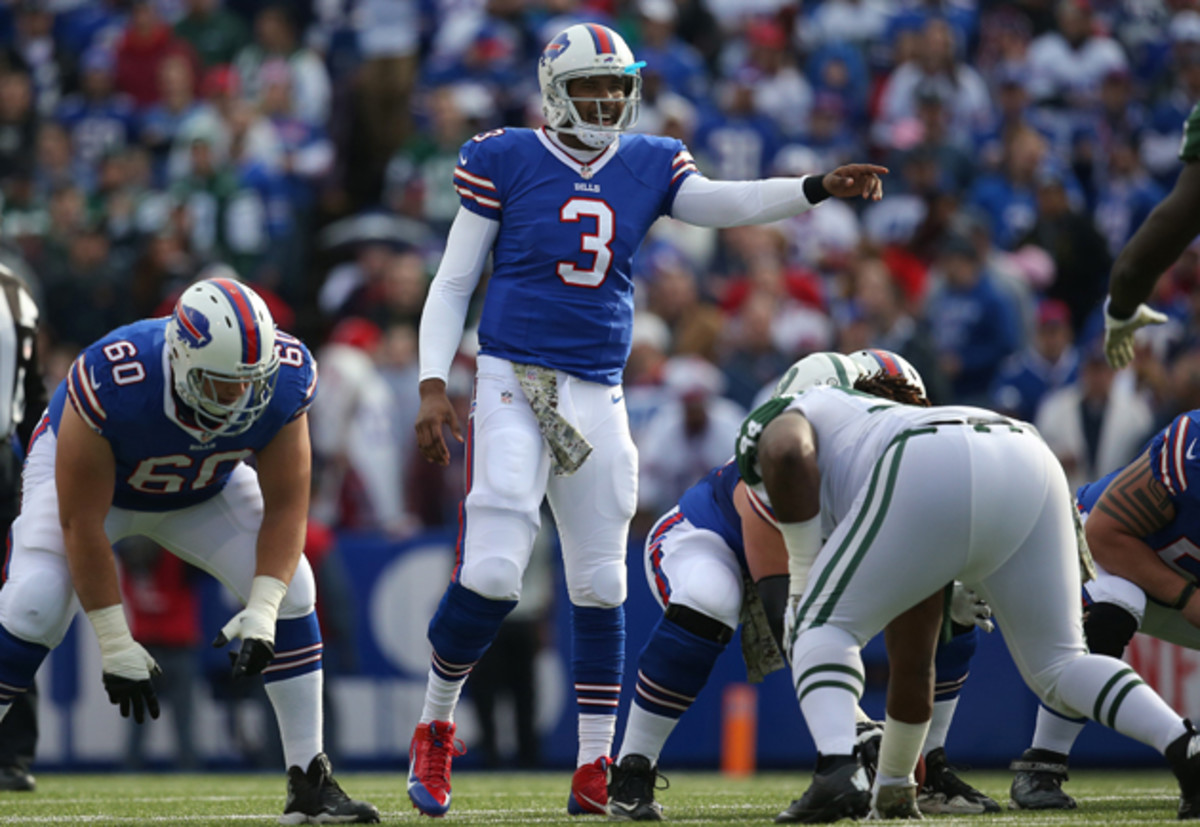 ​Cookie dough: Here's an image EJ Manuel fans should savor: The 6-foot-5, 247-pound football player at home baking cookies on a weekend night. "I have no shame in that," Manuel says of his cookie-making hobby. "I'm not baking them for my teammates or anything, but I'll make them on a Saturday or Sunday evening when there's nothing else going on—more like on a Sunday." The quarterback says he pops some Pillsbury dough in the oven, and 15 minutes later, "I have 15 perfect cookies." Now that the quarterback is on his new health kick, he says he has learned to limit how many sweets he eats. "Everything in moderation," Manuel says. "Instead of eating four cookies at a time, I'll just eat one. I don't overdo it."
RELATED: How the Caveman Diet Transformed Cardinals Pitcher Lance Lynn
True Athlete Natural Whey Protein: A recent addition to Manuel's diet, this protein powder is one of the few he says he's found that doesn't include impurities and is NSF-certified for athletes, meaning it doesn't contain any banned substances that could show up on a drug test. "I don't have to worry about taking anything illegal, and it doesn't bloat me," says Manuel of True Athlete, a propriety powder at The Vitamin Shoppe. "Some proteins are meant to put water in your muscles, but I feel this is all lean protein and everything I'm getting is a benefit." Manuel says he now drinks a shake at home every night before he goes to bed. "Dan [Liburd] said you should get some type of protein in before you go to sleep and when your body is in a metabolic state. And I think it's just good to get one last serving of protein in you."
Fruit: Readers who've perused this column in the past shouldn't be surprised by this entry—many NFL players say they try to swap nutritionally poor snacks like candy and French fries for fresh fruit. For Manuel, he uses red grapes as a substitute for potato chips. "Instead of eating chips during a basketball game, I eat grapes," he says. "You may not believe it, but it's great. They're so sweet." The quarterback also keeps green apples and watermelon in his fridge to eat for dessert after, we're assuming, all his home-baked cookies are gone.
RELATED: Tony Gonzalez on Retirement, Staying Healthy and the Next Chapter
Pop-Tarts: Everyone seems to have a favorite childhood food, and this is it for Manuel, who grew up in Virginia Beach. "My mom would buy a big 32-pack of Pop-Tarts, and I'd be done with the box in two days. She had to hide them from me," he says. Today, Manuel still eats Pop-Tarts now and then. "If I'm in the golf course and see them in the vending machine, I'll have one. I don't think you should eat a Pop-Tart and go play a football game, but if you chomp down a half of one real quick before you go to work out, I don't think it's going to hurt you."
Greek yogurt: This high-protein snack is Manuel's go-to for breakfast and at night, "when I'm just hanging out," he says. "I know it's healthy—that's the biggest thing I get from it. But it tastes good, and if something tastes good, I'm all for it." Manuel says he stocks his fridge with grape- and strawberry-flavored varieties from the brand Chiobani, a Team USA Olympic sponsor.