AVP Tour Preview: Talking with the Top Two Seeds in Beach Volleyball
Just a year ago, 21-year-old Summer Ross and her 26-year-old partner Emily Day never expected to be the number one seed headed into the early action of the AVP Tour opener in St. Petersburg on Friday. "I would have been like 'What? We won't even qualify!' I wouldn't have believed it," Ross says, laughing at the idea. Ross and Day began the AVP Tour last season so far outside of the top 12 teams that they had to play through the qualifying round of their first two tournaments just to make it to the main draw. "It's interesting now that we don't have to qualify anymore," Ross says. "It's like, 'Wait, I'm supposed to be playing today!'" 
The young pair made a name for themselves last season, emerging from the qualifiers to win gold at their first tournament, the Cincinnati Open. This year their biggest competition will be a pair of veterans teaming up for their first full season, Kerri Walsh Jennings, 36, and April Ross, 31 (no relation to Summer). Although Day and Summer Ross experienced success in their first full season as a pair, finishing second twice, the two aren't yet comfortable sitting in the top seed. "Last year we were below top 10 throughout the entire season," Day says. "It's weird. I've never been the number one seed."
​Like Ross and Day, just a year ago, the current number one men's pair Jake Gibb and Casey Patterson were unlikely candidates for the top seed. That's because they'd both been dumped. Gibb's seven-year relationship ended with his partner Sean Rosenthal when 'Rosey' left to play with 2012 Olympic gold medalist Phil Dalhausser. Gibb took solace in the less experienced Patterson, who'd also just experienced the volleyball equivalent of heartbreak, when his former partner Ryan Doherty left to play with Todd Rogers (Dalhausser's ex-partner).
REALTED: Phil Dalhausser Talks Fitness, Nutrition and Roller Coasters
"I got dumped after a year where we were the number one champion in the world," Gibb says. "So I really had my choice of almost anyone and Casey had just started doing some really great things on the AVP tour. I took a leap of faith."
Gibb says that his leap carried him to his favorite year on the AVP tour, as he and Patterson finished as the top U.S. men's pair, winning four out of seven AVP tournaments. The best part? "I sent [Sean Rosenthal] a text that said, 'Suck it!'" Gibb says jokingly. "That moment was great."
Edge caught up with members of the two top-seeded pairs as they traveled to St. Petersburg to kick off the seven-tournament 2014 tour that will carry them across the country, from stops in Cincinnati and Milwaukee to Salt Lake City and Huntington Beach.
On partner dynamics
Ross and Day are very different on the court. Day is the vocal leader, and Ross is the zen master. "Summer is really mellow on the court compared to me," Day says. "Sometimes I can't believe how calm she is. I'll look over and it's like she's at a Sunday backyard barbeque game and I'm like, 'This is the finals!'" Ross says her projection of calm is purely strategic. "I try to do that as a strategy so they don't know if I am up or down," she says. "Emily is a really fiery type of player and I am kind of quiet, so I know she can fire me up. It's cool to have her on my side."
Gibb says he and Patterson are similar in their fierce will to win. Fortunately for Gibb, he and Patterson win a lot, (30-5 match record last season, included a streak of 16 straight wins) because Patterson doesn't deal well with losing. "He is the sorest loser I have ever met in my life," Gibb says. "Not just volleyball, but in everything. We play elimination basketball and he is kicking the ball around when he gets out because he's so mad. He is a special human being and I think that is what makes him so great."
On Rio 2016
Although this season is not an Olympic qualifying year, and the AVP tour does not award Olympic qualification points, every tournament counts towards developing America's best talent for Rio 2016. Ross and Day are aiming for their first Olympics and treating each tournament as a test. "We still need to be playing and developing our game to put us in the position to qualify," Day says. "The AVP is a critical part for our team to develop because the caliber of teams on the tour is very high."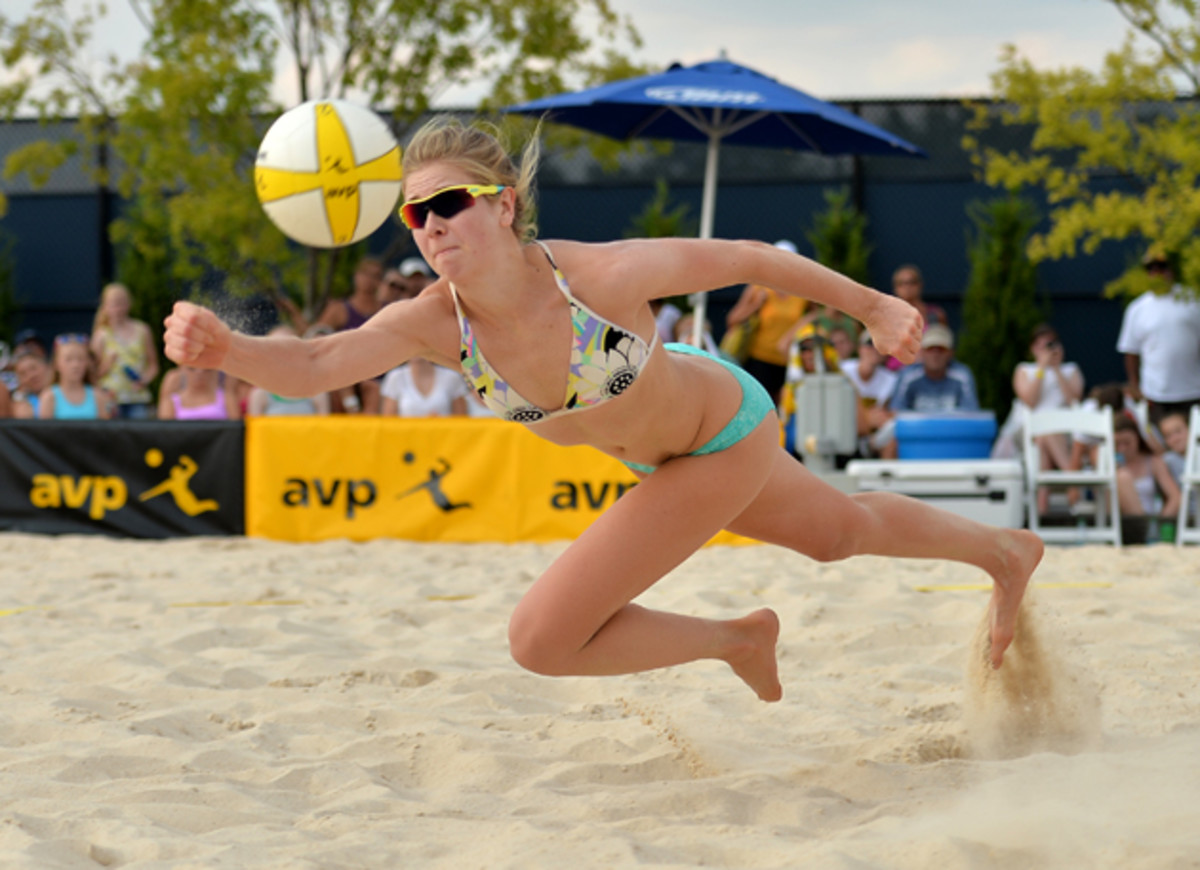 ​Two-time Olympian Gibb said he hopes to qualify for Rio with Patterson, who has never competed in the Olympics. "The AVP Tour is about preparing ourselves for that," Gibb says. "One of the most important things that our coach instills in us is you cant just turn it on when you need it. You have to play like you want to play."
On Twitter stardom
Still an up-and-coming pair, neither Ross nor Day is verified on Twitter. Combined, they have a little over 2,000 followers. Walsh Jennings is their biggest competition on the sand, and also on social media. The two have a lot of catching up to do to reach Walsh Jennings' 140,000 followers.  Day says Twitter verification is one of her biggest off-court goals. "I want to be verified. I want to make that happen," she says. "I don't know how to do it, I've asked around. I think we have to go to the Olympics. We need every American following us."
WATCH: Kerri Walsh Reveals Her Secret Ingredients for Success 
On sleeping in airports, and just about anywhere
Ross' peaceful nature on the court extends to her off-court personality as well.  Day said that recently they were at an airport and their plane started boarding but Ross was nowhere to be found. "Finally I find her asleep on the chairs because she can just pass out and sleep wherever we are," Days says. "I was like 'Summer, we are boarding, lets go!' I freak out about all that stuff, where we need to be and what time but she is so relaxed about it. I have to keep a tracker on her sometimes." Ross, the sleeping beauty, calls Day the perfect partner, "I need her to wake me up and get me ready," she jokes.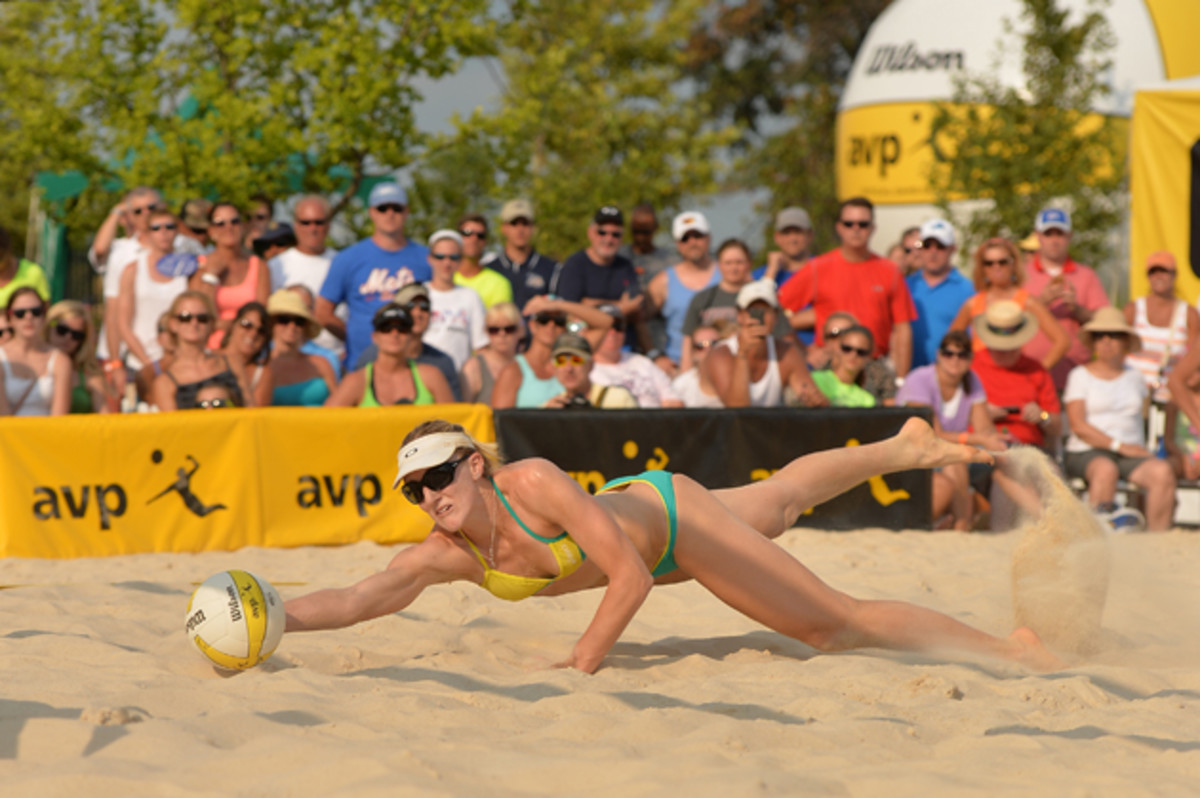 ​On binge-watching TLC
When they aren't on the court playing against top American competition, there's only one place to find Ross and Day: laying in bed watching TLC. "We love 'Say Yes to the Dress'. We expect to watch a lot of TLC this weekend, you'll be able to find us in our hotel room veggin' out." 
In their down time, Gibb and Patterson pass on the TLC marathons and instead prefer to play volleyball together with their wives, who Gibb says have become best friends.
On favorite stops on the AVP Tour
Day, who grew up just south of Manhattan Beach, says that stop is her favorite because it's like playing on home court. It's where volleyball was born," Day says. "There are lots of dedicated fans, its always crowded and it is the volleyball hub of the USA."
Gibb, a Utah native, picked the tour's Salt Lake City stop for the same reasons. Last season was Salt Lake's inaugural AVP event. "It's actually the best attended event outside of California," Gibb says.  "Last year it was like a high school reunion."