Behind the Body: Boston Celtics Guard Marcus Smart
He's 6-foot-4, ripped, and as of this past Thursday, a professional basketball player for the Boston Celtics—not too shabby when you're not even old enough to legally drink alcohol. "I'm excited, I'm really excited," says 20-year-old Marcus Smart, picked by Boston sixth overall in the 2014 NBA Draft. "The Celtics are an amazing franchise and a great organization to play with."
The athletic guard spent two years at Oklahoma State — drilling an average of 18 points per game, along with 5.9 rebounds and 4.8 assists — last season before Boston punched his ticket.
"I wasn't surprised that Boston called my name," says Smart, who played at Marcus High School in Dallas. "I worked out with them twice, and they told me they really liked me and liked my competitive nature." The team should also like Smart's body. "I have a great body for the NBA," he says. "Just to maintain it and stay fit is good—and it looks good, too."
But sorry, Lady Celtics fans, the guard has a girlfriend.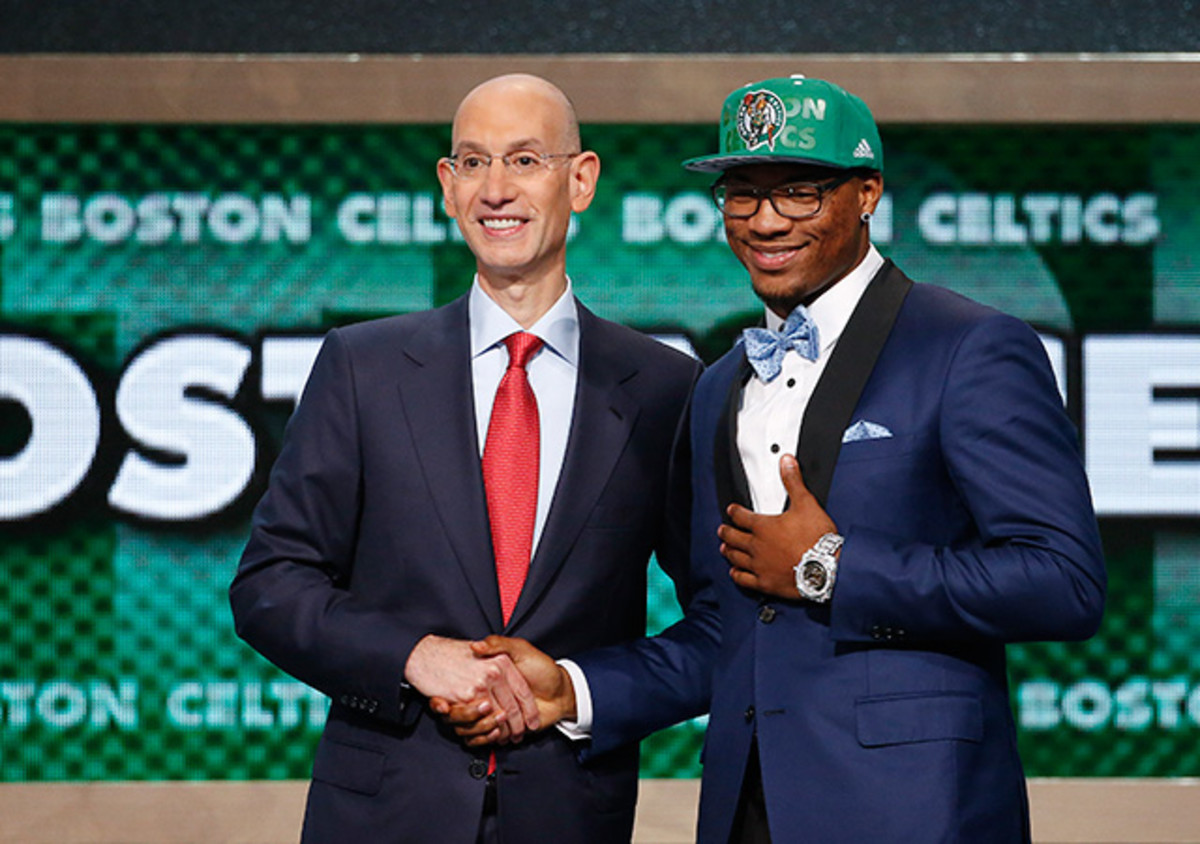 | | | |
| --- | --- | --- |
| age | height | weight |
| 20 years old | 6-foot-4 | 220 lbs. |
Training grounds: Boston and Dallas
Nickname: Smarticus."They started called me that Oklahoma State, and now everyone calls me that."
Hours spent training per day: Up to four.
Days spent training per week: Six.
Hours spent in the weight room per week: Three. "I get in and I get out."
Go-to workout: Shooting up to 600 shots per day. "My go-to workout has changed recently, and I'm now trying to get up a lot of shots to get more consistent muscle repetition."
Secret workout: Reflexology. "I love reflexology—it's amazing. As a person whose career is on my feet, it relaxes me and keeps me healthy and helps me do those long hours on the court. I do it once a week."
Beyond the Ball: The Most Athletic Picks in the NBA Draft
​Biggest physical challenge: Adapting to an 82-game season. "You come from college playing 32 and then you go to playing 82, that's a lot more games."
Best recovery tip: Ice baths. "It helps my muscles recover faster—definitely ice baths."
Calories consumed per day:"I don't know."
Pre-game meal: Any type of pasta. "I do it for the carbo-loading and everything. It fills me up, and it's good for you."
Typical recovery meal: More pasta. "It's crazy because I eat pasta again after [games]. I eat more pasta for my recovery than when I do my pre-game, but it's just good for you. Chicken Alfredo is my favorite."
Celebration meal: Steak. "After the draft, I had big ole steak right outside [Barclays] stadium. I was with my family, and we just went out to eat to some little spot—I don't even remember the name. It was lovely. I enjoyed it."
Dietary vice: Oreo cookies with milk. "If I can, I would eat the whole bag."
What he was thinking while waiting to be called up:"I knew that if I didn't get called one through five [draft pick], I would get called six or seven. So I wasn't worried. And I wasn't surprised that Boston called my name. I worked out with them twice, and they told me they really liked me and liked my competitive nature."
What he likes about the Celtics: "The Celtics are an amazing franchise and a great organization to play with. It's a good tradition, and everyone knows how much pride they have in the team."
His thoughts on moving to Boston:"I've only been there twice, but I hear it's a great city, and everyone I've talked to has positive things to say about it."