Fantasy baseball spring injury updates: Hanley, Headley and more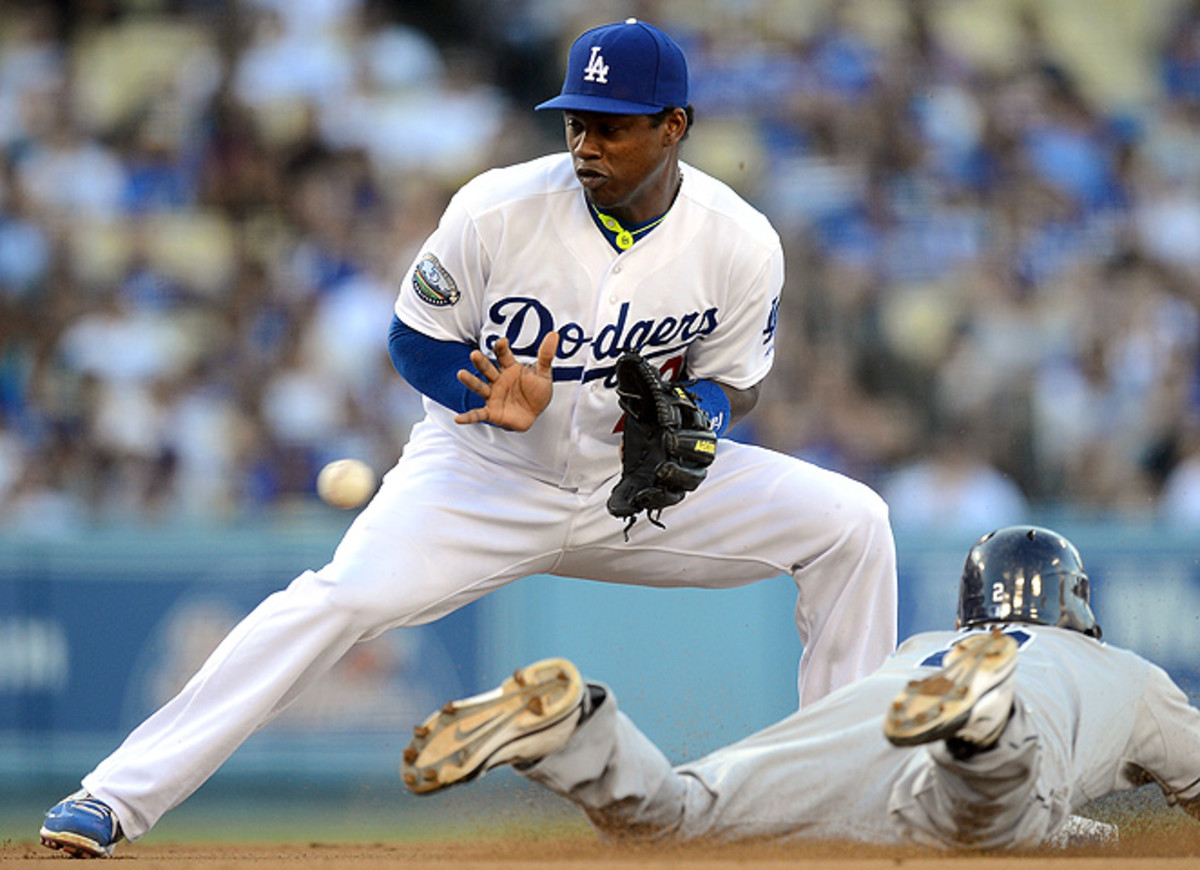 Fantasy baseball 2013 draft prep central: Rankings, position primers and much more
For fantasy baseball team owners, spring training (or the World Baseball Classic) often creates challenges. But, those challenges can turn into new opportunities. For example, Hanley Ramirez is out for two months with a thumb injury, which is bad for Hanley and his owners, but good for Dee Gordon, who could potentially fill in for Ramirez in the interim.
Breaking just before one of the busiest draft weekends on the fantasy baseball calendar, that news forces fantasy enthusiasts to survey the wreckage and prescribe some treatment. Here's the skinny on Ramirez and other draftable players who will start the year on the DL.
PRINTABLE DRAFT KIT: Top 300 Cheat Sheet | Position Rankings Cheat Sheet
Players expected to open on DL
? SS Hanley Ramirez (torn thumb ligament), Los Angeles Dodgers: Ramirez's surgery on a torn thumb ligament threatens to keep him out through May -- if not longer -- but his potential and dual eligibility at shortstop and third base still make him worth drafting among the top 10 shortstops and top 12 third basemen. This injury will allow a potential first-round talent to fall into the middle rounds now.
Who fills in: Even though Gordon is returning from his own spring training issue (ankle), he will try to prove healthy and consistent enough to keep Luis Cruz at third base to start the season. Gordon is plenty ready, having already started at shortstop for the Dodgers, and he is 7-for-7 on his steal attempts this spring. Even if he hits at the Mendoza Line, Gordon could rack up 20 steals by the time Ramirez returns. That might even be enough for the Dodgers to consider using Ramirez at third base upon his return in late May, making him a must-grab in the late rounds of rotisserie formats. If Gordon is banished to the minors, Cruz will play shortstop and the Dodgers will mix and match with Juan Uribe and someone like Nick Punto at third, who are merely reserves in the deepest of NL-only leagues.
? 3B Chase Headley (broken thumb), San Diego Padres: Headley received good news: His fracture is at the tip of the thumb, not displaced and not affecting any ligaments; he won't need surgery, so he can return to baseball activities in about four weeks. However, the thumb, as opposed to a less significant finger, can take closer to six weeks to heal. The injury shouldn't linger once Headley returns, though, so feel confident drafting him as a starter in standard leagues. The worst-case scenario would be missing all of April, but the nature of the injury suggests he can return earlier than that. The silver lining here is that an every-week starter for all leagues will drop into the middle rounds.
Who fills in: Logan Forsythe will start at third base in Headley's absence and will have some late-round intrigue in NL-only leagues. However, if Jedd Gyorko gets off to a slow start, Forsythe might still wind up as the Padres' starter at second upon Headley's return.
? OF Curtis Granderson (broken forearm), New York Yankees: They plan to give him a full 10 weeks to heal, so that puts him out until at least mid-May. That decision dropped him from being roughly a fourth-round pick to Round 11 in SI.com's in-house mock draft. The injury shouldn't affect him once healed, so an owner can get an elite fantasy outfielder as a middle-round pick. He is a gem of an injury-risk sleeper in all leagues with reserves and DL spots.
Who fills in: Brett Gardner will play center in the meantime, while recently signed slugger Brennan Boesch (from Detroit) will get starts in left until Granderson returns. Boesch is now a nice sleeper in AL-only formats, especially since he is at the prime age of 27. Gardner will move to left when Granderson resumes play in center, but with Travis Hafner no portrait of health at DH, Boesch can earn a significant number of at-bats going forward. Ben Francisco is also in line to get some at-bats for AL-only leagues if he makes the team.
? 1B Mark Teixeira (wrist), New York Yankees: Teixeira's injury was the biggest bombshell of the spring. A torn tendon sheath in the wrist hampered David Ortiz during the 2008 season and course-corrected his fantasy career. Not only will Teixeira be out until late May, but he also reportedly has a 25-35 percent chance of requiring season-ending surgery, something Ortiz never needed. The Yankees say they will be overly cautious with Big Tex, because the injury can be so devastating for a slugger's career if not allowed to heal. This makes Teixeira a mere late-round flier in fantasy. Do not get sucked into hoping for good news here in AL-only formats, either. Even if he returns, a weak wrist is tough to slug with.
Who fills in: When Derek Jeter can play shortstop -- it might be dicey in early April -- Eduardo Nunez can start at third base and Kevin Youkilis can play first. With A-Rod and Big Tex out, Nunez becomes a full-time player between shortstop and third base and a viable middle infielder even in mixed rotisserie leagues. He could be a candidate for 30 steals even if his bat doesn't produce much. When Youk has to play third, Juan Rivera will see some time at first, which makes him a sleeper in AL-only formats. It would have been interesting if Dan Johnson could have shown something this spring, but he has hit just .069 this spring (through March 20).
? C Brian McCann (shoulder), Atlanta Braves: Coming off surgery to repair a torn labrum, McCann is expected to be on the DL until mid-April. It has less to do with his bat than it does with his throwing. However, McCann is still capable of producing some of the best power numbers at the notoriously sketchy catcher position. He fell to the 16th round in SI.com's mock draft, making the reward outweigh the risk.
Who fills in: Veteran backup Gerald Laird will open the season as the starter, but he is nothing more than a late-round stopgap in NL-only formats. If McCann has a setback, look for the Braves to bring in a veteran who was cut from another team's camp.
? DH David Ortiz (heel), Boston Red Sox: He was hoping to be ready in April, but he isn't running yet. His lack of a position, outside of monopolizing your DH spot on draft day, makes him a mere late-round pick now. He showed a bit more pop last year, though, so he could be a good value at his draft position now. You had to expect he would need a DL stint at his age, but maybe he is just getting it out of the way now.
Who fills in: The Red Sox are loaded with DH types. Mike Napoli, Jonny Gomes, Mike Carp and Mauro Gomez can all get time there when they are not playing the field. The only real value to gain here is potential late-round fliers on Carp or Gomez in deep AL-only formats.
? 1B Corey Hart (knee), Milwaukee Brewers: The Brewers are not counting on having Hart before mid-May, but Hart has gotten good reports on his recovery from January knee surgery. He targeted an April 21 return, and that full extra month will add value to him as a late-round pick. When healthy, Hart will be the Brewers' regular first baseman and also hold fantasy eligibility in the outfield. He's a starter in all leagues upon his return.
Who fills in: The Brewers have already sent Hunter Morris to minor league camp and Taylor Green has struggled in spring training, likely making converted shortstop Alex Gonzalez their best option at first base. He will have late-round value in NL-only leagues, if only because he retains shortstop eligibility. There is still pop in his bat, but he will be a mere utility man once Hart comes back.
? SP Johan Santana (shoulder), New York Mets: Somehow Santana went from wanting to pitch in the WBC, to verbal in-fighting with the Mets, to not being ready for the season. His shoulder just hasn't shown enough strength to pitch this spring and he will need a throwing program to build up. It might be a sign that he is done as a fantasy starter, even if he proves capable of making starts for the Mets sometime in April. Santana has always been a change-up pitcher who relies on a differential from his fastball, so his career could be ending the same way Pedro Martinez's did ... with nary a whimper.
Who fills in: It won't be uber prospect Tim Wheeler, that much is certain. The Mets are not going to rush that arm. It won't be former prospect/Tommy John surgery return Jenrry Mejia either. He just isn't physically ready. The Mets will go with Jeremy Hefner or Aaron Laffey behind Jon Niese, Matt Harvey, Shaun Marcum (maybe, shoulder) and Dillon Gee. The Mets' fifth starter is not worth considering in any fantasy formats going into the season.
? SP Matt Garza (lat), Chicago Cubs: His extended timetable, which has been moved from April to mid-May, combined with the fact that he pitches for one of the worst teams in baseball, makes him a mere late-round flier. It is discouraging for a pitcher who once looked like a perennial top-25 starter.
Who fills in: The options are underwhelming. Scott Baker (elbow) has suffered a setback, so the Cubs are likely to turn to journeyman/swing men Scott Feldman and Travis Wood in the rotation. Neither are worth drafting, but they could prove worthy of a waiver claim in NL-only formats if they string some starts together, though.
No longer starting on DL
? OF Carl Crawford (elbow), Los Angeles Dodgers: He had been expected to open the year on the DL, but his recovery has ramped up. This news has yet to really hit fantasy owners, because Crawford's ADP is still after the top 125 on the major fantasy draft sites. He is a great value relative to draft position and his injury appears to be far less of a concern now.
Who fills in: The Red Sox's Jackie Bradley has wowed in Red Sox camp, but Cuban outfielder Yasiel Puig, 22, is legitimately making the Dodgers consider whether or not to take him into the season. Puig needs to play every day, so if Crawford doesn't open on the DL, it would be a long shot to see the prospect make the team. Barring injury, Matt Kemp and Andre Ethier won't need days off in the Dodgers' outfield.
Some potential DL stashees
If your league has ample reserve or DL spots, the following players are worth using a late-round or reserve pick on:
? 3B Alex Rodriguez (hip), New York Yankees: A second hip surgery will sideline him until at least the All-Star break, and baseball is seemingly determined to find some wrongdoing in his alleged connections to Biogenesis in Miami. His name is bigger than the potential production, but we could see a determined A-Rod out to prove something to his doubters in the second half.
? SP Brandon Beachy (elbow), Atlanta Braves: Beachy, who's on schedule to return from Tommy John surgery in June, could be a Kris Medlen-like breakout lurking in the depths of fantasy this season. He has potential to be a double-digit winner with a tidy ERA and WHIP once he returns.
? SP Michael Pineda (shoulder), New York Yankees: Elbows are easier to return from than shoulders, but Pineda is getting a few more months than a year on his timetable (late June). Don't forget that Pineda was one of the burgeoning aces in fantasy before he needed surgery. The geriatric Yankees will need the midseason boost.
? SP Daniel Hudson (elbow), Arizona Diamondbacks: Speaking of burgeoning aces, Hudson was a top-25 starter pick last March before needing Tommy John surgery in July. He is on track for a return around the All-Star break and can prove to be a must-start fantasy ace again in the second half.
? SP Cory Luebke (elbow), San Diego Padres: Luebke had surgery last May, so he's on a faster timetable than the above players, but he slowed his progress down this spring and the perennially rebuilding Padres are in no position to rush him back. Consider him more of a June candidate, and when he does return, it will be with the lowly Padres. He can offer a rotisserie team a nice ERA and WHIP, along with a strikeout per inning, though.