Fantasy baseball Pitching Report: Injury not Weaver's only issue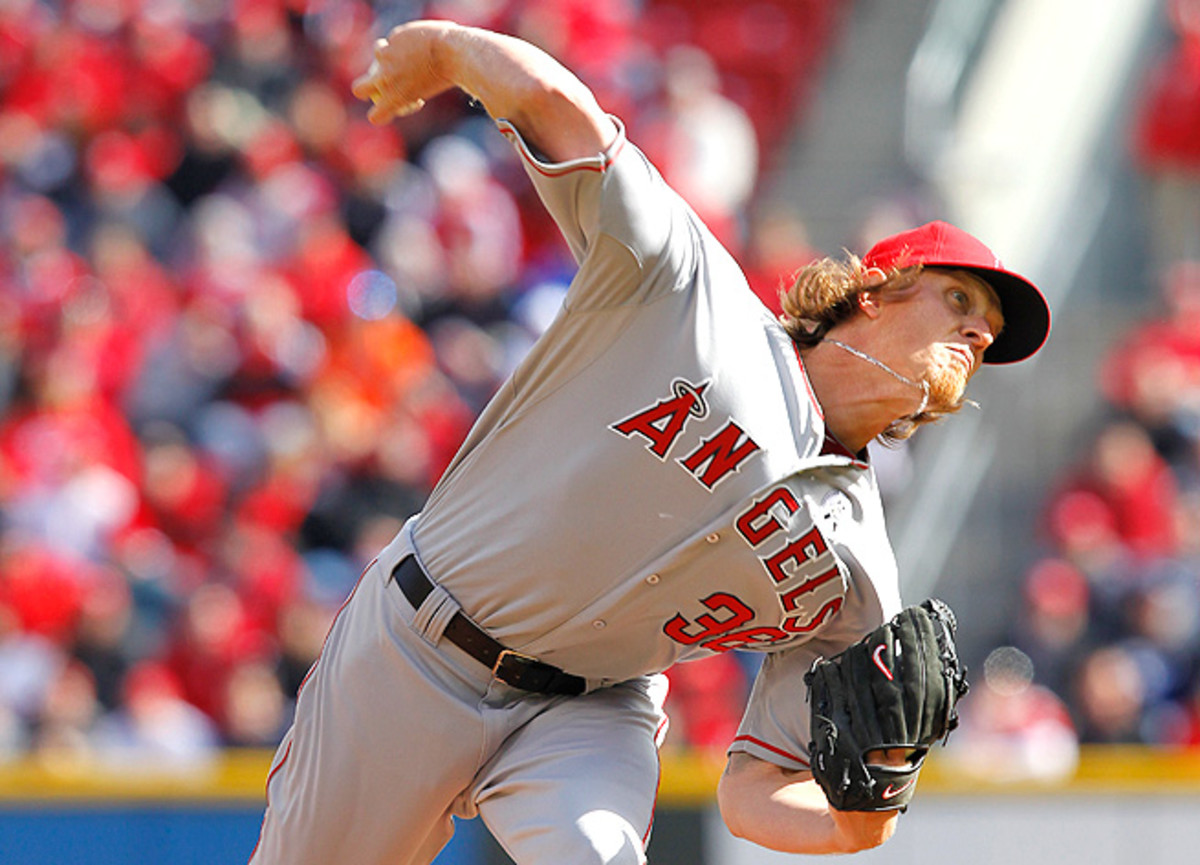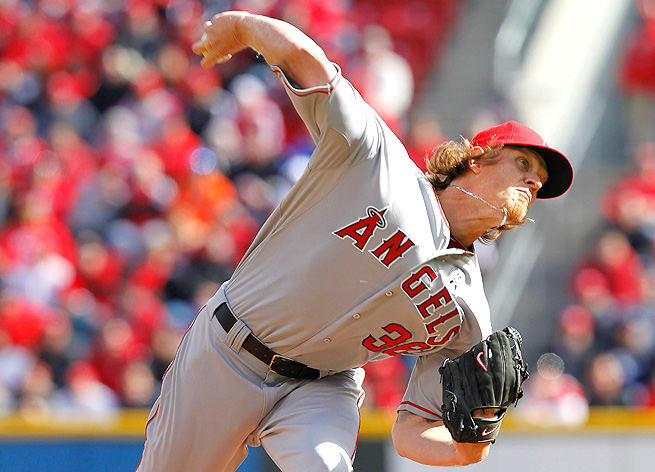 Jered Weaver struggled Sunday night, allowing five runs on seven hits and four walks in five innings against the Rangers. After fanning just four batters in six innings in his first start, Weaver struck out only two Rangers before leaving the game with what was diagnosed as a left elbow fracture, which will keep him out 4-6 weeks. He's not the first, nor will he be the last, pitcher to get roughed up by the Rangers in Texas, but there is a glaring issue here, one that first surfaced last year and has gotten progressively worse. Weaver's velocity is falling precipitously, and it threatens to turn him into a mediocre pitcher.
Planner | Waiver Wire | Pitching Report | Trade Tips | Stat Focus | Weekend Primer | Prospects
Weaver has never been a pitcher who succeeded because of an overpowering fastball. His average fastball clocked in at 90.2 mph in his rookie year in 2006, and never again topped 90. However, through 2011, it never dipped below 88.8, either. Last year, though, it fell all the way to 87.8. Through two starts this season, it's at 85.6, and according to Fangraphs, he sat right at 85 on Sunday night.
Despite the fact that Weaver doesn't depend on a blazing fastball, 85 mph just isn't going to get it done. Not only does it have him on the level of a high school pitcher, it tracks much too closely to his changeup, which has been one of his best pitches throughout his entire career. From 2006-11, Weaver had the seventh-best changeup in the majors, according to Fangraphs. But the lack of differentiation neutered his changeup of its devastating qualities last year, and Fangraphs has assigned a negative value to his changeup thus far this season. A declining fastball is one issue about which Weaver, the Angels and his fantasy owners should worry. If it continues to compromise his changeup's effectiveness, that's another, much larger, issue.
Additionally, since the 2012 All-Star break, Weaver has surrendered homers at a more rapid rate than at any other point in his career. He has never posted a double-digit home run/fly ball ratio across a full season, but the rate spiked to 12.2 percent in the second half last year. In just 11 innings this season, he has already allowed two homers. I was wary of Weaver heading into the year, largely due to his declining velocity. After two starts and a trip to the DL, I'd already be trying to unload him.
Starting pitcher barometer
Who's up?:
? Matt Harvey, New York Mets: Harvey dominated in his first start of the season, going seven shutout innings and allowing just one hit while striking out 10 and walking two. The effort not only placed him on the short list of potential breakout pitchers this year, but it also drew a praiseworthy tweet from David Price. He followed that up with seven strong innings against the Phillies on Monday, allowing just one run on three hits, striking out nine and walking two. A season of full health should result in more than 200 strikeouts with a mid-3.00s ERA. Connecting it back to the start of the column, I'd probably rather have him than Weaver.
? Mike Minor, Atlanta Braves: Minor looked great in his season debut against the Cubs last week, allowing one run on five hits in 7.1 innings, striking out seven and walking none. Minor, just 25, enjoyed a huge second half in 2012 after struggling a bit before the All-Star break. In 87.1 innings, he had a 2.16 ERA, 3.25 FIP, 0.87 WHIP, 20.2 percent strikeout rate and 4.8 percent walk rate. Minor appears primed for a huge 2013. He gets the Marlins in his next start Wednesday.
? Brett Anderson, Oakland A's: There has never been any doubt about what Anderson can do when he's healthy. He finally had a clean bill of health coming into this season, and has looked every bit the ace he has been in the past, allowing two runs across 13 innings in two starts. He has struck out 16 and walked six, while giving up nine hits. The sample is small, but Anderson's velocity tells a good story. His average fastball velocity this year has been 91.6 mph and his average slider has been 82.1, both in line with his career numbers. He looks healthy, and that could mean big things for him in 2013.
Who's Down?:
? R.A. Dickey, Toronto Blue Jays: Dickey's had one bad start and one terrible start this season, combining to allow 10 runs on 15 hits and six walks in 10.2 innings. Dickey's success is totally contingent on his knuckleball confounding hitters, and so far it hasn't been the deadly pitch it was last year. He did have one disastrous start early on last season, allowing eight runs to the Braves in his third start of the season. But that was also the only start in which he allowed more than three runs until the end of June. He has already done that twice this season. I'm not selling him yet, not by a long shot. But keep a close eye on his next start.
? Vance Worley, Twins: Worley has struggled mightily in his first two starts, allowing seven earned runs on 18 hits in 11 innings. Given that he was a fringe guy in mixed leagues coming into the year, and the fact that he has only fanned five batters on the year, he's definitely droppable if you're still holding on to him in a mixer. I do think he's worth keeping in AL-only leagues, but he is no longer matchup-proof.
What a relief
? By now, you know all about the situation on the North side of Chicago. The Cubs demoted Carlos Marmol, relegating the eponymous Marmolcoaster to a less exciting time of the game. Kyuji Fujikawa is now the closer, and we covered him in this week's Waiver Wire column. I'll say it again: If he's still available in your league for some reason, grab him now.
? Of course, the Cubs aren't the only team with closer drama. Up in Milwaukee, the Brewers could be getting ready to make the switch to Jim Henderson from John Axford. The Brewers weren't necessarily worried about Axford's struggles with command in his first outing of the season -- that has always come with the territory of employing the Ax-Man in the ninth. However, in his second implosion against the Rockies last week, he topped out at 92 mph. The development was so troubling that manager Ron Roenicke discussed it in his postgame presser. Meanwhile, in three appearances this year, Henderson hasn't allowed a run or a walk, and has struck out four batters. In the ninth inning of a 7-3 game against the Cubs Monday, Roenicke turned to Henderson in what became a save situation when two men got on base. Henderson worked out of the jam, giving up one hit, striking out two and getting Starlin Castro to fly out to the warning track to end the game, picking up his first save of the season. I'd still hold on to Axford until Roenicke makes an official announcement, but it looks like the job may belong to Henderson before long.
? Shifting to the AL Central, Kansas City's Greg Holland is off to a shaky start in 2013. In just two innings this year, Holland has allowed four runs on four hits and four walks. Holland deserves a bit of a leash from manager Ned Yost, but the Royals also have one of the league's best ready-made closer replacements in Kelvin Herrera. As a 22-year-old last year, Herrera struck out 77 batters in 84.1 innings and posted a 2.35 ERA and 1.19 WHIP. His fastball averaged a blazing 97.3 mph last year, and he features a power slider as well. Herrera had to come on Sunday to clean up Holland's mess and picked up the save after allowing one hit. Aaron Crow picked up the save Monday, but that was because both Holland and Herrera had worked in back-to-back days. You should hold on to Holland if you own him, but Herrera is worth adding now, as well.