Fantasy baseball Waiver Wire: Pick up Kelly Johnson, Eric Chavez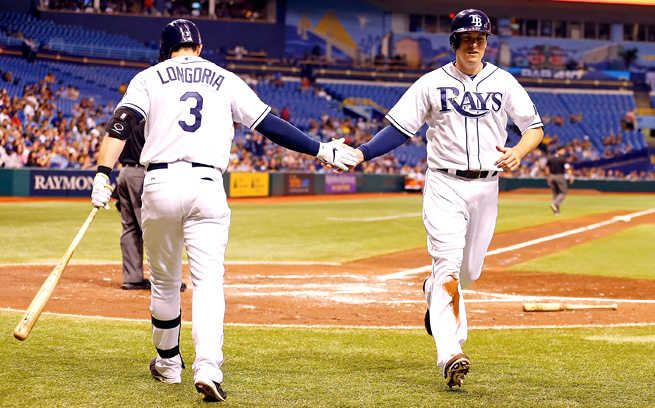 We usually try to avoid repeating a player on the waiver wire, but the fantasy community can be a stubborn one. Sometimes it refuses to change its mind, despite plenty of evidence pushing it to reconsider. Exhibit A for this 2013 season is Kelly Johnson.
Johnson (available in 55 percent of Yahoo leagues, 31 percent of CBS leagues, and 16 percent of ESPN leagues) earned a spot in this column one week ago, but it wasn't at the top. After another strong week in which he went hit a pair of homers and drove in five runs, he deserved a promotion to the page's marquee spot.
WEEK 8 PREP: Fantasy baseball Weekend Spotlight | Weekly Planner | Waiver Wire | Pitching Report | Injury Report | Trade Tips | Roundtable | Advanced Stats Focus | Prospect Watch
Through Saturday, he was hitting .273/.348/.496 with seven jacks, 24 RBI, 18 runs and four steals. His .317 BABIP feels a bit high given his 13.5 percent line-drive rate, but it's not so high that we should expect a dramatic fall from grace. Moreover, his ability to draw a walk has not diminished. He has a 10.1 percent walk rate this year, and has been north of 10 percent in the category in two of the three previous seasons. The one year when he wasn't, he was at 9.8 percent. He offers eligibility at second base and in the outfield, and is a pretty safe bet to go 20/15. As you can see above, he remains widely available, no matter where you host your league. Let's remedy that.
And now, on to the rest of this week's wire:
? Eric Chavez, Arizona Diamondbacks (Yahoo: 90 percent, CBS: 85 percent, ESPN: 82 percent) -- Judging by his ownership numbers, you probably haven't noticed that Chavez is imitating himself from about 10 years ago. He was 4-for-5 with a homer in his last game Saturday, and in 103 plate appearances is hitting .323/.382/.559 with five homers and 18 RBI. He'll be the primary starter at third at least until Aaron Hill returns, and that likely won't be until sometime in June at the earliest. Chavez gives you eligibility at both corner positions, and has been hitting in the cleanup spot in Arizona's order, which is quite a cozy place for power production. If you're looking for a third or first baseman right now, Chavez is your man.
? Jake Odorizzi, Tampa Bay Rays (Yahoo: 93 percent, CBS: 77 percent, ESPN: 99 percent) -- With David Price on the DL, the Rays have called up Odorizzi, their top pitching prospect. Part of the undercard in the Wil Myers-for-James Shields trade, Odorizzi has had a great year with Triple-A Durham thus far, going 4-0 with a 3.83 ERA, 1.10 WHIP and 47 strikeouts in 44.2 innings. He'll make his Rays debut Monday against the Blue Jays, and with Price on the shelf indefinitely, Odorizzi could be in The Show for a long time. The more adventurous owners among us may want to start him right then and there, but at the very least, he should be added in all leagues, regardless of format. This is as low-risk/high-reward as a pickup could be.
? Brandon McCarthy, Arizona Diamondbacks (Yahoo: 61 percent, CBS: 56 percent, ESPN: 65 percent) -- McCarthy appeared in the weekend primer on Friday, and if you listened that advice you were treated to a gem of a performance. McCarthy tossed a complete game shutout against the Marlins, striking out five while allowing just three hits and two walks. Of course, most everyone looks great against the Marlins, but this was his third consecutive strong outing, and second straight in which he went at least eight innings while keeping his opponents off the scoreboard. If you're in a deeper mixed league, feel free to add him as necessary. He may not yet have the matchup-proof stamp of approval, but he's worth rostering in any league that goes deeper than 12 teams.
? Sean Doolittle, Oakland A's (Yahoo: 92 percent, CBS: 93 percent, ESPN: 99 percent) -- You may not have heard a lot about Doolittle this year, but he has been one of the most dominant relievers in the league. In 19 innings across 20 appearances, he has struck out 19 batters, walked just three and allowed only two runs, both on solo homers. Grant Balfour isn't really in any danger of losing his job as the closer, but no matter. If you're in a league that uses holds, chances are he is owned. If he isn't snatch him up right now. If you're not in a league that uses holds, his dominance in the rate categories, steady usage, and strikeout ability still could make him worth taking a shot on, so long as you have the roster flexibility. And should Balfour go down with an injury, he'd immediately become Oakland's closer, and likely one of the better ones in the league, at that.
The Droppables
? Brandon Moss, Oakland A's -- After a hot start to the season, Moss has cooled off considerably. He's now hitting just .256/.357/.444 and is striking out in nearly one-third of his at-bats. Furthermore, his isolated power is down beneath .200, sapping a ton of his value. Unless you're in a very deep league ? think at least 16 teams ? there's probably no reason to keep him on your roster.
? Carlos Villanueva, Chicago Cubs -- Villanueva had a great April for the Cubs, but one look at his peripheral stats indicated that is was just a matter of time before he came back to earth. That happened in his last four starts, as he allowed 18 runs in 23.1 innings. With Matt Garza's return from the DL now imminent, the Cubs announced they'd be moving Villanueva to the bullpen, thus eliminating what little fantasy value he still had.