Matsui proved he was one of a kind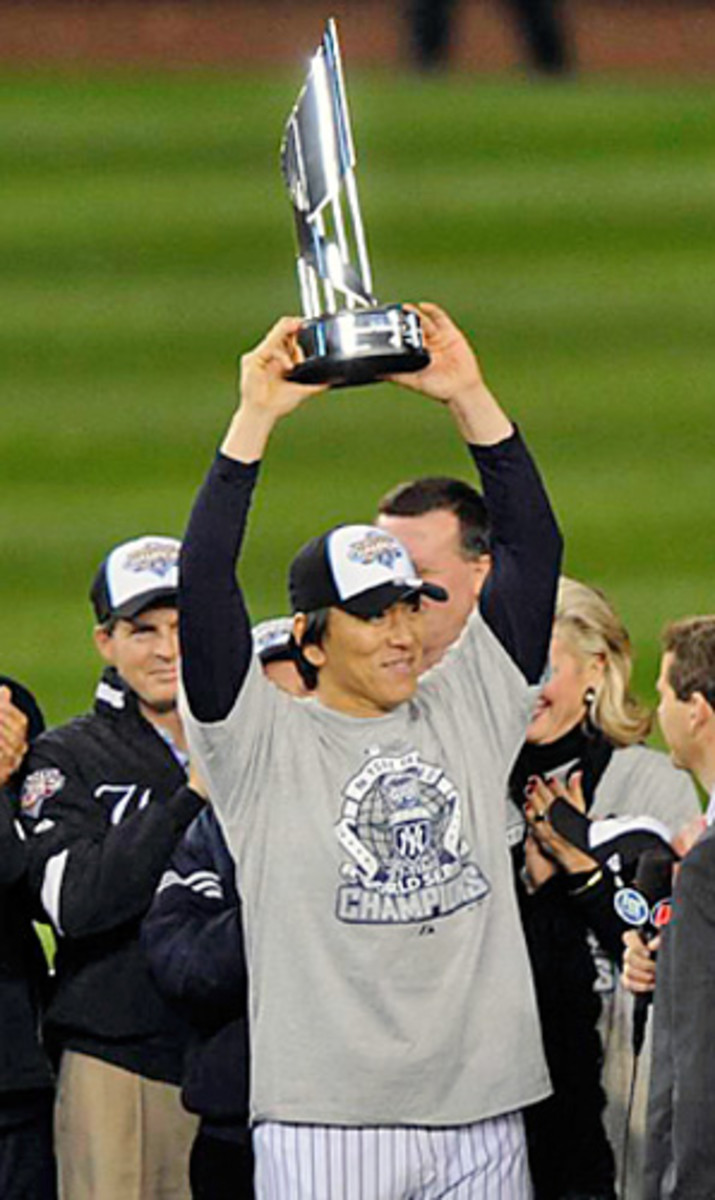 Hideki Matsui announced his retirement from baseball Thursday night, bringing to an end one of the greatest pan-Pacific careers in baseball history. Matsui, who came to the United States from Japan in 2003 at the age of 28, is best remembered in the United States as the long-time left fielder of the New York Yankees, a two-time All-Star, perennial postseason presence, the everyday left fielder of the 2003 American League pennant winners, and the Most Valuable Player of the 2009 World Series. However, he was already a superstar in Japan by the time he crossed the pond, and his success as a hitter making the transition from Nippon Professional Baseball to the major leagues is rivaled only by that of future Hall of Famer Ichiro Suzuki.
In 10 seasons with the Yomiuri Giants, the signature franchise of NPB, Matsui hit .304/.413/.581 with 332 home runs capped by an age-28 season in 2002 in which he hit .334/.463/.692 with 50 home runs as the Giants' center fielder. That 2002 season was the third in which he won the Central League's Most Valuable Player award (also 1996 and 2000), the fourth in which he helped lead the Giants to the Japan Series (winning in 1994, 2000 with Matsui as Series MVP, and 2002), and resulted in his ninth-consecutive All-Star appearance (three of which resulted in game MVP awards).
When Matsui came to the United States, he, like Suzuki two years earlier, did so as a living legend. He was "Godzilla" -- a player who had done all of the above while playing in 1,250 consecutive games (a streak that was active when he joined the Yankees), who was a member of the Central League's Best Nine eight years in a row. However, in doing so, he was also taking a huge chance.
Matsui turned down a six-year, $64 million contract offer from the Giants in 2001 to sign for just $21 million over three years with the Yankees the following December despite having that spectacular 2002 season in the interim. The main reason Matsui had to settle for so much less to come to the U.S. was that, prior to his arrival, just three Japanese hitters had made the transition to the major leagues, and two of them, Tsuyoshi Shinjo and So Taguchi, were slap-hitting defensive specialists, effectively vastly inferior versions of Suzuki. No Japanese power hitter had ever attempted to make the transition, and Suzuki was, at that point, the only Japanese hitter of any kind who had any real success in the States.
Matsui would become the second, ultimately winning his gamble by signing a four-year, $52 million extension with the Yankees after the 2005 season, but even at that, his transition was not as fluid as Suzuki's. Though Matsui hit a grand slam in his first at-bat at Yankee Stadium, his first season in the States was underwhelming. He hit just 16 home runs, struggled with the two-seam fastball, a pitch that wasn't thrown in Japan at the time, and at times let his front shoulder open up to early, causing him to rolling over on the ball, producing an excess of ground balls to the right side, prompting some Yankee fans to dub him "Groundzilla."
Still, the lasting image from Matsui's 2003 season, outside of that Opening Day grand slam, is of him scoring the tying run against Pedro Martinez on a double by Jorge Posada in the eighth inning of Game 7 of the American League Championship Series, following his own ground-rule double in the previous at-bat, and leaping in the air in celebration. The Yankees won that game three innings later on Aaron Boone's home run. A few weeks later, Matsui finished a close second in the American League Rookie of the Year voting. In 2004, a season which the Yankees opened with two games in the Tokyo Dome in which Matsui went 3-for-9 with a double and a home run, Matsui had what was not only his best season in the west, but arguably the best hitting season ever by a Japanese-born player in the major leagues. That year, he hit .298/.390/.522 with 31 home runs and 108 RBIs, the last a career high on either side of the Pacific, all while keeping his games-played streak alive. In 2005, he hit .305 and again set a career-high in RBIs with 116.
His games-played streak came to an end early in the first year of his new contract when he broke his left wrist, fracturing both the ulna and radius while attempting a sliding catch in left field against the Red Sox on May 11, 2006. Two days later, after having pins inserted to set the bones, he put out a press release to apologize to the Yankees for getting hurt. Matsui rebounded with a solid season in 2007, but chronic knee problems slowed him thereafter, costing him 48 games in 2008 and limiting him to designated hitter duty for the 2009 World Champions, though the 35-year-old continued to produce, hitting .274/.367/.509 with 28 home runs and capping off his seven years in New York by going 8-for-13 (.615) with three home runs in the World Series, including a 3-for-4 performance with one home run and six RBIs in the decisive sixth game, to take home MVP honors. That offseason, he signed a one-year deal with the Angels and had yet another representative season. All totaled, in his first eight seasons in the major leagues, Matsui hit .290/.369/.479 with 161 home runs.
Matsui signed with the A's for his age-37 season, but Oakland's Coliseum isn't kind to fading power hitters, and Matsui was no exception, joining Mike Piazza and Frank Thomas in the recent string of sluggers whose careers fell victim to that ballpark. Unsigned coming into the 2012 season, Matsui eventually caught on with the Rays and had one last burst of power, homering in two of his first three games with the Rays, but those would be the last of the combined 507 home runs he hit in his career. He was released just two months later.
Matsui's stateside career didn't measure up to what he did in his home country, his success towers over that of all other Japanese hitters in the major leagues with the exception of Suzuki and actually compares surprisingly well to Suzuki's. In virtually every major offensive category you can think of except for stolen bases (Matsui, playing on two deteriorating knees, never stole more than four bags in a season), Suzuki and Matsui are the top two names among Japanese-born hitters, and Suzuki isn't always number one. Matsui leads all Japanese-born hitters, Suzuki included, in home runs (175 to Suzuki's 104), RBIs (760 to Suzuki's 660), walks (547 to Suzuki's 518, with 512 unintentional walks to Suzuki's 345), slugging percentage* (.462 to Suzuki's .419), OPS *(822 to 784), and OPS+* (118 to 113), and is just five points behind Suzuki in on-base percentage* (.360 to .365). [*all rate stats minimum 1,000 plate appearances]
In terms of single-season performance, Matsui not only holds the major league record for home runs by a Japanese-born hitter with 31, but owns the top five such single-season totals as the only Japanese-born hitter ever to hit 20 or more home runs in a single major league season. Similarly, he owns the top six-such RBI totals and seven of the top eight as the only Japanese-born hitter ever to drive in 80 or more runs in a season the major leagues. He's the only Japanese-born hitter ever to hit 40 or more doubles in a major league season, doing so twice with a record of 45 in 2005. He owns the top four and five of the top six qualifying slugging percentages by a Japanese-born hitter and is the only one of his countrymen to slug .500 in the major leagues, topping out at .522 in 2004. His .390 on-base percentage in 2004 is the third-highest qualifying mark by a Japanese-born hitter in the majors. In terms of OPS, he owns the top two and four of the top five qualified single-season marks by a Japanese hitter, topping out at 912 in 2004 while none of his countrymen have topped 870. His 2004 OPS+ of 137 also stands as a single-season record by a Japanese-born player, and he owns five of the top eight qualifying seasons in that category as well.
Suzuki's talents in the field and on the bases set him apart from Matsui when you look at the total value of those two ballplayers, but Matsui at his best was every bit as valuable at the plate, sometimes more so, and there is simply no one else in the conversation about the greatest Japanese-born position players. Suzuki owns nine of the top 12 single-season Wins Above Replacement totals by a Japanese-born hitter. Matsui owns the other three, and only one other NPB import with a career bWAR total higher than the 4.6 Matsui put up in 2004 was Tadahito Iguchi at 5.4.
Though it hardly comes as a surprise, the retirement of Hideki Matsui is nonetheless a significant event. As the arrival of players from Japan to the United States becomes ever more commonplace, Matsui continues to stand as both an example and an exception. He's unlikely to join Suzuki in Cooperstown, but he should be inducted into the Japanese Baseball Hall of Fame when eligible, and the combined impact of his career on both sides of the Pacific puts him in elite company as one of the most important Japanese baseball players of all-time.