With Justin and B.J. Upton, Braves are co-favorites in National League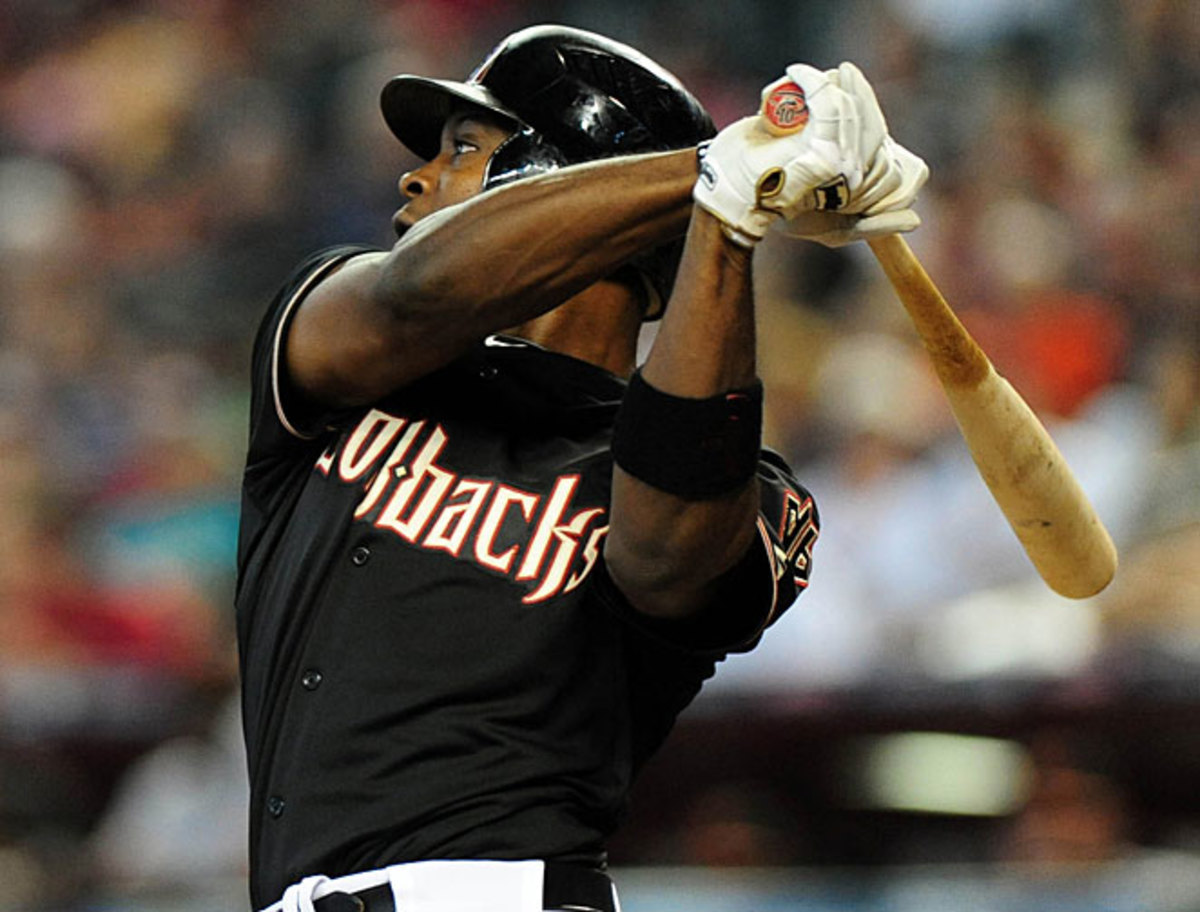 The first time Justin Upton and his older brother, B.J., played together, Justin was a four-year-old batboy for B.J.'s t-ball team who was sent to the plate for one at bat. "He got a hit," their father, Manny, happily recalled in an interview with Sports Illustrated Kids three years ago. "He hit it pretty good -- and he ran to the right base." Both boys had precocious talent, but most often the Upton brothers, who were born three years apart, spent their childhood playing against each other in the front yard of their home in Norfolk, Va., pitching tennis balls in one-on-one games.
After a stunning trade between Atlanta and Arizona on Thursday morning, however, B.J. and Justin Upton are now professional teammates, and their playing field has changed from their front yard to Turner Field, where they'll play alongside Jason Heyward for the next three seasons and form the game's best outfield trio. With Justin Upton aboard, the Braves ascend to being co-favorites in the National League, alongside their division rivals in Washington.
Arizona dealt Upton and third baseman Chris Johnson to Atlanta for third baseman Martin Prado, pitching prospects Randall Delgado and Zeke Spruill, and a pair of minor league infielders, shortstop Nick Ahmed and first baseman Brandon Drury. B.J. Upton, formerly with the Rays, signed a five-year free-agent contract with the Braves earlier this offseason.
JAFFE: Diamondbacks get a D+ on winter report card
This is nothing short of a victory for the Upton brothers and the Braves. The Uptons have openly discussed how much they'd love to play for the same major league team, and the Braves, who had 94 wins last year but lost in the wild-card game, have acquired both players for a total of eight seasons -- five for B.J., three for Justin -- in one winter for a commitment of $118 million, Prado and four minor leaguers, none of whom projects to be a star. Prado is very good player but only has one year remaining on his contract.
RELATED: What D-backs team president said on Twitter about trade
The Diamondbacks, meanwhile, grew disenchanted with Justin Upton as the face of their franchise, based on the frequency of trade rumors involving Upton the last couple of years and on the unenthusiastic comments Arizona managing general partner Ken Kendrick made about the player in a radio interview last June, saying he was an "enigma" and was inconsistent.
Indeed, Upton underperformed last year (17 HRs, .785 OPS) after a career year in 2011 (31 HRs, .898 OPS) when he finished fourth for NL MVP; he also has some extreme home/road splits, with a .937 OPS at Chase Field and a .731 OPS anywhere else. This winter he asked that the club to remove the signage for his branded seating area called "Uptown," according to USA Today. But he's still only 25 years old and a former No. 1 overall pick who is growing into his immense potential.
Heyward and the Uptons -- whom the Atlanta Journal-Constitution has taken to calling the "Up, Up and a Hey" outfield -- are all former first-round picks (Nos. 1, 2 and 14 overall) between the ages of 23 and 28. They match up favorably with the other best active outfield combinations in baseball: the Angels (Mike Trout, Josh Hamilton and either Peter Bourjos or Mark Trumbo) and the Nationals (Bryce Harper, Denard Span and Jayson Werth).
All three have experienced up-and-down seasons in their short careers, but it's hard not to dream on their potential. Each has hit at least 27 home runs in a season. Heyward and Justin Upton have the on-base skills to pair with that power to become annual threats for an OPS of .850 or better. B.J. Upton lacks the same plate discipline but can steal upwards of 40 bases (while Justin and Heyward are threats for 20 stolen bases per year). All told, they could account for some 90 home runs and 80 stolen bases, and the Uptons provide the righthanded balance Atlanta lacked last year, along with lefties Heyward, Freddie Freeman and Brian McCann.
Only one major league club in history has ever had three outfielders with at least 20 homers and at least 15 steals in the same season, and that was the 2000 Blue Jays with Shannon Stewart (21 HRs, 20 SBs), Jose Cruz Jr. (31 HRs, 15 SBs) and Raul Mondesi (24 HRs, 22 SBs), but the 2013 Braves may well be the second if they live up to their talent.
Importantly, all three outfielders play above-average defense, too. Justin Upton and Heyward have won the last two Fielding Bible awards for their play in rightfield, while Heyward also has a Gold Glove. (Justin will be the one to move to leftfield in Atlanta, according to a source.) B.J. Upton isn't rated as favorably by the advanced defensive metrics but still ranks seventh in Ultimate Zone Rating among major league centerfielders who have logged at least 3,500 innings over the last five seasons.
They'll support a dynamite pitching staff that had the majors' fifth-best ERA last season (but ranked only 11th in strikeout rate, making defense a priority) and returns nearly intact. Atlanta's only big change was a trade of starter Tommy Hanson to the Angels for reliever Jordan Walden.
The Braves managed to pry Justin Upton away from Arizona without giving up either of their best two young players, shortstop Andrelton Simmons or righthanded pitcher Julio Teheran. Baseball America ranked Delgado the No. 46 prospect in baseball before last season, and he's had some big league success (3.95 ERA in 127 2/3 innings), but his ceiling is lower than that of Teheran, whom BA rated No. 5 on that same list. At times Delgado has had trouble throwing strikes consistently, but he has looked sharp recently in the Dominican winter league.
By acquiring Prado, the Diamondbacks fills a big need with an everyday third baseman whom they hope to extend long-term and they did so by trading from a position of surplus, as Arizona's outfield still has Jason Kubel, Gerardo Parra, Cody Ross, Adam Eaton and A.J. Pollock.
None of the other players acquired by Arizona were highly rated. Spruill, a righthanded pitcher, was the No. 9 prospect in the Braves' system, according to BA's preseason rankings. Ahmed, a shortstop selected in the 2011 draft's second round, made the Arizona Fall League's Rising Stars game; he's a speedy defense-first player who hit for a .728 OPS in High A ball. (USA Today reported that the Diamondbacks are trying to package him in a deal for the Tigers' Rick Porcello.) And Drury is a first baseman who struggled in Class A (.603 OPS) as a 19-year-old, but did tear up rookie ball (.891 OPS) the previous season.
Atlanta will likely resort to platooning Johnson and Juan Francisco at third base, now that Chipper Jones has retired. But the club could make another move, too, as the AJC notes the team still has about $10 million to spend before reaching its payroll target for the year.
The overall effect of this move, however, is a step forward for Atlanta and a step backward for Arizona. With the Braves, the Uptons have realized one childhood dream of playing together -- and with the talent of the Uptons, Atlanta is a serious contender to achieve another dream: winning the World Series.