King Felix and his subjects give Mariners a rotation full of promise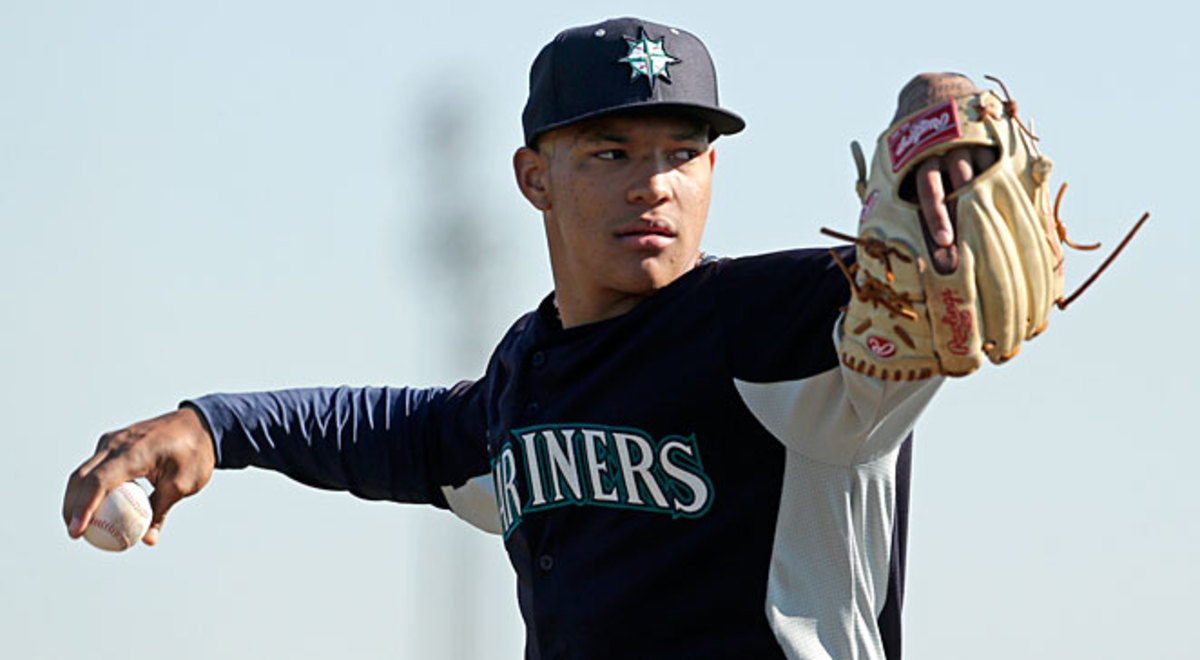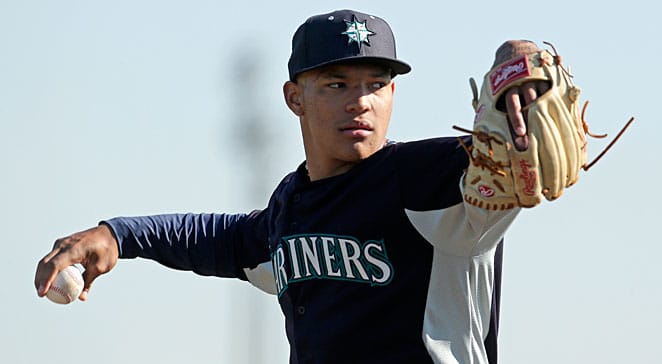 PEORIA, Ariz. -- As Felix Hernandez entered the final innings of his perfect game last August, the video scoreboard at the home field of the Mariners' Double-A Jackson Generals in western Tennessee showed the broadcast during batting practice.
"We were all half-watching B.P. and watching Felix pitch," pitcher James Paxton said.
Ballplayers are largely a superstitious bunch so initially they stayed in place. Pitcher Taijuan Walker recalled everyone saying, "Don't move, don't move, just stay in one spot." That lasted until Hernandez reached two strikes on his final batter, when the Generals -- which included Hernandez's brother, Moises -- sprinted to the outfield in front of the videoboard.
When Hernandez struck out Tampa Bay's Sean Rodriguez to complete the perfect game, the team erupted as if they shared a dugout with Hernandez and were not two organizational levels and roughly 1,900 miles away from Safeco Field. Amidst the yelling, jumping and hat throwing, one player caught a B.P. flyball as Hernandez delivered his final strike. That player turned around to see the excitement, threw his glove in the air, joined the jumping horde, then stopped to pick up his glove and threw it again.
The celebration, which was captured on video and swiftly posted on YouTube, is endearing and speaks volumes to Hernandez's stature in the organization.
Consider also the particular players cheering that day in Jackson. Walker, a 20-year-old righthander, is the No. 5 prospect in baseball, according to MLB.com. Paxton, a 24-year-old lefthander, is ranked No. 61. Also pitching for the Generals last year was Brandon Maurer, a 22-year-old righthander who went 9-2 with a 3.20 ERA in 2012, earning an invitation to big league camp along with Walker and Paxton.
Baseball America annually ranks each organization's top prospects and projects the starting lineup three years hence. In its 2016 projection for Seattle, the Mariners' rotation is listed as Hernandez, Walker, Danny Hultzen, Paxton and Maurer.
Hultzen, a former No. 2 overall pick and the No. 18 prospect on MLB.com's list, was in Triple-A Tacoma at the time after making his first 13 starts of the season as their Double-A teammate. Two relievers, Stephen Pryor and Carter Capps, reached the majors after pitching in Jackson last year. Others, such as Andrew Carraway and Brian Moran, pitched well enough in Double A to receive midseason promotions and are now in big league camp. (Jackson, not coincidentally, led the Southern League in team ERA.)
That Seattle locked up Hernandez for seven years and $175 million, the richest pitching contract in baseball history, provides hope for the future, not just for Mariners fans but for the next wave of Mariners players. A prospect who reaches the majors midway through the 2013 season -- Hultzen, Maurer and Paxton are the top candidates for the first promotion -- would accrue enough service time to be in the same free agent class as Hernandez before the 2020 season. Even the pitchers who are promoted in 2014 could be part of the same pitching staff as Hernandez for half a decade.
"As those kids break into the big leagues, they're going to be inexperienced and they're going to be young," general manager Jack Zduriencik said. "The fact that you already have a guy [like Hernandez] that is a veteran pitcher at 26 years of age and the fact that you have a leader atop your staff is good for all of us.
"We have all of these young arms that we like quite a bit. They're going to be with our ballclub, and they're not going to be huge investments financially for a while. I think that also enabled us to get to this point."
That last component is a key and perhaps overlooked reality of Hernandez's contract. Seattle's depth chart of pitching prospects means it has a chance of a high-ceiling rotation in which up to four-fifths of it might account for a small amount of payroll, with three years of each making near the league minimum and then three years of arbitration.
Even if Hernandez is making some $25 million, the Mariners may be able to spend less than $35 million on the entire rotation for a couple years if everything falls right, as only Hernandez and Hisashi Iwakuma ($6.5 million in '13 and '14) are the only starters signed who are not cost-controlled after this season. Projecting prospects -- particularly pitchers -- rarely goes as planned, but the organization has enough good arms that it doesn't need a perfect success rate.
"When you look at the next seven years, depending on how this thing plays itself out, Felix will obviously be the No. 1 starter and he'll be the most expensive pitcher, but you're going to have pitchers on your staff who aren't making a lot of dollars," Zduriencik said. "That kind of weighed into all of our thinking in balancing the budget."
It may not be long before those pitchers go from cheering Hernandez from time zones away and sneaking behind the backstop to watch his spring training bullpens (as Hultzen admitted doing) to sharing a rotation with him. During the spring, Hernandez often visits minor league camp to see his brother and stays, chatting with many of the younger pitchers.
"He's made a commitment to the Mariners, and it's cool to see a guy stick around like that," Hultzen said. "It says a lot about what he thinks of the Mariners."
Said Hernandez: "That's the only thing that went into that contract: a no-trade clause. I just want to be there forever."
He'll be there for his age-27 season through at least his age-33 season, which should cover the rest of his prime. A reported elbow issue delayed Hernandez's extension signing by a few days. The years and guaranteed dollars, however, remained the same, with the only substantive change being an added provision that if Hernandez misses 130 consecutive days of one season or overlapping two seasons that an eighth year is added to the deal for $1 million.
Zduriencik acknowledged "there's always risk" with any pitcher and any long-term deal, but he sought input from the medical staff, trainers and strength and conditioning coaches, as well as considering Hernandez's age, past performance and health. "I'm totally healthy," Hernandez said at Wednesday's press conference in Seattle. "I feel fine."
The 2013 Opening Day rotation won't feature any of the top prospects, but they're coming. To date the young prospects have largely been progressing from level to level with each other. They're friends as well as teammates, leaving the baseball talk at the field, though those conversations have proved useful. Paxton and Hultzen, for instance, were regularly paired for games of catch last year, with Paxton showing Hultzen how he throws his knuckle-curve and Hultzen being of a few pitchers to advise Paxton about his changeup.
"I can say, they're pretty good," Hernandez said, smiling. "They're going to be there as soon as possible. They're going to be good."
And once they all arrive, that whole rotation should follow Hernandez's lead and be awfully good too.