At 38, Tejada hopes to extend career with Royals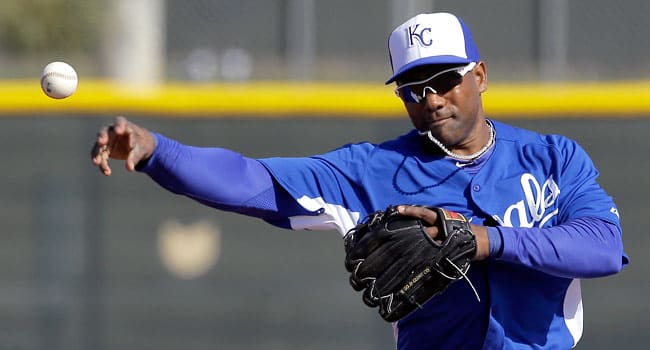 Miguel Tejada acknowledges his best playing days are behind him, but the former American League MVP hopes to extend his career with the Kansas City Royals.
"I'm not the same player, but in my heart the energy for playing baseball is still the same,'' Tejada said.
He is in camp with a minor league contract, trying to win a utility job. He will earn $1.1 million if he remains with the big league club all season.
Tejada, a six-time All-Star who turns 39 in May, was once among the most feared hitters in the game. He won the 2002 American League MVP, hitting .308 with 34 home runs and 131 RBIs for Oakland. He put up even better numbers in 2005 with Baltimore, hitting .311 with 34 HR, 50 doubles and 150 RBIs.
Those days are gone. Tejada has not been an All-Star since 2009 with Houston. Since then he has 19 home runs and 97 RBIs in the majors and has been released by San Francisco and the Orioles.
"The difference is I'm a little bit older,'' Tejada said.
The Royals signed Tejada after scouting him in the Dominican Winter League, where he hit .284 with nine doubles, four home runs, 19 RBIs and 20 runs in 34 games. He hit .300 with a .533 slugging percentage and two home runs in five games in the Caribbean Series playoffs.
"I think my body is fresh after taking a year off,'' Tejada said "I feel like my body is 20 years old now. This year is going to be different because I'm going to be playing every position and I'm ready.''
He appeared in just 36 games in 2012, hitting .259 with no home runs for Norfolk, the Orioles' Triple-A affiliate before being released on June 25.
"They told me one thing and, after a couple of weeks, they said something else,'' Tejada said. "I just thanked them for the opportunity and asked them to let me go. It didn't work out. That's OK, I just went back home, took time off and worked hard.''
Tejada, who has 302 HRs, 450 doubles, 1,072 RBIs and 1,215 runs in 14-plus seasons in the majors, is tutoring some of the younger Royals.
"He's taken a few guys under his wing,'' Royals manager Ned Yost said. "He's got that type of personality. Coming in, the report on him he was always a good guy in the clubhouse and a good teammate. What a good teammate does is make his teammates better. That's what he strives to do every day.
"He works his tail off. He presents a great example on the field to his work ethic. And he strives to make everybody on the team better and that's important.''
With his credentials, the younger players would have to listen.
"I would agree with that,'' Yost said.
Middle infielder Christian Colon, 23, is in his first big league camp and benefiting from Tejada's presence.
"He's been helping me,'' Colon said. "He's been giving some tips on how to set up at short, so I can get to more balls. He gave me some drills for hitting, too. Anytime a guy has won a MVP, had a pretty good career and especially hitting well with people on base and a lot of RBIs, you sit there and listen.''
The Royals projected opening day lineup is likely not to have a player older than 29.
"Playing with a lot of young guys will make me younger every day,'' Tejada said.
While the Royals have Johnny Giavotella and Chris Getz battling for the second base job, Tejada's name has not been thrown into competition. He is not here to be a starter, but as a utility player.
"I know that's going to be my role,'' Tejada said. "I came here to help in any way the manager wants me to help. I'm going to be ready every day.''
Notes: The Royals open a 36-game exhibition schedule Friday with the first three games against Texas, which shares the Surprise facility. . The Royals will start LHP Will Smith for the opener, while RHPs Guillermo Moscoso and Luis Mendoza are the probable for the next two games. Yost is holding out his top four starters -- RHPs James Shields, Jeremy Guthrie, Ervin Santana and Wade Davis -- from the early games. Davis is penciled to start Tuesday. . CF Lorenzo Cain will miss at least the first three games with a strained right hand. He is to resume hitting Saturday. "All is good,'' Cain said of his hand.