MLS fills spring training void left by MLB teams in Tucson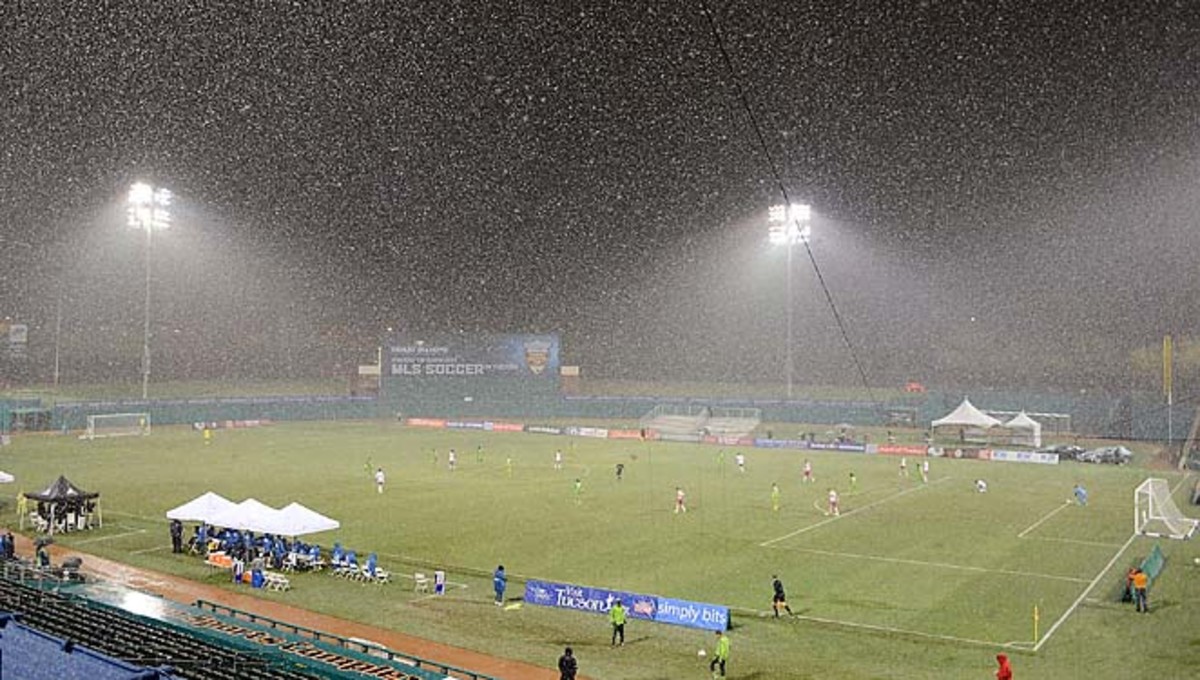 The storm that spat snow over this desert city last week was an aberration. But the sight of MLS teams tuning up in Tucson? It could well become routine this time of year.
Baseball has left this part of Arizona. Soccer is stepping in to plug the hole. The third annual Desert Diamond Cup concluded Saturday when the Seattle Sounders beat Real Salt Lake 1-0 in the final.
Also climaxing on Saturday was the fourth Walt Disney World Pro Soccer Classic, an eight-team tournament at Orlando's ESPN Wide World of Sports Complex with six MLS participants. Other clubs are playing at events in Portland and Charleston.
With structured and tourist-friendly preseason fixtures at high-caliber facilities in Arizona and Florida, MLS now has its own miniature versions of MLB's Cactus and Grapefruit spring training leagues, those beloved customs that have honed the commercialization of anticipation.
Even through pounding sleet, it's impossible not to notice the relationship with baseball in FC Tucson's Kino Sports Complex base. At Veterans Memorial Stadium the foul poles leer luminously over the corner flags, the scoreboard records innings, not goals, and the writing on the center-field wall might trick the unwary for a moment into believing that the pitch is 405-feet wide.
It's the home of the Tucson Padres minor league team, which is set to move to El Paso, Texas, in a year or two. It was the spring training center for MLB's Chicago White Sox and Arizona Diamondbacks, while the Colorado Rockies were nearby. After the 2010 season, all had relocated to the Phoenix area rather than have the hassle of a four-hour round trip to play against the other Cactus League clubs.
Tucson was bereft. But FC Tucson was founded that same year, and in 2012 it entered the USL Premier Development League. Annually expanding its efforts to welcome professional teams as well as aiming to support the thriving local youth soccer scene, in the future it hopes to partner with an MLS franchise and join the USL Pro division.
"Tucson was a big part of spring training for a long time with MLB baseball, but with all the teams moving up to Phoenix there was a void left in our city and a lot of facility availability that we'd be able to repurpose for soccer," Tucson general manager Jonathan Pearlman said. "Our goal was to earn the designation, which we have, as MLS's western hub for spring training."
BERLIN: Beckham's debut didn't disappoint
Other clubs passed through earlier in the offseason to benefit from the (usually) mild weather and pristine facilities. The city hosted its first international friendly in January when Canada met Denmark. "We've had half the league come here and play games -- 10 of the 19 teams have come through Tucson this year," Pearlman said.
"The response we've had from the teams has been tremendous. We're really happy that MLS wants to see this grow along with us and the teams do, it allows us to centralize their operations and I think that's going to be vital for the league to grow and for them to have an event that just kicks off their season properly."
Real Salt Lake head coach Jason Kreis seemed happy. "I really enjoy it, I think it's a well-done tournament, I really like the city, I like the atmosphere of the people here, I think they're all terrific," he said. "The food here is so good and the facilities are top-notch, so we're really pleased with what we've gotten out of this tournament so far."
The Pima County government received a $5 million settlement from the White Sox when they canceled their lease in 2008. About $2.8 million is going toward a 2,200-capacity soccer stadium to open in the fall, while conversions of baseball fields will ultimately give the complex six soccer pitches.
"At the stadium they've done great, but the fields across the street is what's won over the teams," Tucson coach Rick Schantz said. "They dug all the clay out of the infields and the surfaces are great, the facility's world class. The Diamondbacks and a lot of baseball teams, when they build stuff they don't mess around. You're talking about guys who are making $20 million a year. So the facilities are built for players like that. MLS guys have told a lot of us in the locker rooms, this is unbelievable. For MLS standards it's A-1."
Though March To March would have had an apt symmetry to it ahead of the start of the regular season next month, MLS branded the build-up as March To Soccer as the league seeks to generate buzz ahead of the first kick. In a notable step forward, the Desert Diamond Cup final was televised live on the NBC Sports Network.
"The MLS figures that through the MLS Cup then at the start of preseason here's only 45 days that they're not actually doing something," Schantz said. "If they can have something on TV or marketable through the preseason it just ramps it up.
"You've got to keep it fresh in people's minds, in Europe they play from August until May, they take a month off then everybody's watching those preseason tournaments. If they're not going to be on that FIFA calendar they have to maximize the amount of exposure they're getting. We feel that we fill that void."
MLS teams were wooed by the chance to use the training facilities for free and favorable accommodation rates. Tucson offered convenience as well as a good climate. "We've created basically a turnkey spring training package for the teams," FC Tucson co-managing partner Greg Foster said.
"We go out in the market, we get quotes for hotels, for transportation, for food and we present them to the teams and that's been attractive for them because we've done a lot of the legwork that they would have had to do anyway.
"The other thing we do for them is we find competition. Most of the MLS teams would like to play other MLS teams during preseason. We've taken that burden off them as well, we've said let us plan your games -- basically let us plan your preseason so you can focus only on training."
Ticket sales and sponsorship provide income for FC Tucson. Future plans include possibly expanding the tournament to six teams, perhaps inviting a club from Mexico. The border is only 70 miles south and, naturally, a large percentage of Pima County's one million residents is Mexican.
The more established and appealing the tournament becomes, the easier it will be to fill the empty local hotel rooms that were once occupied by baseball fans enjoying one of the great American sporting traditions. While the use of taxpayer dollars to fund facilities for professional sports franchises is often controversial, the economic impact can be considerable.
The Phoenix area benefits from the Cactus League to the tune of between $300-$422 million a year, depending on which estimate you believe.
With more clubs, expanded media coverage and smart marketing, soccer in the desert might become an attraction, then a habit, then a tradition. "Strikers and 'keepers report to spring training" has a certain ring to it, doesn't it?