Dusty Baker knows pressure; managing favored Reds isn't it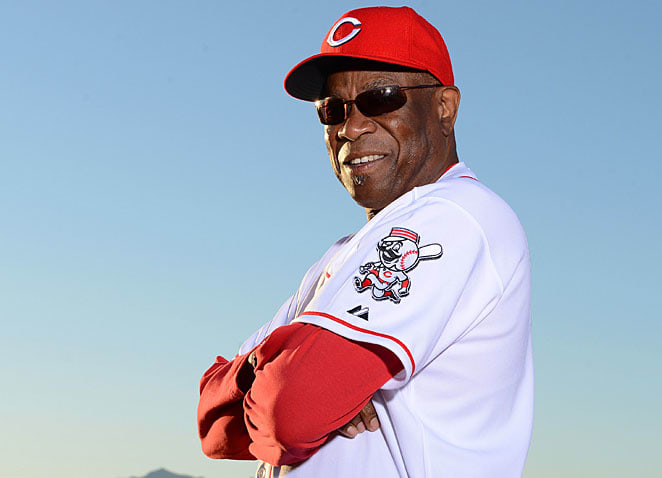 GOODYEAR, Ariz. -- It's logical and inaccurate to assume Dusty Baker's health issues last summer emerged from the stresses of his job. Managing can be lonely and anxious and a six-month churn of the stomach, without refuge. Managers memorize hotel-room ceilings at 3 a.m.
That wasn't Baker's issue. The manager of the Cincinnati Reds, who suffered a slight stroke in September -- just as he was leaving a Chicago hospital, where he'd been admitted for an irregular heartbeat -- has a more tangible reason than a blown 9th-inning lead for his condition.
"It's in my blood,'' he says.
The Reds are poised to win their third NL Central title in four years under Baker. On paper, this is the best Cincinnati team since the 1990 club that swept the Bash Brothers of Oakland, to win the World Series. Baker has a team of young veterans who have grown up working under his easy-rider style, and are comfortable with it. This might be Baker's best chance to get the first championship ring of his 20-year managerial career.
Pressure?
"I thrive on this,'' he said last week. "Hey, man, this ain't pressure. I had prostate cancer. That was pressure. Pressure was back in the Eighties, when investments were bad. I got divorced.
"Pressure is being the only black kid, other than my brother, in high school. If it was pressure related, I'd have been sick a long time ago.''
His father had prostate cancer. Baker made public service announcements at the time, urging men to get tested. Eight years later, Baker contracted the cancer himself. High blood pressure runs in his family. He is a borderline diabetic. Given those circumstances, making out a lineup card isn't exactly Armageddon.
Baker is curious about lots of things, most of which have nothing to do with baseball. He grows grapes. Last year, his vineyards produced 26 cases of syrah. Baker plans to sell his harvest in the future. His daughter Natosha will design the labels.
He's a connoisseur of all kinds of music, from Jay-Z to Van Morrison. For his 18th birthday, his mother bought him two tickets to the Monterey Pop Festival, in 1967. He travels every offseason to the Lawai Valley on Kauai, Hawaii, for "spiritual healing and guidance,'' he says. Baker refers to the place as "the center of the earth for me.'' He's pondering buying property there, "where no one can find me.''
He has a lot going on, in other words.
The mini-stroke caused him to re-examine his lifestyle. Specifically, he started reading food labels. Long ago, Baker stopped putting salt on his food. He had no idea how much salt was already in his food.
"I started eliminating anything I like,'' he jokes. "Did you know guacamole has salt in it?''
Friends send him food. Healthy food. Granola, olive oil, rice. Baker claims the region where he lives in northern California is the largest rice producer in the world. He says he has given bags of rice to the Reds new centerfielder, the Korean Shin-Soo Choo, that had Korean letters on it, but was grown in California.
He'd had warning signs as early as June, and ignored them. Shortness of breath. Swollen ankles, an indicator that his heart was sending the blood to his feet, but lagged in sending it back the other way. Baker is a consummate liver of life. He likes to enjoy himself. Sometimes, it's best to slow down.
Still, he has no reason to change how he manages. In a significant way, the Reds who won 97 times last year, were a pure reflection of their manager. They were 50-38 and one game ahead of second-place St. Louis when Joey Votto hurt his knee. How the team would react was anybody's guess.
It reacted the way Baker reacted: Calmly, and with purpose. Criticize Baker for how he runs a game. You'll need a ticket to ride that crowded train. But the way he runs a clubhouse helped his club through six weeks without its best player. Baker is patient, occasionally to a fault. He trusts his players. They repaid that confidence. Without Votto, the loose and assured Reds went 33-16, including a 10-game winning streak.
"I'm not going to say (managing) isn't stressful,'' says Baker. "It's lonely when you lose, (but) I enjoy being alone. I turn my phone off. You can't reach me. Sometimes, I like not being reached.
"You don't want to put your sorrow on others. I'm not big on sharing my problems or spreading my sorrow. That's part of why I didn't complain last summer.''
Last Christmas Baker, his wife and son, Darren, went to Kauai. Back to Lawai Valley, and the healing center he first visited after his prostate cancer diagnosis. It's a regular destination for Baker. This trip had added meaning.
"I prayed and thought about how fortunate I've been in life,'' he recalls, "and what I had to do to get back stronger.''
He looks fit on this March morning at Reds camp. Baker still wears wristbands, like a player. At 63, he believes he can still hit. "Can't run, though.''
Baker has dropped some weight, eats properly, get his rest. He reads all the labels.
It won't be the ballgames that get to him, or so he says. Even if Cincinnati does not meet great expectations, Baker says he'll enjoy the baseball. Pressure isn't managing baseball games. It's managing everything else.