Span taking the lead to fill area of need for Nationals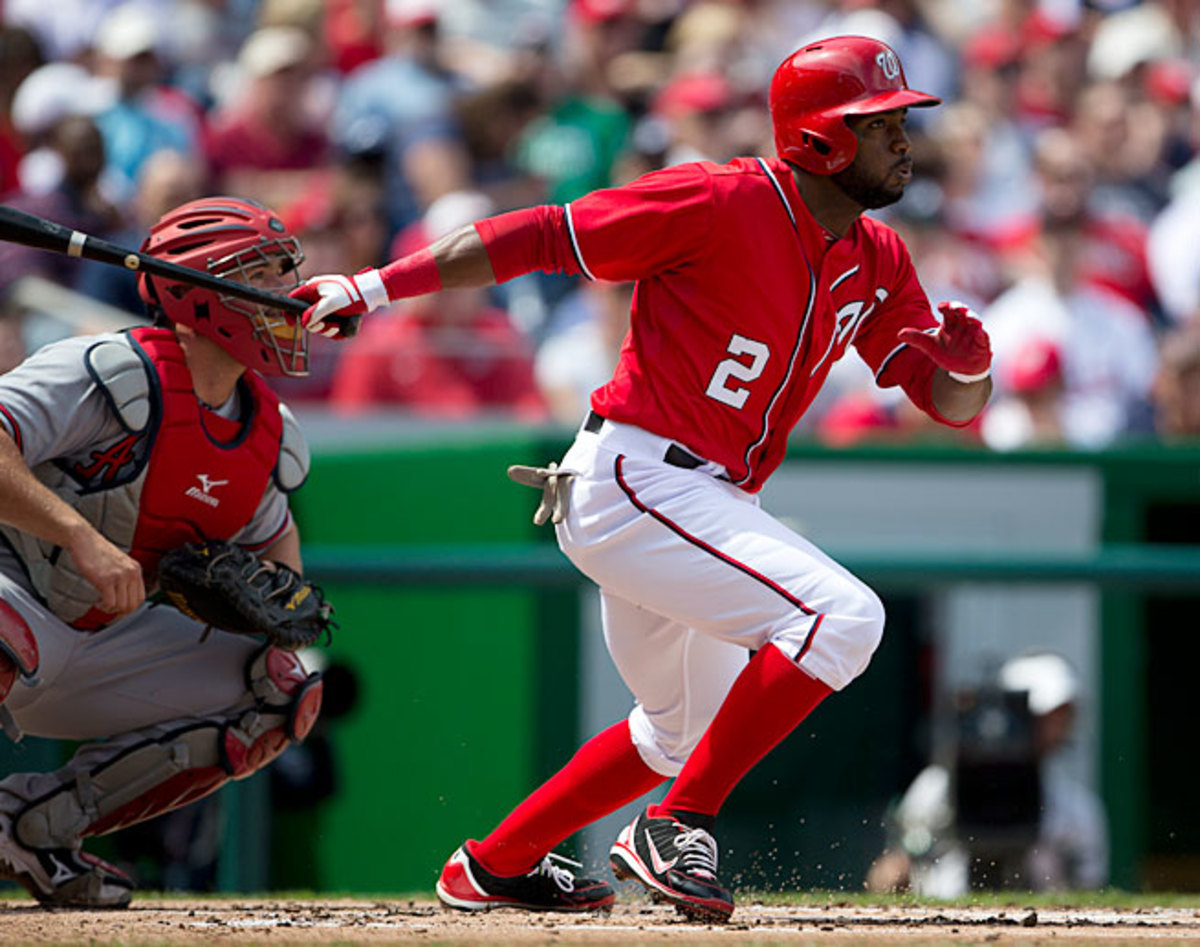 WASHINGTON -- A few minutes before his first pre-game workout in his new home ballpark last month, outfielder Denard Span emerged from the clubhouse and stood on the top step of the first-base dugout, looking around at the thousands of empty blue seats that rise above the neatly trimmed grass at Nationals Park.
"It's beautiful," he said. "I can get used to this."
Less than three weeks into the season, it's clear Span is settling in just fine to his new digs. In his first season since coming over from the Twins in a November trade, he is batting .313 with a .421 on-base percentage, and though he has only stolen two bases, his nine walks are the most in a lineup that includes heavy hitters like Bryce Harper, Ryan Zimmerman and Jayson Werth.
Span is the only new regular on a Nationals team that most everybody thinks will bring D.C. its first World Series title since 1924. He is also the answer to a two-fold problem that the Nationals have been trying to solve since the franchise moved from Montreal in 2005. Span will play centerfield, where the Nats have used 32 different players since the end of their Expos days, and bat leadoff, a lineup position where manager Davey Johnson used five different men last season.
The search for a suitable leadoff man is not limited to Washington. All around baseball, teams are trying to find the perfect player to jumpstart their offense, usually with inconsistent results.
The classic leadoff batter that every team wants is Hall of Famer Rickey Henderson, who had a career .401 on-base percentage and only struck out 100 times once in 25 seasons, going 19 consecutive seasons without having more strikeouts than walks.
"I don't know if there is a leadoff batter in the mold of Rickey Henderson," says Detroit general manager Dave Dombrowski. "So you adjust.''
The Tigers, for example, deal with Austin Jackson's strikeouts in exchange for power. Jackson struck out 133 times last season, but he had 16 home runs and an on-base percentage of .378.
Likewise, Mike Trout, who, along with Span's teammate Harper, might be the game's brightest new star, had a 30-30 season as a leadoff hitter in 2012 but also struck out 139 times.
The closest leadoff batter to Henderson's style might be the Blue Jays' Jose Reyes, who was hitting .395 with a .465 OBP in his first season in Toronto before suffering an ankle injury that will keep him out until July.
Reyes isn't the only big-name leadoff hitter dealing with injuries. The Yankees' Derek Jeter has yet to play this year as he comes back from a broken ankle, and the Indians' Michael Bourn went on the DL on Wednesday with a cut finger suffered when he was spiked.
Bourn signed with the Indians after starring as Atlanta's leadoff hitter the past two years. With both him and Reyes, who played in Miami last year out of the division, and Jimmy Rollins on the downside of his career, Span figures to be the best leadoff hitter in the NL East for the next few seasons.
It's in those intradivision battles that Span's skill and experience as a leadoff hitter might be most useful. He tends to more aggressive when he's playing teams within his division.
"For example, when the Twins were playing the White Sox and facing (pitcher) Gavin Floyd, our lineup didn't need to see five or six pitches because they knew Floyd so well," Span says. "But when you're going up against pitchers you don't see that often, like in interleague, you tend not to swing at 2-0 or 3-1 counts. Then, even if a pitcher throws a strike, the worst-case scenario is that you still have an advantage in the count."
Those up-to-the-minute scouting reports are part of what the Nats' already like most about Span.
"A pitcher generally likes to go through the lineup the first time not showing all of his pitches," says Zimmerman. "He might go through the first time with his fastball and one other pitch. A leadoff batter that takes pitches helps."
"I like the responsibility of batting leadoff, and I like to set the tone,'' Span says. "My style of play will fit perfectly here.''
Span is certainly a perfect fit in Washington, where his presence allows Johnson to move Werth to the No. 2 spot in the order and Harper to No. 3, while stabilizing centerfield, a position where Harper played most of the time last season.
Those attributes explain why Nationals general manager Mike Rizzo had pursued Span for years, first trying to acquire him from the Twins in 2011, though no deal could be worked out.
Over the next two seasons, Rizzo could only watch as Span turned himself into one of the peskiest players in the game. "He made life miserable for us when we played the Twins," said Tigers manager Jim Leyland. "He was always on base. He could steal. He could bunt. He could do anything.
"I'm glad that he's gone from our division."
The Nationals, of course, are glad to have him. Though Span has never lived in the District, this season is nevertheless a homecoming for him. He was born in D.C. in the winter of 1984 when his mother, Wanda Wilson, was pregnant and visiting her brother at the University of the District of Columbia. Denard came back at age 14 on a field trip and still has a scrapbook full of memories.
Now, he's back at 29, hoping to make even more memories, both for himself and for the fans filling the blue seats in that beautiful stadium who are counting on him to lead the way.