Not the end for Jeter, but may be the end as we know him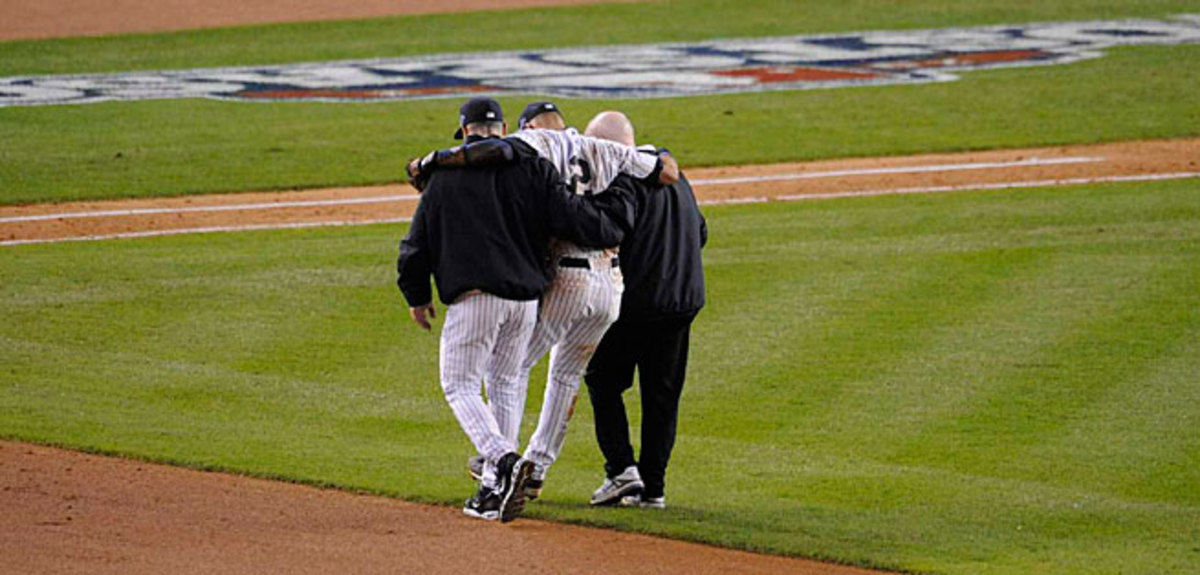 Too many times to count did Derek Jeter refuse to take the X-rays or MRIs the Yankees training staff requested from him over the years. He would dismiss their requests with the same answer, "What difference would it make? I'm playing tomorrow anyway."
He ignored pain and precaution and pushed his body through limits that would have stopped others, most noticeably when he hobbled through the 2001 World Series, his hip and leg wracked by a vicious fall into the stands that postseason, and the pennant drive last year, when on one good ankle he hit .300 down the stretch and, at age 38, came to the plate more times than anybody in baseball history age 36 or older.
The ankle, compromised by a deep bone bruise, finally gave way in the ALCS. It broke during the simple act of fielding a ground ball. Jeter, ever stubborn, refused to be carted off and went out upright with some help.
What Jeter's will once seemed to render impossible is now a reality: he has been stopped. The broken ankle has another crack. The man who promised to be on the field Opening Day -- and nobody on the Yankees dared tell him to be realistic -- now will be out for at least half the season.
This is an unfamiliar world to many people. You probably will not see him playing shortstop on a regular basis this year. You can put away those discussions about chasing Pete Rose's hit record. You will see the first All-Star Game since 2005 without Jeter named to it. You will see the first baseball season since 1996 without Jeter going to the All-Star Game and/or getting MVP votes -- and all he did way back then was win the 1996 Rookie of the Year award. You will see somebody other than Jeter be the regular Yankees shortstop for the first time since 1995, when Tony Fernandez followed Mike Gallego, Spike Owen, Andy Stankiewicz and Alvaro Espinosa in a five-year span with five different Yankees regular shortstops.
It's not the end of Jeter -- not with that competitive streak and not because a broken bone is more a matter of time than it is grueling rehab. But maybe it is the end of Jeter as we knew him, the forever young and stubborn middle infielder who never allowed a concession to injury or age. Maybe when he does come back -- he will have passed his 39th birthday -- he needs more days off. Maybe the range on defense is further compromised.
CORCORAN: Crack in Jeter's ankle reveals crack in Yankees future
Barry Larkin was a fierce competitor, too, who never moved off the shortstop position or changed teams. But in his age 38-40 seasons, even with that iron will, Larkin hit .267 and averaged only 109 games per season.
Jeter can still help the Yankees win. Even at 39 and coming back after missing half a season with two breaks of his ankle, do you doubt he could find a way to shoot a single to rightfield with the tying run on second base in Fenway Park in September?
But the moments won't come as often now. He will have to listen to the trainers and his body now. He is entering a new phase in his career. This is what aging as a baseball player looks like, what aging as an athlete looks like. Suddenly it seems all around us.
Tiger Woods, 37, hasn't won any of the past 19 majors, a drought stretching near five years. Alex Rodriguez, 37, has two bad hips and can't play. Kobe Bryant, 34, blew out his Achilles. Peyton Manning, 37, back from getting his neck fused, hasn't won a playoff game in three years. Now Jeter, 38, can't get on the field. Even the fiercest of wills cannot defeat time.
2. Cabrera's power outage no surprise
Just what kind of player did the Blue Jays get with the $16 million they gave Melky Cabrera for these next two seasons? Let's just say the demise in his power is reminiscent of what happened to Manny Ramirez after his PED bust. Cabrera, suspended last year for 50 games for his PED violation, has gone from an MVP-caliber player pre-bust to an awful hitter post-bust.
After 16 games Cabrera is hitting .242/.304/.274 with no home runs and one extra-base hit in 62 at-bats. He has only one hit this year to the pull field on either side of the plate.
The Blue Jays figured they had a dominant 1-2 combination at the top of their lineup in Jose Reyes and Cabrera. Now Reyes is out for three months and Cabrera looks nothing like the hitter they thought they were getting. Yes, it's early, but Cabrera remains a question until he shows otherwise.
3. Shutouts are in, again
It's a show about nothing. That's what baseball often has become these days unlike anything we've seen in 40 years. Have you noticed the rash of shutouts? Like most pitching-related trends these days (increased strikeouts, fewer walks, increased velocity, fewer older pitchers, etc.), this has been going on four four seasons.
We have played 18 days of this regular season, not including the one-game opening schedule March 31. There has been at least one shutout thrown on 15 of those 18 days, including as many as five in one day (April 10).
Until 2010, the only four seasons in baseball history with 310 shutouts or more occurred in the narrow window of 1968-1976. But since then we hit the 310 mark in 2010, 2011 and 2012 and are off to a start this year that promises a continuation of the comeback of the shutout.
Of course, they played fewer games back in 1968-76, so let's look at the seasons with the most shutouts, ranked by total number of whitewashes but I'll also include the percentage of games in those seasons that ended in a shutout:
This year we are humming along at a shutout percentage of 18.2, which would result in a record-shattering 442 shutouts, a whopping 43 percent increase from last year. Obviously, this pace is not going to hold up over six months. And we're still not approaching 1968 proportions for pitching domination.
But we are light years from 1999, when there were only 193 shutouts and a shutout percentage of 7.9. And the everyday occurrence of the shutout is just one more leading indicator that this four-year bull market for pitchers isn't slowing down.