After 766 tries, the Mets have a homegrown ace in Matt Harvey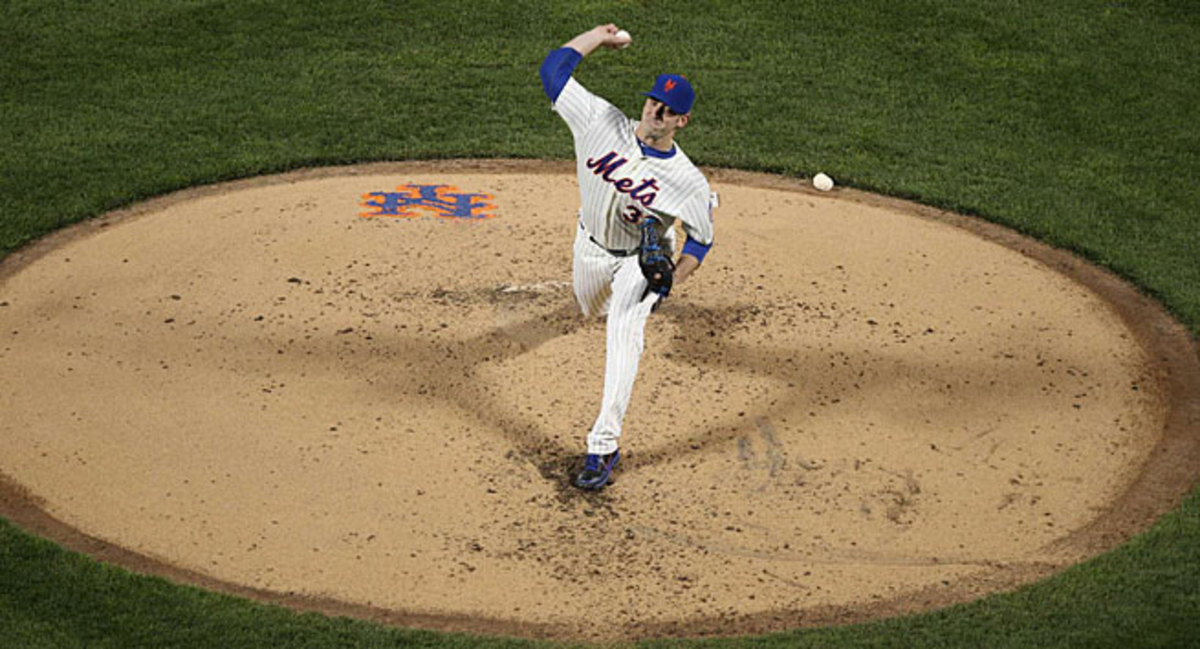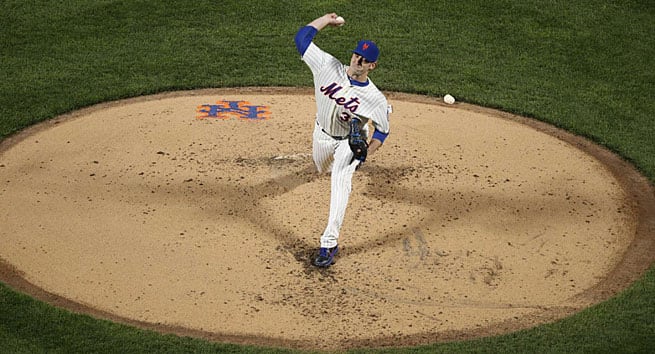 Matt Harvey has won seven games in his young Mets career. This should tell you how bad New York has been at drafting and developing pitchers: Harvey already ranks 12th in wins for the Mets among the 766 pitchers they drafted in the past 30 years.
Since the Mets hit on Dwight Gooden in 1982 (and Roger McDowell and Randy Myers the same year) New York ranks with Kansas City and Baltimore among the teams that have been consistently lousy at drafting and developing starting pitchers over more than a quarter of a century.
Mets fans have every reason to be excited about Harvey, the cover subject this week in Sports Illustrated. He has a strong will, a keen pitcher's intellect, clean mechanics, a prototypical power pitcher's body and the rare four-pitch arsenal based on stretching the strike zone vertically and attacking hitters. You can line up the best pitchers under age 25 right now and I'll take Harvey -- and it's not even close. And you are talking about a group with Stephen Strasburg, Chris Sale, Matt Moore, Madison Bumgarner, Jose Fernandez and Shelby Miller.
That Harvey is a Met is, let's face it, a consequence he must overcome. Sure, you can dream that next year Zack Wheeler will be the number two starter behind Harvey and Rafael Montero will be number three and Jon Niese number four while the $62 million coming off the payroll will be reinvested in frontline free agent hitters. In the meantime, though, Harvey must deal with a team behind him that is hitting .231, ranks ninth in runs scored and is giving Rick Ankiel a shot to play centerfield. And he must deal with the team's atrocious history with pitchers, though the franchise has played in pitchers' ballparks since 1964.
Once upon a time, as the Mets turned from a joke to a first-time world champion in 1969, they were the envy of baseball with their young arms. In 1967 alone, the Mets in the majors and minors had a stockpile of pitchers that included Tom Seaver, Jerry Koosman, Nolan Ryan, Jon Matlack, Tug McGraw, Ed Figueroa and Gary Gentry. The 1982 draft of Gooden, McDowell and Myers helped pave the way for a second world championship, in 1986.
But since Gooden was picked in 1982, the Mets have drafted 766 pitchers in the last 30 years. This is what little they have to show for three decades of drafting and developing pitchers:
? 44 (5.7%) pitched at least one game for the Mets
? 33 (4.3%) won even one game for the Mets
? 10 (1.3%) won 10 games in their Mets career
? 5 (0.7%) won 10 games in a season for the Mets
? 1 (0.1%) made the All-Star team as a Met
Let me put it to you this way: over the past 30 years, 95.7 percent of pitchers the Mets drafted never won a game for them.
Now get ready for this list:
Most Wins with Mets, 1983-2013 Draft Picks
1. Bobby Jones: 74-56 2. Mike Pelfrey: 50-54 3. Rick Aguilera: 37-27 4. Jon Niese: 37-36 5. Dillon Gee: 23-19 6. Aaron Heilman: 22-23 7. Jason Isringhausen: 21-24 8. Bobby Parnell: 17-19 9. Pete Schourek: 16-24 10. Jeff Innis: 10-20 11. Joe Smith: 9-5 12. Matt Harvey: 7-5 12. Dave Telgheder: 7-5
Now you get an idea of how rare it is for Harvey, a 2010 first-round pick, to show up in a Mets uniform looking like an actual ace. Bobby Jones, by far, is the best pitcher drafted and developed by the Mets since Gooden.
Really, when it comes to homegrown winners, in the entirety of Mets history you have Seaver, Koosman, Matlack and Gooden. Nobody else originally drafted by the Mets won more than 15 games for the team. (Technically, Seaver wasn't drafted by New York but was signed after his selection by the Braves in 1966 was voided.)
Let's lower the bar further: 10-game winners. In a tiny three-year window (1964-67) the Mets originally signed five pitchers who would win 10 games in a season for them (Seaver, Ryan, Koosman, McGraw and Matlack). The Mets have found the same number of 10-game winners over the past 30 years (Jones, Pelfrey, Niese, Gee and Aguilera).
What happened? While Mets general manager Frank Cashen astutely swung trades in the 1980s for Sid Fernandez, Ron Darling and Bobby Ojeda, the farm system produced almost nothing after Gooden. From 1984-90 the Mets drafted 165 pitchers and obtained only 30 combined wins from them -- with more than half of those wins coming from Schourek.
Click here to subscribe to Sports Illustrated or to log in and read Verducci's full cover story on Matt Harvey
In 1991, just as a streak of seven straight winning seasons came to an end, the Mets thought they had the makings of a young staff that could mount another championship run. That was the year they drafted Jones, Isringhausen and Bill Pulsipher.
Three years later, having earned the first pick of the draft after a 103-loss season in '93, the Mets took Paul Wilson, a righthander out of Florida State who was the Matt Harvey of his draft class -- and then some.
(Truthfully, it was a poor draft for pitchers. Teams took 15 pitchers in the first round. Six of them never pitched a day in the big leagues. The best of the other nine, as ranked by wins and WAR, was the forgettable Dustin Hermanson.)
By 1995, as Wilson reached Triple-A and Isringhausen and Pulsipher made their major league debuts, New York was abuzz about the three pitchers known as Generation K. Instead, the plans went so horribly wrong that the three of them never pitched on the same Mets team together. Their combined record in New York was 31-45. Instead of being the backbone of a third Mets championship, Generation K became the symbol of how not to develop pitchers.
Pulsipher was the first to make his debut, on a hot night at Shea Stadium against Houston on June 17, 1995. Dallas Green was the manager of the Mets, who had confirmed their status as a non-contender with an 18-29 start. With Bobby Bonilla as their cleanup hitter and 38-year-old Brett Butler leading off, they were going nowhere.
The Astros jumped on a wild Pulsipher for five runs in the first inning. By the time the Mets came to bat in the bottom of the fifth, New York trailed 6-2 to former Cy Young winner Doug Drabek. Pulsipher had thrown 98 pitches. He was due to bat leadoff in the bottom of the fifth. The game essentially was lost for a non-contending team with a 21-year-old kid making his major league debut and having trouble throwing strikes on a hot night.
And then Green did something most unusual: he let Pulsipher hit. Not only did Pulsipher stay in the game to bat as a leadoff hitter down four runs, he also pitched two more innings. He wound up allowing seven runs on nine hits and six walks. By the time Green finally lifted him after seven innings, Pulsipher had thrown 131 pitches. No pitcher has thrown that many pitches in his debut in the 18 years since then.
By early September, the 21-year-old lefty had thrown 217 2/3 innings that year between the majors and the minors. And then he could pitch no more. The Mets shut him down with a sore elbow with three weeks left in the season. When he tried to throw the next spring, he couldn't. Pulsipher underwent Tommy John surgery, sending his career into a downward spiral.
One month after Pulsipher made his 131-pitch debut, the Mets brought Isringhausen to Wrigley Field for his first game. It was hot, with the wind blowing out to rightfield. Isringhausen was 22 years old. He had averaged more than seven innings per start in the minors and completed four of his 18 starts. Isringhausen threw seven strong innings against the Cubs, and then, in a way, got very lucky: the game was tied at 2 in the eighth when his spot came up with one out and a runner on second. In other words, Green had to hit for him. The kid finished with 104 pitches.
Two months later, Isringhausen wasn't so lucky. Just as Pulsipher was being shut down with a bad elbow, Green left Isringhausen in to throw 123 pitches in a meaningless game against the Phillies on Sept. 15, his 11th career start. (To give you an idea of how the game has changed, no pitcher in the past four seasons has thrown that many pitches within his first 11 career starts; in 1995 alone it happened 34 times.)
Isringhausen stayed in long enough to allow 13 hits, but only one run. The Mets won the game, 4-1. The win improved their record to a miserable 59-70. Isringhausen finished the year with 221 innings. His year-by-year innings logs from ages 19-22 were 65, 90 1/3, 193 1/3 and 221.
The next year he tore his labrum in his pitching shoulder.
The Mets pushed Wilson hard, too: he threw 186 2/3 innings in the minors at age 22 in 1995. He made his major league debut the following season, but a series of arm injuries, which many observers have attributed to his poor mechanics, derailed his career.
After Generation K, the Mets hit another drought of pitching. From 1992-2004, the Mets drafted 363 pitchers. Only one of them won even seven games for them: Aaron Heilman.
JAFFE: Harvey off to best start by a pitcher in Mets history
String the droughts together, and from 1984-2004 the Mets drafted 528 pitchers and produced only one pitcher who won more than 22 games for them in their career: Jones, who is also their only drafted and developed All-Star pitcher since Gooden.
New York did do well in the 2005 draft, selecting Niese, Parnell and Pelfrey, but none have been anything close to being an impact pitcher.
It has taken the Mets 30 years to find another impact pitcher. None of the Generation K pitchers compare to Harvey, and not only because of their workload. All lacked either the repeatable mechanics or pitching instincts to be a dominant starting pitcher. You have to go back to Gooden to find a Mets pitcher with this kind of arm. Gooden did survive heavy workloads (he threw almost 500 combined innings at ages 19 and 20) to be the most dominant pitching phenom in baseball history. He went 157-85 for the Mets. (The 766 pitchers drafted since him have gone 389-467 for the Mets.)
Gooden, who was a two-pitch pitcher, and Harvey don't have the same style, but for now they are linked because of their power and promise, including the promise to lift the entire franchise. Nothing is more important in baseball these days than developing impact starting pitchers. Harvey looks like one of those rare difference makers. His arrival is made all the more rare because of his franchise's history. It's been three decades since the Mets could legitimately claim to have found an arm like this.