Orioles to call up pitching prospect Kevin Gausman for start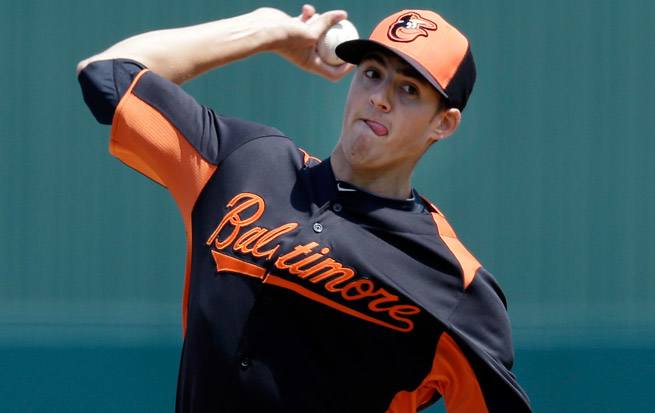 BALTIMORE -- Before deciding to promote Kevin Gausman to the big leagues, Baltimore Orioles executive vice president Dan Duquette considered, then dismissed, the potential downside of the move.
Why? Because the kid has talent.
Gausman, the fourth overall pick in the 2012 draft, will make his big league debut Thursday against the Toronto Blue Jays.
"He has the best stuff and the most consistent control of just about any pitcher that we have in the organization, so we thought employing his strength for our major league team was the way to go," Duquette said in matter-of-fact fashion Wednesday.
Duquette looked beyond the fact that the right-hander is 22 years old, has only 13 games of professional experience and never has pitched above the Double-A level.
"The future is now," he said. "He's throwing strikes with three pitches. He does that consistently. And he has excellent control."
Gausman joined the Orioles on Wednesday before they faced the New York Yankees. He was to travel with the team to Toronto before being formally recalled on Thursday.
"He's on the taxi squad now," manager Buck Showalter said with a grin.
After being drafted out of Louisiana State University last June, Gausman pitched in five games in the lower minor leagues in 2012. He was solid in spring training, then went was 2-4 with a 3.11 ERA this season with Double-A Bowie. But he also had 49 strikeouts compared to only five walks in 46 1-3 innings.
It may not sound that impressive, but it was good enough to get him to the big leagues.
"You know, I don't really think it hit me until today, until my second flight here from Atlanta," Gausman said. "Then I just kind of was thinking, you know, `Wow I'm really here. It's crazy."'
Because the Orioles rotation has been depleted by injury, there was a need for another starter on Thursday.
But this is not designed to be a spot start. The Orioles envision Gausman being another Manny Machado, who was recalled at age 19 last year to make his debut and has since become a fixture in the Baltimore infield.
"You never know how people are going to respond, but Kevin is very competitive," Duquette said. "He pitched in the SEC, he was the No. 1 pitcher for Team USA when they had a big game, he's pitched in international competition, so he has the experience of pitching in elite conferences. He also has a lot of confidence and is very aware of his capability and what he's good at.
"I think he'll do real well. We'll find out. But he has all the qualities to be a good winning major league pitcher."
Showalter agreed.
"We think he can help us. We'll see," the manager said. "It's kind of who we are and where we are. It's always been a thought that it looked like it was going to be `when' and not `if.' He spent a lot of time down there doing some things he needed to do."
Gausman expects to be nervous, but hopes his skill will be enough to offset the tension.
"Obviously, it's going to be really exciting," he said. "I try and not think about it too much. Just go out there and keep doing what you're doing and throw strikes."