Kevin Gausman, Manny Machado give Orioles reason to dream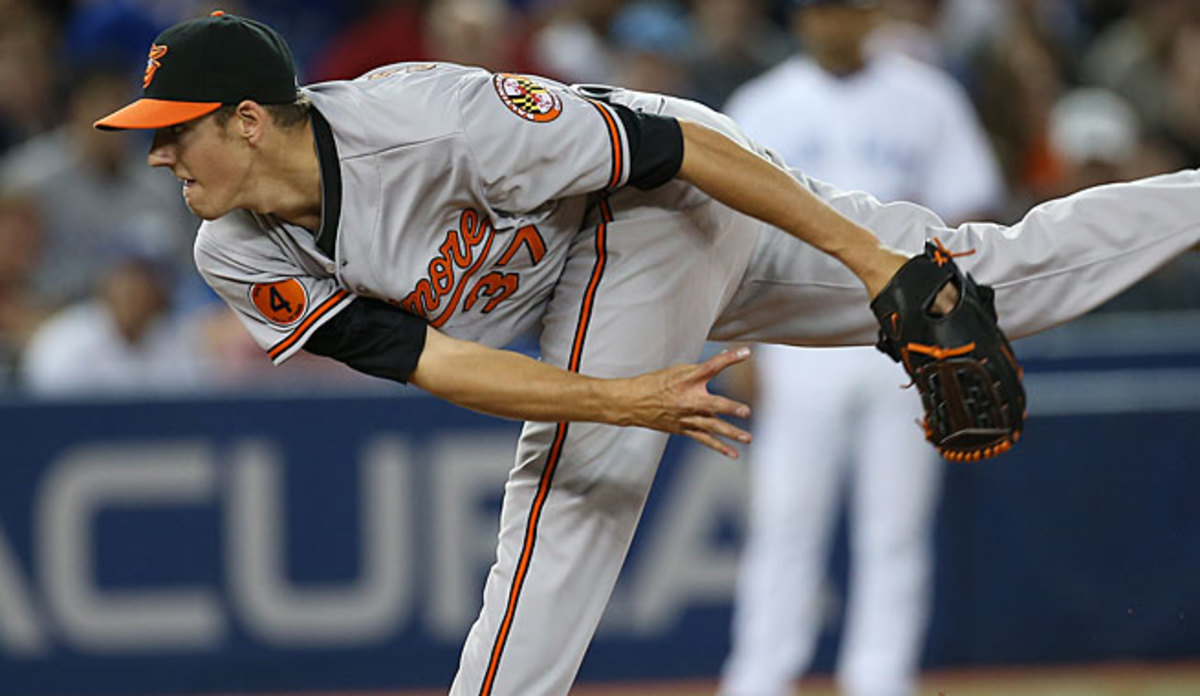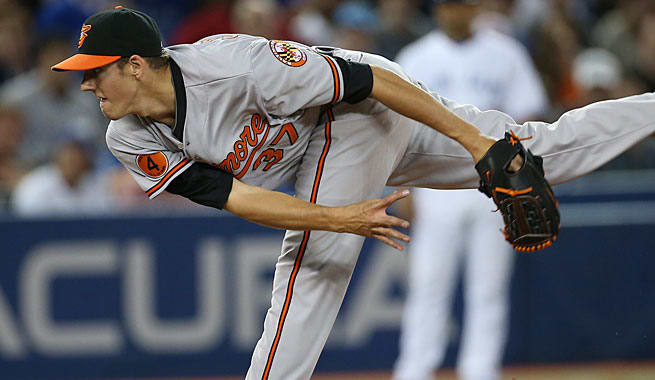 The future of the Orioles was on display Thursday night at Rogers Centre in Toronto, and while it doesn't quite reach the level of what April 28, 2012 meant for the Washington Nationals -- the night Bryce Harper, then 19, joined Stephen Strasburg, 23, on the field for the first time -- it was plenty good enough for Baltimore to dream it may lead to division titles of its own.
Righthander Kevin Gausman, 22, made his major league debut while third baseman Manny Machado, 20, increased his batting average to .330 and his league-leading doubles total to 21 with three more two-base hits. That the Orioles lost, 12-6, hardly mattered in the long run. Gausman, who received a no-decision after five decent innings (four runs, seven hits, two walks and five strikeouts) showed the kind of big arm and poise to make Baltimore think it soon may have a homegrown ace -- of which it has produced just one (Mike Mussina) in the past 30 years. The kid even made his debut with his nickname stitched into his glove: Goose.
Gausman hit 98 miles an hour with his fastball and featured a plus breaking ball and plus changeup. Though he did walk two batters, he is a strike-thrower who walked only five batters in eight minor league starts this year. Watch Gausman's right hand after he releases his fastball: it whips well behind his body -- farther than most pitchers, an indication of tremendous arm speed and loose-limbed easy power.
LEMIRE: Breaking down Gausman's major league debut
The Orioles have acquired many fine young pitchers through the draft, trades and free agency in the past five years, but none of them profile at the front of the rotation. The club knows it needs an ace to win a championship. Gausman isn't that pitcher now -- not when he has yet to throw over 100 pitches as a professional, is averaging 5 2/3 innings per start and still needs to fill out his long frame. But in time he could grow into that role. For now he has supplanted Dylan Bundy, who has yet to throw this season because of a forearm injury, as Baltimore's best hope for that kind of impact pitcher.
Meanwhile, Machado continues to impress, especially with his ability to square up pitches consistently and hit to all fields. He could join Alex Rodriguez, Vada Pinson, Cesar Cedeño and Orlando Cepeda as the only 20-year-olds to lead the league in doubles (all of them passed 2,000 hits in their careers) and perhaps even threaten the record of 67 doubles by Earl Webb that has held up since 1931.
CHEN: Machado arrives as a superstar
Machado at least has put himself in the conversation with Mike Trout and Bryce Harper in terms of their impact on the big leagues at such a young age. Through their respective first 98 games, Machado has more extra-base hits (46) than did Trout (38) or Harper (34), though keep in mind that Harper was a year younger than either one at that junction. Here are the numbers for Trout, Harper and Machado through their first 98 games:
2. Matchup to watch for at Midsummer Classic
We still have a month and a half before the All-Star Game, but one thing seems clear no matter who you like: the two starters will be in their 20s. This era of pitching dominance is being driven by young pitchers in particular. The Cubs' Scott Feldman, 30, is the only pitcher not in his 20s among those with the 10 best ERAs in baseball. Among the top 30 pitchers, 22 of them are in their 20s. Only three pitchers in the top 30 are older than 32: Hiroki Kuroda, A.J. Burnett and Cliff Lee.
So who do you want to see start the All-Star Game at Citi Field in New York? You can't go wrong with Clayton Kershaw, 25, of the Dodgers against Clay Buchholz, 28, of Boston. You could go very young and take Patrick Corbin, 23, of Arizona or Shelby Miller, 22, of St. Louis against Matt Moore, 24, of Tampa Bay. But in terms of intrigue and excitement, you could not to any better than taking Matt Harvey, 24, of the Mets against Yu Darvish, 26 of Texas.
3. The case for -- and against -- Phil Hughes
Phil Hughes could make for a fascinating free agent this fall. He will be just 27 at the end of the season, throws hard, has seven years of experience and has won as many as 18 games in a season -- and yet he has a 4.47 career ERA and is maddeningly inconsistent.
Hughes has made 112 career starts. He has been out before the sixth inning in 53 of them, or 47 percent of the time. He is a great example of how sticking around long enough with a great team can make a mediocre pitcher look very good. Hughes has the worst ERA by far of any pitcher in Yankee history with at least 100 starts (4.47). And yet his career winning percentage is .581 (54-39). Why is that? Two words: run support.
Check out this list of the best run support among active starting pitchers with at least 100 starts:
1. Phil Hughes: 6.01
2. Darren Oliver: 5.49
3. Andy Pettitte: 5.30
4. Kyle Kendrick: 5.21
5. Colby Lewis: 5.18
Nobody is even close to Hughes in that category.
Being in the right place at the right time has its advantages. If you took all the pitchers in history with at least 100 career starts and an ERA at least as high as 4.40, Hughes has the best winning percentage. Here are the best of the lucky ones with such a high ERA: