It's time for a new approach to the role of closer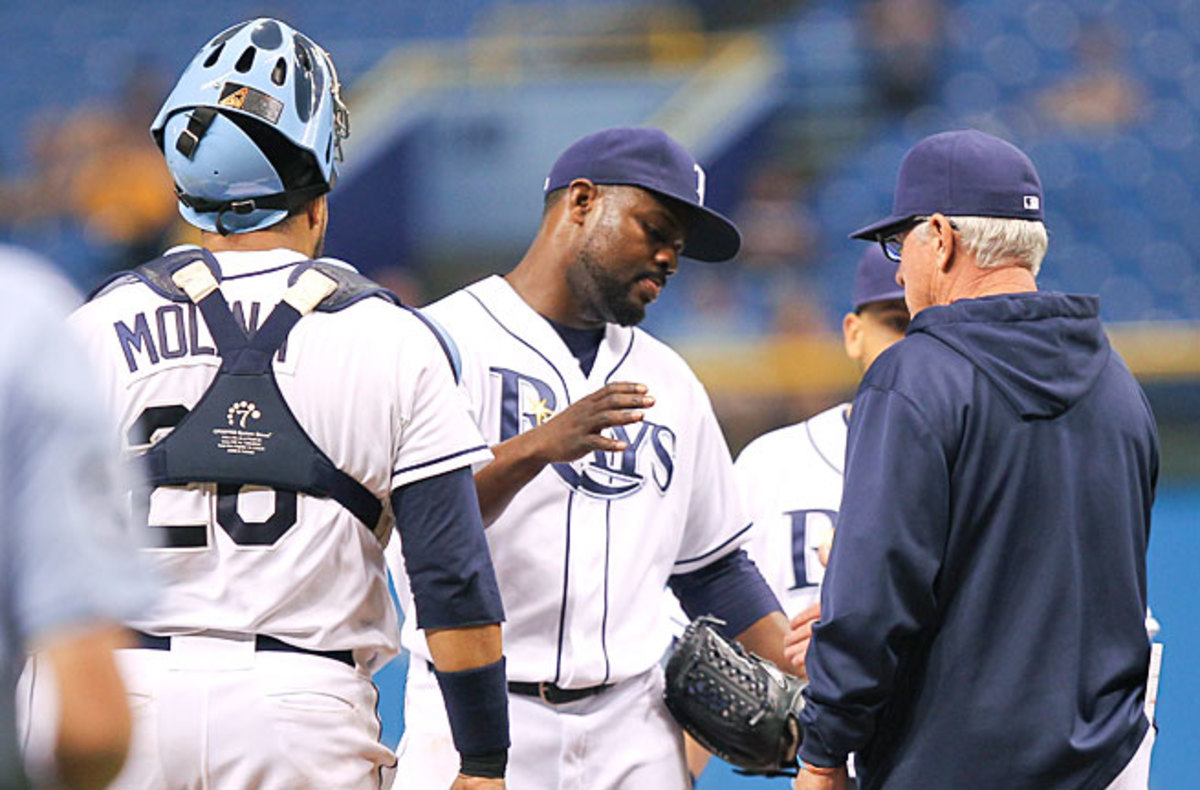 Jason Motte, Chris Perez, Sergio Santos, Joel Hanrahan and Andrew Bailey are hurt. Ryan Madson, Joakim Soria, Neftali Feliz and Brian Wilson still haven't made it back from their surgeries. Jim Johnson, Fernando Rodney, John Axford, Carlos Marmol and J.J. Putz are no longer as reliable as they once were. If it seems like it has been a hard year on closers, well, yes, it has, but that makes this year no different than any other year.
The shelf life of a closer continues to be a short one. The job requires so much physical and mental stress -- especially because managers use them with a one-size-fits-all mentality -- that counting on a closer to put up healthy, solid seasons one after the other is foolish for everybody other than Mariano Rivera.
Closers are easy to find but hard to keep on the job. Over the previous 10 years, 74 different pitchers saved 30 games in a season. Set-up relievers, independent league graduates, failed starters, rookies . . . closers have been found just about everywhere except yard sales. But working a closer hard comes with a price, as Johnson of the Baltimore Orioles and Rodney of the Rays are discovering this season. As reliable as each was last year -- Johnson leading the league in saves with 51 and Rodney posting an all-time best 0.60 ERA -- they have been unreliable and hittable this year. Have they lost their "magic?" Hardly. According to your preference, you can blame it on regression to the mean or how hard they worked last year.
Let's use 70 games and 30 saves as an arbitrary definition of a hard-working closer. Over the previous four seasons, the 70-30 barrier has been reached only 23 times by 19 different pitchers, including Johnson and Rodney last year. Now let's divide those 19 closers into subgroups depending on what has happened to them since their 70-30 season:
Hurt (4): Hanrahan, Wilson, Feliz, David Aardsma.
Lost closer role (8): Tyler Clippard, Axford, Drew Storen, Francisco Cordero, Matt Capps, Francisco Rodriguez, Jonathan Broxton, Marmol.
Retired (1): Billy Wagner.
Currently slumping (2): Johnson, Rodney.
Still effective closer (4):Jonathan Papelbon, Craig Kimbrel, Joe Nathan, Jose Valverde (admittedly a bit of a stretch; Valverde lost his job last postseason and was not wanted back by Detroit until Bruce Rondon and Phil Coke failed this year).
There is a myth that only a few brave souls have the stuff and heart to close games. This myth should have died long ago, but especially last year, when the Giants, Reds and Yankees all lost high-profile closers at the start of the season and -- without swinging a trade -- had no problem making the playoffs or, in San Francisco's case, winning the World Series. This year, the Cardinals lost closer Jason Motte and have simply plugged in setup reliever Edward Mujica, who despite never having done the job before has been nearly perfect. The Pirates traded a worn-down Hanrahan and found a gem of their own in Jason Grilli, a first-time closer at age 36 who leads the league with 20 saves. While it may be true that not all relievers can close, many can, and often what makes a good closer is simply having the "hot hand."
The problem is that once the "hot hand" gets anointed as The Closer, as one of the brave and few, he suddenly starts growing weird facial hair, adopts some heavy metal walk-in music and develops an endgame celebration for those tough "saves" when he happens to get three outs before he allows three runs. Managers feed this stage act of the closer by acting like the latest hot hand is the same pitcher as Rivera. One of the mysteries of the modern game is how 30 managers use the exact same strategy for their endgame (i.e., hold your closer in reserve for a save situation in the ninth, preferably with nobody on base to start the inning, and use him in a tie game in the ninth at home but not on the road).
Why not have co-closers, as did the Mets of the 1980s (Jesse Orosco and Roger McDowell) or the Reds of the 1990s (Rob Dibble and Randy Myers; Scott Williamson and Danny Graves)? Closing should be more about riding the hot hand than pandering to the stage presence of The Closer. So Joe Maddon keeps running out Rodney in save situations and Buck Showalter keeps running out Johnson. When I asked Showalter last week about what was behind Johnson's troubles, he essentially said "nothing," grasping at the straws of a missed strike call by the umpire here or a groundball single there.
It's not a surprise that Johnson, 29, and Rodney, 36, are struggling, especially given their age and workload last season. The surprise would have been if they pitched as well this year as they did last year.
TAYLER: Inside the struggles of Johnson and Rodney
All baseball executives seem to understand that bullpens are fungible and one of the least predictable assets in the game. Relievers throw so hard and work so often (including all the times they warm up and don't enter a game) that the rates of attrition and inconsistency are high. The Braves were reminded of that lesson when they lost both Eric O'Flaherty and Jonny Venters this year to elbow surgeries. Each of them passed the 70-game mark at least twice in the previous four years. Contracts of four years or more for relievers generally have been disastrous.
You might have forgotten some of the names who were among the 74 closers with 30 saves in the previous decade: Jordan Walden, Ryan Franklin, Chris Ray, Derrick Turnbow, Shawn Chacon and Rocky Biddle, to name just a few.
So why should we expect closers to be automatic from year-to-year? The answer may be that it's Rivera's fault. Rivera has been so good for so long at his job -- excepting his knee injury last year that he incurred while shagging batting practice flyballs -- that he has come to be known as the definitive closer. The problem is that Rivera should not be considered the rule, but rather the exception, the likes of which we may never see again.