It's rivalry week in interleague play, but schedule is still flawed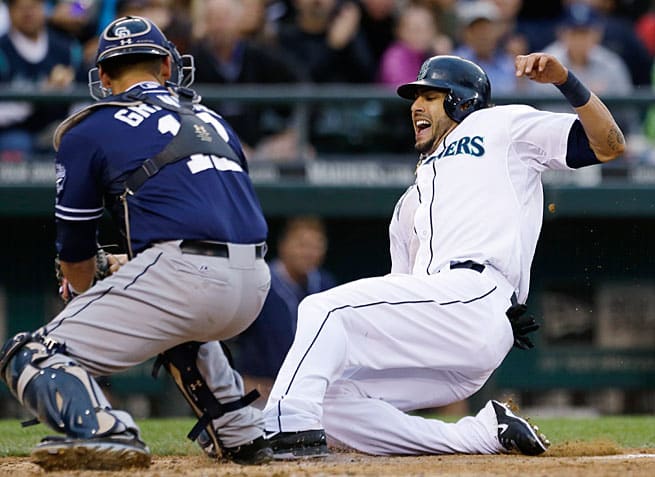 This week Major League Baseball showcases its "prime rivalries," the intra-city (New York, Chicago, Los Angeles), intra-region (Baltimore/D.C., Bay Area) and intra-state (Ohio, Missouri, Florida) pairings that grab the most headlines and usually draw the biggest crowds in interleague play.
But every team needs someone to play, regardless of any geographic rhyme or reason, so some of the matchups are awfully contrived: Rockies and Astros (former employers of Clint Barmes!), Padres and Mariners (share a spring training complex!), Braves and Blue Jays (previously managed by Bobby Cox!).
This season interleague play expanded to every day on the calendar with the shift to two 15-team leagues, which promised competitive balance -- no longer would one division have four teams and another have six; each club's shot at winning a division title is, on paper, one in five. But to maintain this special week of interleague play in addition to the daily games now feels antiquated.
Previously, interleague play was confined to specific intervals on the calendar to help keep it special. Now the league is trying to re-inject enthusiasm into interleague play by confining the rivalries to one week, but the discrepancy in the meaningfulness of the matchups is too much to overcome.
As noted previously, one shame of this scheduling structure is that some potentially burgeoning rivalries -- such as Orioles-Nationals and Indians-Reds -- are suffocated by the bigger markets.
ESPN had two national broadcasts this week: a Tuesday doubleheader showing New York vs. New York, followed by Los Angeles vs. Los Angeles. (New York and Los Angeles, lest you forget, are the country's two most populous cities.) Even MLB Network's broadcast schedule isn't particularly diverse. The network is showing games in primetime on three nights, and on all three nights the options for games are New York vs. New York or Boston vs. Philadelphia.
At least the league had the right idea by cutting rivalry matchups to four games rather than the previous six, which minimizes the unbalance of the schedule, as teams' opponents this week are the only ones not shared by everyone in the division. Tampa Bay, for instance, is the only AL East club that gets to feast on the Marlins.
Keeping these pre-determined rivalry pairings is understandable because many of the matchups do make sense, but even though the scheduling logistics won't be easy, there ought to be some way to spread them out. That way the growing rivalries will get a chance for exposure, and the ones that aren't rivalries at all can fade into obscurity, where many of the daily interleague series already reside. That way we can stop pretending that a meeting between the Rangers and Diamondbacks is anything more than two good teams playing a baseball game.
Line Drives
? Until Monday, the Pirates had not allowed more than four runs in 12 straight games; relatedly, they were 10-2 in that stretch. In fact, they are tied for the major league lead with 38 games of giving up four or fewer runs this season, as pitching and defense have keyed their hot start.
JAFFE: Will Pittsburgh finally Buc losing streak?
? An overlooked area of improvement for the Diamondbacks this offseason was their defense, as the Fielding Bible's John Dewan wrote on the subscription site BillJamesOnline.com earlier this month. Through play on Monday, Arizona led the majors with 45 runs saved defensively -- including 32 by its outfield alone -- which far out-paced Cincinnati (+21) and Pittsburgh (+18) in the Plus/Minus metric; the worst defensive teams were all out in the AL West: Angels (-41), Mariners (-35) and Athletics (-27).
? Arizona's Didi Gregorius continues to impress as much offensively as defensively. He tripled and homered off Texas' Yu Darvish on Monday night and is batting .324 with a .926 OPS in 29 games this season.
? What happened to Seattle's young hitters? The Mariners demoted second baseman and former No. 2 overall pick Dustin Ackley to the minors, where he'll join Baseball America's former No. 3 prospect in baseball, former catcher Jesus Montero, after both failed to hit this year. Outfielder Michael Saunders, another former resident of BA's lists, is struggling with his own sub-.300 on base percentage. Of the five 20-something Mariners in the lineup, only third baseman Kyle Seager is playing well while first baseman Justin Smoak (more on him later) has been barely passable this season. Rookie middle infielder Nick Franklin, who was promoted on Monday, is 0-for-4 with a walk in his first big league action this week.
JAFFE: Mariners demote Ackley, manager blames sabermetric wizards
? It took a visit from the Twins, but the Braves went five innings without a strikeout last Monday night. Something had to give, after all, as Minnesota's rotation continues to buck the trend on strikeouts with a 4.4 strikeouts-per-nine-innings ratio that hasn't been the major league average since 1955.
? I saw something more rare than a perfect game in the fifth inning of last Monday's Reds-Mets game, Cincinnati's Joey Votto pulled a cutter from Shaun Marcum foul into the Citi Field stands. As of this story from SI's Tom Verducci in June 2012, Votto had done that only once in his career. Votto, by the way, has now hit five homers in his last 10 games.
DAUGHERTY: Votto at center of scouts vs. stats debate
? There is no place in baseball for Nationals closer Rafael Soriano's comments blasting Bryce Harper for missing a ball in rightfield last week, saying his four-year-old would know better. Yes, Harper screwed up and cost the team a ninth-inning loss to the Giants, but he owned up to his mistake. Harper isn't a fringe member of the roster, but the best player on the team. Other than this fleeting timidity near the outfield wall, the only knock on Harper's game had been his hitting against lefthanded pitching (.135 average vs. LHPs through May 21, the date of the outfield misplay). So what did Harper do the very next afternoon? He blasted an opposite-field homer off the Giants' best pitcher this year, lefty Madison Bumgarner.
CORCORAN: Watch Harper's misplay in rightfield
Three Up, Three Down: Young first basemen
Baseball appeared to be entering a glory era for first baseman this decade, not just for the in-their-prime superstars -- Albert Pujols, Joey Votto and Prince Fielder, for instance, all previously inhabited the same division -- but for the next wave of youngsters, too. The results of those who have made the majors, however, have been decidedly mixed.
There are eight starting first baseman in the major leagues who are 26 and under (i.e. not yet at their prime) and who entered the season with less than three years of big league service time. Of those eight, the only one never to have been rated on any of Baseball America's Top 100 prospects lists is, coincidentally, having the best 2013 season -- by far. So while the Giants' Brandon Belt (BA's No. 23 player before the 2011 season) and the Padres' Yonder Alonso (No. 33, pre-'12) rate somewhere in between the two lists, here the best and worst of this batch of young corner infielders.
UP
1. Paul Goldschmidt, Diamondbacks
Goldschmidt, the lone unranked player on BA's lists, leads NL first basemen with 12 homers and his 1.007 OPS ranks second only to Votto.
2. Anthony Rizzo, Cubs
Rizzo, who was BA's No. 47 prospect before the 2012 season, has smacked 27 extra-base hits with a .829 OPS.
3. Freddie Freeman, Braves
Freeman, No. 17 before 2011, hasn't shown much power (.419 slugging, 3 HRs) this year, but he's hitting .304 and reaching base at a high rate (.372 OBP).
DOWN
1. Ike Davis, Mets
His game-winning single Sunday night aside, Davis (BA's No. 62 pre-'10) has struggled mightily this season, with a .478 OPS that is second-worst among all major leaguers who are on track to qualify for the batting title.
2. Eric Hosmer, Royals
Hosmer, the No. 8 player before the 2011 season, appeared to be a guaranteed future star, especially after he finished third in the AL Rookie of the Year voting that season behind the strength of his 19 homers and .799 OPS. But he regressed to a .663 mark last year and is at .654 this year, with one home run in 46 games.
3. Justin Smoak, Mariners
Smoak was the second-highest-ranked of this group -- BA's No. 13 player before the 2010 season -- and has shown increased patience at the plate (.355 OBP) but he is batting only .241 and slugging .348 with just three homers in 45 games.
Trend to track: Triples in decline
Of the myriad possibilities when a ball is put in play, a triple is typically the game's most exciting outcome. That excitement has been waning in recent years, as triples are at an all-time low, just as fans are being deprived of a sheer quantity of balls in play thanks to strikeout rates that are at an all-time high.
Big league teams are hitting just 0.16 triples per game, or one every six games. That means the average three-game series has just one triple from the two clubs combined.
This seems to be a less heralded consequence of improved defensive shifting. Most of the attention of the increased use of spray charts and video study is focused on the drastic placements of infielders, who snag line drives and grounders previously destined for the outfield grass. Outfielders, though, are in better position to either catch balls in the gap that might be triples or at least have a faster response time in retrieving them to hold runners to second base. Many hitters need a fielder to be out of place in order to leg out three bases.
Some other contributing factors include less aggressive baserunning (as offenses grow an appreciation for the value of each out), smaller ballparks in some cities and stronger throwing arms among outfielders.
Another side of . . . Mat Latos, Reds SP
Since his arrival from San Diego via trade two offseasons ago, Latos has been an outstanding catch for Cincinnati. After a strong debut season with the Reds, the 6-foot-6 righthander has been even better through this season's first two months, with a 3.01 ERA in 71 2/3 innings and a 5-0 record that would be even better if the bullpen hadn't blown saves in three of his starts.
His good fortunes extended to the end of his fishing line recently, as Latos snagged a 34-pound gag grouper three miles out into the water off the northern Florida Keys. (It made for a delicious dinner, he reported.) Latos, who grew up in the Fort Lauderdale area, said he was always around the water as a child, often going salt- and fresh-water fishing.
For two consecutive years the Reds have had an off-day while visiting the Marlins, allowing Latos to join his aunt and uncle on a deep-sea fishing expedition. Last year he wrangled with a shark (as seen on his wife's Instagram account) and earlier this month he caught the biggest grouper Latos has ever caught (as seen on a Reds PR staffer's blog), while cruising around the upper Keys.
"The other day in Miami was more of a relaxing day," Latos said. "There wasn't any breeze blowing. It was a calm day, with one-foot seas, if that. It was just a day to go out and enjoy the water. We ran around the back channels first and then went out deep-sea fishing. . . . A nice relaxing day was what it was supposed to be and it turned into a great [fishing] day."
The final out
One of the best months of the baseball season is almost here. June means school years ending in much of the country, which allows ballparks fill up more regularly; trade market and All-Star chatter picks up to give baseball a more prominent spot in the daily sports conversation; and increasingly the game's best prospects get their first taste of big league action.