Chris Tillman emerges as needed, and unlikely, ace for Orioles
In an improbable season for the Orioles, Baltimore found an ace in Chris Tillman.
After the Baltimore Orioles hired Dave Wallace as their pitching coach last fall, he and bullpen coach Dom Chiti made a point of meeting with several O's pitchers who would play a role in the team's fortunes in 2014. Wallace and Chiti wanted to create an atmosphere of trust and collaboration with the players as they set to work trying to help a young staff — particularly the starting rotation — turn a corner.
The Orioles were coming off a 2013 season in which they finished 10th out of 15 American League teams in ERA. They had plenty of candidates for their starting rotation, but they lacked the kind of top-shelf talent that opposing lineups would fear. Prized prospect Dylan Bundy had undergone Tommy John surgery in June 2013, and 2012 first-round pick Kevin Gausman had pitched in just 20 games (15 in relief) last season. So for the 2014 campaign, at least, the role of No. 1 pitcher fell to an unheralded 6-foot-5, 26-year-old Californian named Chris Tillman.
The righthander, who came to the Orioles from Seattle in 2008 as part of a five-player package for Erik Bedard, is hardly a household name. Nor does he resemble the ace for whom O's fans have yearned. Tillman's fastball clocks in the low 90s, and his peripheral pitching stats — FIP, strikeouts per nine and the like — also lag well behind the league's best. Yet his record speaks for itself. He's gone 35-16 since the Orioles called him up for good in July 2012, and last season he made his first All-Star team. This year, he went 13-6 with a 3.34 ERA.
ALDS Game 1: Orioles must overcome Scherzer in playoff opener
On Thursday at Camden Yards, he'll start Game 1 of the American League Division Series against reigning AL Cy Young winner Max Scherzer and the Detroit Tigers. "Chris has graduated," Orioles manager Buck Showalter said in announcing the decision last week. "It's been fun to have a good seat to watch it. He's turned into a guy I'm real proud of, the way he goes about his business."
• Complete postseason schedule, start times and TV listings
During their preseason sit-down with the man who would become their ace, Wallace and Chiti quickly recognized in Tillman the kind of quiet confidence they wanted all their pitchers to exude. "Right away, you knew just by talking with him that he had the makeup to embrace [competing against] whatever team and starter was across the field," Wallace said. "It didn't matter [who] it was. He really looks forward to the challenge."
Whatever the data might say, Tillman has been the most dependable starter this season on a staff that made huge strides forward, finishing the year with the AL's third-best ERA as the Orioles went 96-66 and won the AL East by a yawning 12 games. Tillman's approach reflects the ego-free, opportunistic culture that pervades the team under Showalter. His only mission, every inning of every start, is to keep his team close enough to win the game.
The road to a title — or not — for every Division Series team
It sounds simple, but for years, Baltimore's rotation featured a parade of talented young hurlers who couldn't control their pitch counts or their nerves when they ran into trouble. So pitching out of a jam — and Tillman has had his share, particularly in the first and second innings, this year — is no small thing. Tillman understands he's backed by an excellent defense and can hand off to a first-rate bullpen. "My mindset the whole time is, I'm only one pitch away," he said. "All I've got to do is execute one pitch, and we're turning a double play. That's the thing about having the defense we have. They're capable of getting you out of trouble fast as long as you do your part."
"When you're able to work through those speed bumps in a game," he added, "and kind of manage the game a little better and not let it speed up on you, that's when you're at your best."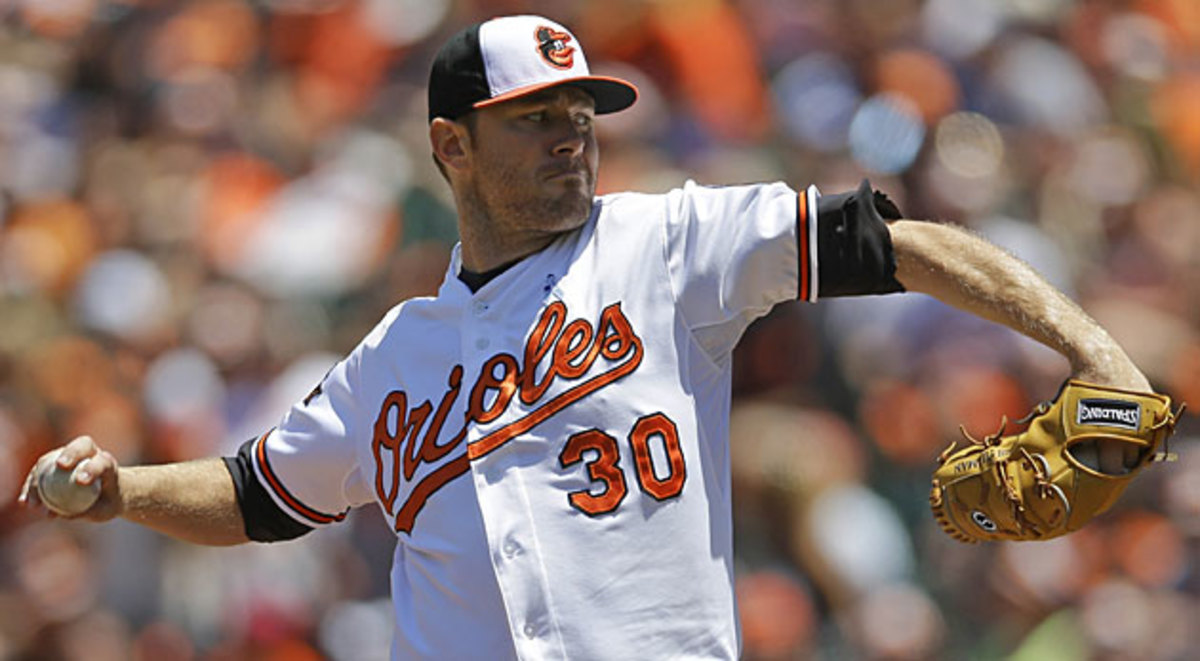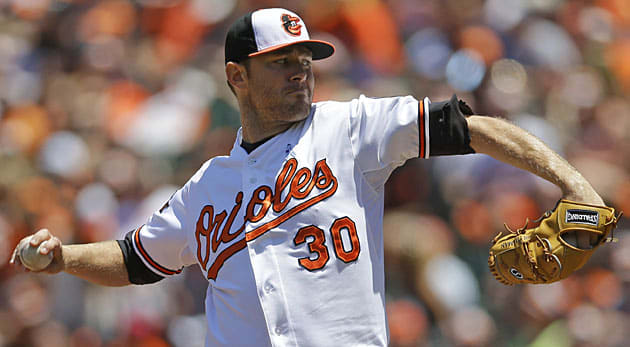 Given the way the Orioles cruised to their first division title in 17 years, it's easy to forget that April and May were a struggle. They were just 27-27 on May 31, and Tillman himself was searching for some consistency with his command. He mixed performances like an 8 1/3-inning, one-run gem against Justin Verlander and Detroit in his second start or a complete-game shutout in May against Kansas City, with ugly one-inning outings against the Pirates and Rangers. By early June, his ERA had swollen to 5.20.
During that same stretch, the Orioles lost starting catcher Matt Wieters to a season-ending elbow injury that eventually required Tommy John surgery. The pitching staff leaned heavily on Wieters' ability to call a game, but as of May 11, he was relegated to the disabled list for the rest of the season. To fill the void, Baltimore called up Caleb Joseph, a 28-year-old rookie, and traded with San Diego for veteran Nick Hundley. "I'm not going to lie to you," Tillman said, "it was really tough on me at first [to lose Wieters]. But these guys, Caleb and Hundley, came in, the first thing they did was sit down with every single one of us and see what we like to do. … For me personally, I can't say enough about Hundley. I've been throwing to him pretty much since he's been here, and he's done a lot for me this year. It's hard to replace Matt, but I can't tell you how good these guys have been for us."
Wallace suggests that losing Wieters may have forced the Orioles' pitchers to think more about pitch selection and take responsibility for charting their own course through games. Given his experience and self-confidence, Tillman was perhaps better prepared than most to pull this off. But there's no question Hundley helped him through the challenge. From June 10 to Sept. 20, Tillman rattled off 20 straight starts in which he gave up three earned runs or fewer, and Hundley was behind the plate for 16 of them.
2014 playoff team preview: Baltimore Orioles
According to Wallace, Tillman doesn't need — or want — much feedback between innings, even during a rough outing. But Hundley's experience and instincts are sound, and he's able to find the right levers to pull to help his pitcher through a jam. "If I were going to get out of whack a little bit during a start," Tillman says, "there are certain pitches they can call for me to get back in line, or certain things they could say to me, certain keys, and [Hundley] hit 'em all on the nose with me this year."
Tillman was at his best down the stretch, going 6-0 with a 1.79 ERA in 10 starts from Aug. 3 through Sept. 20. Now the real fun begins. Tillman made the Orioles' ALDS roster back in 2012 as part of the bullpen but didn't get to throw a pitch as they lost in five games to the Yankees. If this series also goes the distance, Tillman could start both Game 1 and Game 5 — both at home, where he has a 2.54 ERA this season. The Tigers' star-studded rotation, which includes the past three AL Cy Young winners in Scherzer, Verlander and David Price, has precisely the pedigree that Baltimore's less heralded staff lacks.
Yet the Orioles are the team that earned home field advantage here, and their hopes of advancing start with Tillman. Assessing the key to his development from prospect to playoff pitcher over the past few years, he says, "It comes down to conviction and trusting [your pitches]. If a guy hits a home run off it, so be it. I threw it with conviction. You can't second-guess yourself."
That's exactly how Wallace would want his ace to think.