SI Vault: Heaven for Seven: The men behind Nolan Ryan's no-hitters
The men who caught Nolan Ryan's seven no-hitters reflect on what it was like to be behind the plate when the Ryan Express made baseball history.
This story originally ran in the May 13, 1991 issue of SPORTS ILLUSTRATED.
Roberto Alomar swung through the 2-2 fastball, and in that one fell swoop on the night of May 1, the Texas Rangers beat the Toronto Blue Jays 3-0, 44-year- old Nolan Ryan had his seventh no-hitter, 33,439 fans at Arlington Appreciation Night roared their appreciation, Rickey Henderson was upstaged, and a nation smiled. Ryan smiled, too, and then made sure he thanked his ! catcher, Mike Stanley (right), before his teammates mobbed him.
So now Ryan has as many no-hitters as there are seas, heavens, wonders of the world, days of the week, sacraments, deadly sins and innings before you stretch. The number of mind-boggling facts about his masterpiece far exceeds seven. Alomar, for instance, was just five years old when his father, Sandy, played second base behind Ryan in Ryan's first no-hitter. The centerfielder in that game was Bobby Valentine, who is now Ryan's manager in Texas. Ryan has more nine-inning no-hitters than all the rest of the starting pitchers now on active major league rosters combined (they have six). No two pitchers in baseball history can pool their no-hit totals and top Ryan. He is now the oldest (44) and second oldest (43) man to pitch a no-hitter; Cy Young (41) is a distant third. In addition to the seven no-hitters, Ryan has taken five other possible no-hitters into the ninth before they were broken up -- all with one out. His best fastball last Wednesday night was clocked at 96 mph. . . .
As amazing as the numbers are, the truly inspiring thing about Ryan's performance last week was his conduct. He was working on four days' rest, one less than usual, because he felt he needed the work, and it allowed him to make a start on Arlington Appreciation Night. His back and his right heel were bothering him, so much so that before the game he told pitching coach Tom House, ''I feel old today,'' but he went ahead and pitched anyway. Some six hours after Henderson had declared himself the greatest base stealer of all time upon swiping No. 939,Ryan aw-shucksed his own achievement. ''This is the one I wanted most because it was in front of the fans,'' he said. ''The fans have been so supportive of me, and it was really great to pitch one in front of them.'' And then he celebrated by working out for a half hour on a stationary bike.
SI Vault Podcast: Mark Mulvoy on 'The Curious Case Of Sidd Finch'
Ryan has always had that generosity of spirit. He even seems to have brought it to bear when it came to apportioning the distinction of catching his no- nos. His seven no-hitters have come with seven different catchers, most of whom have had forgettable careers: Jeff Torborg, Art Kusnyer, Tom Egan and Ellie Rodriguez of the California Angels; Alan Ashby of the Houston Astros; and John Russell and Stanley of the Rangers. Those seven had a combined batting average of .234 when this season began. None of the seven had more than 255 at bats during the season of the no-hitter. It does seem to speak well of Ryan that he has bestowed these moments of greatness on people who might otherwise never have had a day in the sun. As Stanley said after No. 7, ''When my career is over, nobody is going to remember me. At least now I'll have something. I'll remember this for the rest of my life.''
They'll all remember.
May 15, 1973:Angels 3, Royals 0
Torborg, now the Chicago White Sox manager, was hardly expecting a no-hitter. In Ryan's previous start, against the White Sox, he had lasted just 17 pitches. ''It was our first trip into the new ballpark in Kansas City,'' Torborg says. "Nolan did not have exceptional stuff that night—real good, mind you, but not exceptional for him. Jack McKeon was managing the Royals, and he tried to rattle Nolan by protesting the way he tapped the rubber with his right foot—not maintaining contact. But he withdrew the protest after the game.
"We actually talked about the no-hitter during the game. I told Nolan how we had to approach this thing. We still had to win the game. Nolan was focused. He's always been so intent.'' There were two close calls in the game. In the eighth, shortstop Rudy Meoli made an over-the-shoulder catch in shallow left of a ball hit by Gail Hopkins, and with two outs in the ninth, Ken Berry, inserted in rightfield that inning for defense, leaped up at the wall to catch a ball hit by Amos Otis. ''I remember that last out fairly vividly," Torborg says. "I've even got a montage of the out on my wall at home: Nolan throwing and Otis hitting, with the scoreboard in the background.''
Torborg had a penchant for these great occasions, having caught, as a member of the Los Angeles Dodgers, the perfect game by Sandy Koufax and a no-hitter by Bill Singer. ''After Nolan's first no-hitter, some people said, 'You really helped Ryan,'" says Torborg. "Of course, you'd like to get credit, but now that he's done it with seven different catchers, I think my cover is blown.''
•​ SI 60: Read 60 of the best stories in SI history, plus Q&As with the writers
July 15, 1973: Angels 6, Tigers 0
Torborg broke his finger two days before this game in Detroit, so the little- used Kusnyer got the call. ''Before the game Nolan said he felt he had good control,'' says Kusnyer, now a bullpen coach with the Athletics. ''That wasn't all that common for him in those days. He actually thought the Tigers were stealing our signs. I told him, 'I can tell them what's coming and it wouldn't matter the way you're throwing.'
"At one point Norm Cash struck out, and as he returned to the dugout, Bill Freehan asked him what Nolan was throwing. Cash said, 'Don't go up there.' His last time up, Cash actually came to bat with a table leg, all square and knobby and everything. He had taken it off a table in the clubhouse. 'I might as well use this,' he said. The umpire ((Ron Luciano)) wouldn't let him use it, of course. The last out of the game was the closest the Tigers came to a hit. Gates Brown hit a line drive that Rudy Meoli jumped for and caught -- it would have been a base hit if he hadn't caught it. He struck out 17 that game, and my finger turned purple from all the fastballs he threw.''
Sept. 28, 1974: Angels 4, Twins 0
Egan, who is a regional sales manager for a Phoenix trucking firm, says he knew a no-hitter was in the works from the first pitch of this game in Anaheim. "We called a fastball, I went down to block the ball, and the ball rose, probably three feet, and it was a strike. The umpire, Bill Haller, said, 'Where were you going?' I said I thought it was in the dirt, and he said he did, too.
"Nolan definitely had it. It was like driving a powerful car. He walked eight in that game, though. The only close call I remember was a ball hit to shortstop. Rudy Meoli dove for the ball, got up and threw the guy out.'' (Meoli may have saved the first three no-hitters, but he also cost Ryan one in 1973 when he a let a first-inning pop-up by the New York Yankees' Thurman Munson fall for the only hit of the game.)
After the game, Egan says, "Nolan gave me $500. He gave each player on the field a bonus. He came around and thanked everyone for a job well done. I feel so happy for the guy every time he pitches a no-hitter. I feel that there's a reason that this is happening, and even though you don't know what the reason is, you know that whoever picked him picked a good guy."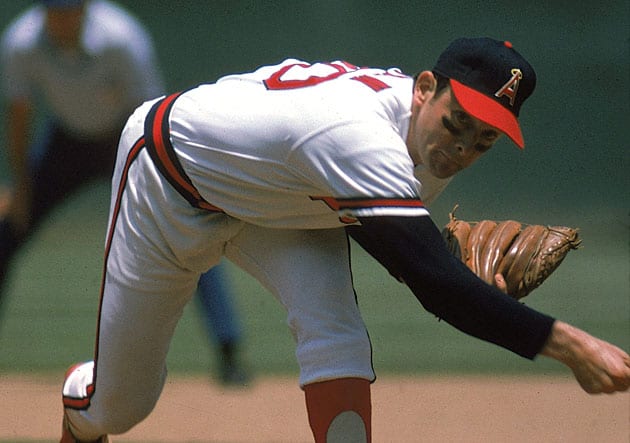 June 1, 1975: Angels 1, Orioles 0
Before the game in Anaheim, Ryan went up to Rodriguez, asked him if he was catching and then tossed him a little rubber ball. "Here,'' he said, "I'll be throwing these today."
Despite that little omen, Rodriguez, who is now a youth worker in Rio Piedras, Puerto Rico, says that Ryan did not have his best stuff that day: ''He had a tough, tough time warming up. When he started, he was throwing around 86 miles an hour. But he had a good change and a good curve going. Then in the fifth inning, his fastball started popping. He shook me off just a few times in that game. Once was on the last pitch of the game, with the count 2-2 on Bobby Grich. I called for a fastball, but he called me out to the mound to tell me he wanted the changeup, and we caught Grich looking. I had the ball, and I told Nolan, 'I've got the ball, and I'm not going to give it to you.' But I did."
Rodriquez says he was out at a boxing match the night Ryan pitched his seventh no-hitter. "When I came home, I turned on ESPN, and that's when I heard about it. I said, 'Wow!' I felt really good because Nolan's a really nice guy. I caught him for three years, and it's really special to me every time he has a great game."
Sept. 26, 1981: Astros 5, Dodgers 0
This was the no-hitter, pitched in Houston, that broke Koufax's career record of four. "I saw two of Koufax's no-hitters as a kid,'' says Ashby, who is now a sportscaster for KHTV in Houston. ''I idolized Koufax. So to be able to catch the fifth one, the one that broke the record, that was a mind-boggling experience.
"Looking back to '81, I didn't think Nolan would be able to throw another no-hitter. Logically, he was nearing the end of his career. He wasn't losing his stuff, but he was 34 at the time. On the last out of the game, Nolan hung a curveball to Dusty Baker, but he guessed wrong and grounded the ball to Art Howe at third.
"The fifth one was the one he needed. The last two have been icing on the cake. Real tasty icing. It was very interesting watching Number Seven last night. I was gearing up to do the sports, yet I'm rooting for Nolan as a fan and wishing I had been catching. I also felt sorry for GenoPetralli. He's the Rangers' regular catcher, and he hasn't caught one yet."
June 11, 1990: Rangers 5, Athletics 0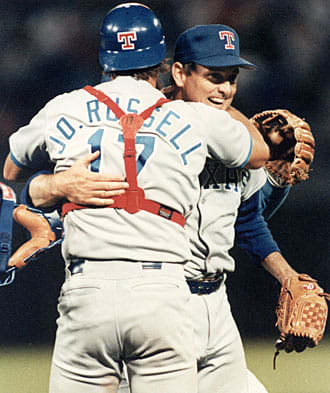 Petralli had a sore neck, and Stanley had a bruised shoulder, so the assignment that night in Oakland went to Russell, who had never caught Ryan. Six weeks before the game Russell had been helping to coach a high school team in suburban Philadelphia. The Braves had released him in spring training, and the Rangers had signed him to a Triple A contract in May. Before the first pitch, Russell told Ryan, "It's a great thrill just to catch you."
Russell says he didn't start thinking no-hitter until the fifth: "That's when Nolan really started to turn it on. It seemed like every pitch he made was perfect. Behind the plate, the pitches looked unhittable. The intensity in his eyes was unlike anything I've ever seen. That's why I never got nervous. I looked into his eyes.
"It was like being in a tunnel. There was no one out there but Nolan and me. There's no other way to describe it. The no-hitter is something I can always be proud of. I had a little something to do with it." Russell, who made the Rangers as a nonroster player this spring, watched a tape of the no- hitter over and over this winter while he was waiting for teams to call. "It still gives me goose bumps. It'll do that 10 years from now."
May 1, 1991: Rangers 3, Blue Jays 0
Stanley also had to make the team as a nonroster player this spring. Until the May 1 game, he was feeling left out. Russell had a Ryan no-hitter, Petralli had caught Ryan's 300th victory, and Chad Kreuter had been behind the plate when Ryan got his 5,000th strikeout.
SI Vault: Too good to be true: How the 1994 season should have finished
After the second inning, in which Ryan fanned John Olerud, Mark Whiten and Glenallen Hill—all looking, all on curveballs—Stanley started thinking he might get his career moment: "As each inning went on, you could see it in his eyes. You could hear him talking to himself. You could see that he really sensed it and knew what to do with it. That was the exciting part, watching Nolan and his mannerisms, and the way he went after it." Stanley thought Ryan had lost the no-hitter in the sixth when Manny Lee hit a shallow fly ball to center, where Gary Pettis was playing. "I screamed and yelled and turned away,'' Stanley says. ''Then I looked up and saw the ball coming back in. Gary must have moved before the ball was hit. I thought, This is the greatest chance for him and the greatest chance for me for a no-hitter. And it came true."
It has come true for seven different catchers, and Egan, No. 3, thinks there's a reason Ryan throws his masterpieces at nondescript receivers. ''I can't speak for the others,'' he says, ''but with Torborg, Kusnyer and me, Nolan found guys as intense as he was, guys with good attitudes. He attaches himself to the catchers who think and act like him, no matter what they hit. And you don't throw a no-hitter unless you're in synch with your catcher.''
Egan says he would like to meet some of the others some day. "Maybe when Nolan finally retires, I'll throw a party for all the guys," he says. "Of course, by then, I might have to invite 10 or 12 catchers."