Pete Rose says he will die as baseball's all-time hit king
MLB all-time hits leader Pete Rose says he will die as baseball's hit king because no one break the record while he is alive
MLB all-time hits leader Pete Rose made his first appearance as a baseball analyst for Fox Sports 1 on Monday and discussed a variety of subjects, including whether he thinks anyone will break his hits record.
Rose set the record in 1985 and retired with 4,256 hits, 67 more than Hall of Famer Ty Cobb.
"No, I don't want [the record] to be broken," Rose said. "I'm going to die as the hit king, because there's nobody who can beat my record while I'm alive. Once I'm gone, I really don't give a damn if someone beats my record."
Rose was also asked if baseball should celebrate New York Yankees designated hitter Alex Rodriguez and his climb up the all-time home run list. Rodriguez is also MLB's active leader in hits with 2,965.
"I don't know if they should celebrate it," Rose said. "I never did quite understand anybody that's going to celebrate something that you become No. 4. I mean, he's No. 4 on the list. Babe Ruth is No. 3. Hank Aaron is No. 2. Barry Bonds is No. 1. A-Rod, nice going, you hit a lot of home runs, but you're No. 4. I don't want to celebrate being No. 4. That's like celebrating losing the World Series."
Power Rankings: Cardinals, Dodgers battle for top spot; Royals up to No. 3
Rose declared Detroit Tigers first baseman and two-time American League Most Valuable Player Miguel Cabrera as the best hitter in the game.
"That guy, you could wake him up on Christmas morning, he'd get you 2-for-4. And probably line out twice," Rose said.
Rose, 74, is still hoping his lifetime ban from baseball will be overturned. He received the suspension in August 1989 after an investigation by Major League Baseball concluded he had bet on Cincinnati Reds games while managing the team. Rose applied for reinstatement in 1997, but former commissioner Bud Selig never ruled on the matter. Rose applied again after Rob Manfred replaced Selig in January.
GALLERY: RARE PHOTOS OF PETE ROSE
Rare Photos of Pete Rose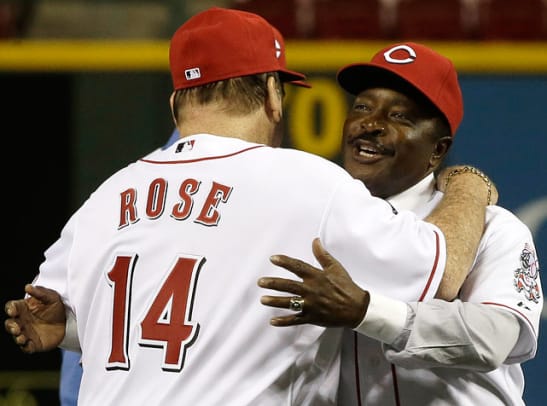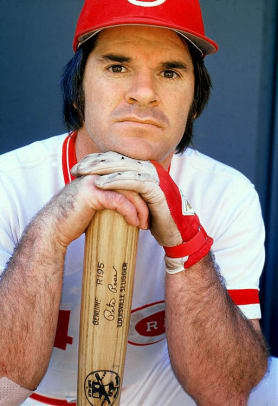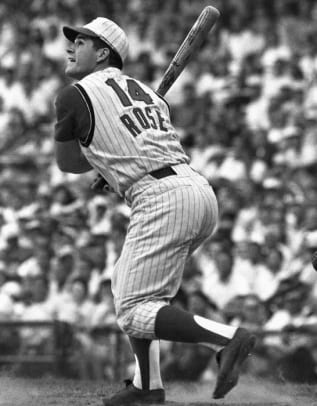 - Scooby Axson