MLB cancels more than 60 million All-Star votes
Major League Baseball cancels over 60 million votes for next month's All-Star Game, citing a fear of improper voting
Major League Baseball says it has canceled more than 60 million votes for next month's All-Star Game, citing a fear of improper voting.
Fans are allowed to vote up to 35 times for the game, which will be played July 14 at the Great American Ballpark in Cincinnati.
MLB grew concerned when the latest results in the American League voting showed that the top vote-getters in eight of the nine positions belong to members of the Kansas City Royals.
Los Angeles Angels outfielder and reigning AL Most Valuable Player Mike Trout is the only non-Royal who is currently projected to start the game.
The last time at least seven players were elected from one team to play in the All-Star Game was 1957, when the Cincinnati Reds littered the National League ballot for the game in St. Louis. Two Reds outfielders voted to start the game were replaced by MLB commissioner Ford Frick.
Fixing the AL's All-Royals All-Star team: Vote for these players instead
Projected starters include Kansas City second baseman Omar Infante, who is batting .228 this season, with a .547 OPS that is second-to-last among all qualified hitters in baseball.
The league cancels about 20 percent of all ballots for the game each season.
"I'm not saying we bat 1.000," MLB CEO of Advanced Media Bob Bowman said to Yahoo! Sports. "But it's between 60 and 65 million votes that have been canceled. We don't really trumpet it because if someone thinks they're getting away with it, they'll try to again."
"We scrubbed these first set of numbers incredibly thoroughly," Bowman added. "We said, 'Can this possibly be right? Look at all these votes for Kansas City.' It just didn't turn out that way."
Walk-off Home Runs in 2015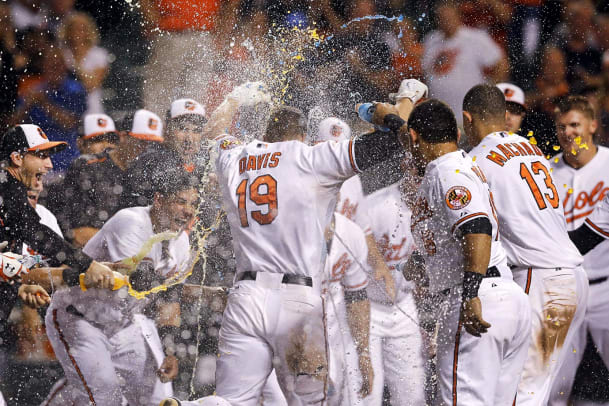 MLB commissioner Rob Manfred has said he is "open to change" the process of voting, but Royals manager Ned Yost proclaimed he is not going to apologize for the fans voting excessively.
"Vote! The votes are the votes," Yost said to USA Today earlier this week. "If you don't like it, go out there and vote. Our fans have gotten out and voted."
More than 300 million votes have been accepted so far, according to the league, with a possibility of reaching the half-billion mark by the time balloting ends at 11:59 p.m. ET on July 2.
- Scooby Axson