Blame umpires, not Tabata for Scherzer's lost chance at perfection
Jose Tabata clearly leaned into a pitch to break up Max Scherzer's no-hitter. But don't blame him; blame the umpires for missing the obvious call that cost Scherzer his perfect game.
Max Scherzer was robbed. It's not often you can say that about a pitcher that just threw a no-hitter to pitch his team to victory, but it was true of Nationals ace Max Scherzer on Saturday. Scherzer had a perfect game through 8 2/3 innings when pinch-hitter Jose Tabata stepped to the plate to bat for reliever Vance Worley, representing the potential 27th out of what would have been just the 24th perfect game in major league history and first since Felix Hernandez's in August 2012. True to form, Tabata came out swinging, fouling off Scherzer's first two pitches to put Scherzer just one strike away from perfection. Trying to get the aggressive 26-year-old Venezuelan to chase, Scherzer threw a slider in the dirt and a 97 mile per hour fastball up out of the zone. Tabata took the first and checked his swing on the second to even the count at 2-2. He then fouled off three more pitches before Scherzer came back inside with a slider. Rather than evade the pitch, however, Tabata dropped the pad on his left elbow below his waist directly into the path of the pitch, breaking up the perfect game with a hit-by-pitch.
It shouldn't have been allowed. Per Major League Baseball's official rules, a batter is entitled to first base when "he is touched by a pitched ball which he is not attempting to hit unless ... the batter makes no attempt to avoid being touched by the ball."
Tabata not only made no attempt to avoid the pitch, he made a very deliberate attempt to be hit by it. For comparison's sake, the image on the left below shows Tabata taking the slider inside for ball one earlier in the at-bat. The image on the right shows him being hit by the pitch. Note how Tabata is jumping back and out of the way of the pitch on the left, a motion which caused his upper body to drop slightly from his ready hitting position, but still left his elbow above his belt buckle. On the right, he is doing something different entirely. He's sticking his padded elbow in the way of the pitch.
By baseball's rules, the pitch that broke up Scherzer's perfect game should have been ruled a ball, and the at-bat should have continued with a full-count. That doesn't necessarily mean Scherzer would have completed the perfect game. The full count would have been just the third of the game for Scherzer, who was at that point had thrown 103 pitches. One more ball would have ended the bid via a walk, and Tabata, who was 2-for-8 against Scherzer in his career prior to that at-bat, could still have connected for a hit that would have left Scherzer with neither a perfect game nor a no-hitter.
Still, it was clear as day that the umpires blew the call.
I say umpires because, while one could argue that the view of home plate umpire Mike Muchlinski, who is in just his second season as a full-time major league umpire, was blocked by catcher Wilson Ramos's glove, the other umpires, Sean Barber, Mark Wegner and Mike Winters, should have spoken up about what they saw. If none of them noticed Tabata's blatant move to be hit by the pitch, they are no more innocent of failing to get the call right.
Most Recent No-Hitters, By Team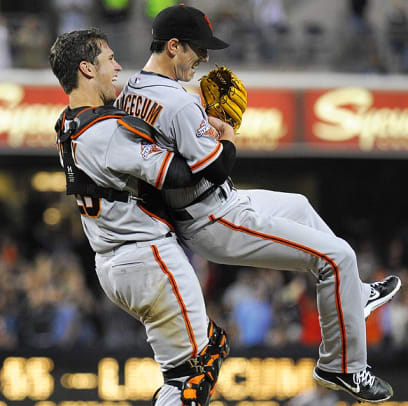 One could point out that neither Scherzer, who immediately threw his head back in disappointment upon the pitch hitting Tabata, nor any one else on the Nationals protested the call. That's true, though manager Matt Williams said after the game that his lack of protest was due to the fact that, with the no-hitter still intact, he didn't want to disrupt Scherzer's rhythm.
The final word on the subject, however, must be Scherzer's, and Scherzer blamed himself, not Tabata for the hit-by-pitch. "Just didn't finish the pitch," he told the Washington Post after the game. "[It] backed up on me and clipped him. It's just one of those things that happened."
It's worth noting that "whether the batter made any attempt to avoid being touched by the ball" is not reviewable under MLB's current replay rules. That's primarily because it is a judgment call on the part of the umpire and not something that a replay can answer definitively (though in this case, the replay was as close to definitive as it can get such a situation). Thus there was an extremely high chance that any argument would have been fruitless, with the upside being a full-count that would have left Tabata in a strong position to break up the perfect game (coming into that at-bat, hitters had a .412 on-base percentage against Scherzer this season once the count went full).
• MORE MLB:Scherzer loses perfection late, still spins no-no
And so rather than being one of 24 major leaguers to throw a perfect game, Scherzer joined an even more exclusive club, becoming just the 12th man to lose a perfect game with two outs in the ninth inning, and just the third pitcher ever to lose a perfect game with two outs in the ninth inning but hold on to complete the no-hitter. The first two hold interesting parallels to Scherzer. New York Giants stalwart George "Hook" Wiltse hit the 27th man he faced with a pitch on July 4, 1908, losing his perfect game, but retiring the next hitter. Wiltse and Scherzer are the only pitchers ever to lose a perfect game with two outs in the ninth by hitting the 27th batter. Unlike Scherzer, however, Wiltse wasn't done after getting the last out of the ninth. His game was scoreless after nine innings. Wiltse needed the Giants to score a run in the top of the ninth, which they did, and to pitch another hitless inning bottom of the 10th, which he did, to get his no-hitter.
Wiltse was also reportedly the victim of a blown call. The pitch prior to the one that his 27th batter was said to have been a strike on a 1-2 count that home plate umpire Cy Rigler mistakenly called a ball according to no less authoritative a source than Rigler himself. The other pitcher to lose a perfect game on his 27th batter but complete the no-hitter also believes he was the victim of a blown strike call, though in his case, both the umpire and video evidence, admittedly from a poor angle to judge balls and strikes, disagree.
On September 2, 1972, the Cubs' Milt Pappas was where Scherzer would have been if the pitch that hit Tabata was ruled a ball, one strike away from perfection with a full count on his 27th batter. Pappas thought he had Padres pinch-hitter Larry Stahl struck out with the payoff pitch, but second-year umpire Bruce Froemming disagreed, calling ball four and sending Stahl to first base. Pappas flew into a rage, but still managed to get the next man to pop out to get the no-hitter. One can imagine Pappas had the image of the final pitch of Don Larsen's perfect game in the 1956 World Series in his head, an outside pitch on a check swing that could have gone either way, when Froemming called the pitch and not the moment. Still, it looks low and away to me.
Of course, there was one other perfect game that was famously ruined by a blown call on the final batter. That being Tigers righty Armando Galarraga's bid against Cleveland on June 2, 2010. Galarraga got his 27th man to ground out to first, but veteran umpire Jim Joyce blew the call, something he, like Rigler, admitted, tearfully, after the game. Indeed, the replay was clear as day. The runner was out by roughly three feet. Had that game happened after the implementation of instant replay last year, it would have been a perfect game. As such, I tend to think of it as baseball's only 28-out perfect game, though officially it was a one-hitter.
Scherzer's game was neither of those things, but it did raise some questions of sportsmanship. If Tabata did indeed get hit by that pitch intentionally, which to my eye, he did, was he wrong to have done so? One argument says that in a 6-0 game, the Pirates' chances of a comeback, and indeed the run Tabata represented, were not significant enough to warrant such a questionable action. The flip side of that says that baseball has no clock, the Pirates are a good team, Scherzer was over 100 pitches on a hot afternoon in Washington, DC, and that getting on base by any means necessary was Tabata's job as a pinch-hitter in that situation.
Did Jose Tabata lean in, ruin Max Scherzer's perfect game?
That debate recalls the furor that erupted in May 2001, when Curt Schilling took a perfect game into the eighth inning against the Padres in San Diego and, with one out in the eighth, Padres catcher Ben Davis bunted for a single to break up the bid. Davis was demonized for the move, but his team was trailing just 2-0 at the time. Bunting for a hit brought the tying run to the plate in a pitchers' duel between Schilling and Adam Eaton, both of whom would complete the game. That tying run, meanwhile, was represented by right-fielder Bubba Trammell, a legitimate home-run threat who would hit 25 homers that year. Davis's bunt was a much more justifiable baseball play than Tabata getting in the way of Scherzer's pitch, but Davis still caught hell for it.
I don't have much regard for baseball's unwritten rules, but I'll admit that what Tabata did Saturday afternoon bothered me. Still, I don't see Tabata as the villain here. Yes, he may have gone against baseball etiquette by sticking his elbow in front of a pitch down 6-0 with the opposing pitcher one strike away from a perfect game, but there's a rule on the books that allows the umpires to disallow the result. That they failed to do so bothers me far more than the fact that Tabata put them in the position to have to make that judgment in the first place.
#http://www.120sports.com/video/v131937686/scherzer-on-his-nohitter