Pete Rose on his Hall of Fame hopes, steroids in baseball and much more
As he steps back into the baseball spotlight at Tuesday's All-Star Game, exiled hit king Pete Rose sounds off on everything from his chances of making the Hall of Fame to his thoughts about steroid users in baseball to the legacy of the Big Red Machine.
Pete Rose returns to the All-Star Game tonight for the first time since 1985, when, as the Reds player-manager, he was selected by Padres manager Dick Williams and, at age 44, became the oldest player ever to bat in the game.
Four years later, commissioner Peter Ueberroth and his successor, Bart Giamatti, summoned Rose to a meeting in New York. The subject: gambling. Rose denied any involvement. One month later, the commissioner's office appointed John Dowd to begin an investigation. It ultimately ended Aug. 24, 1989 with Rose agreeing to being placed on baseball's permanently ineligible list.
(Baseball did not invite Rose to the 1999 All-Star Game, when other candidates for the All-Century team were invited to Fenway Park for the announcement of the promotion.)
Rose petitioned for reinstatement earlier this year to commissioner Rob Manfred. I spoke with Rose recently about how he has "reconfigured his life"—the challenge given him by the late Giamatti—what he intends to tell Manfred and what the Hall of Fame means to him. The conversation with Rose took place as I rode with him on his four-hour drive in his Bentley from Las Vegas to Los Angeles County. The story of baseball's ultimate outsider trying to find his way back in appears in this week's edition of SI.
•​ VERDUCCI: The Outsider: A long, strange trip from Las Vegas to Los Angeles with Pete Rose
Rose is 74 years old. He has been banned from baseball for more than a quarter of a century. If Rose remains shut out of the Hall of Fame, Tuesday will be one of the most important nights of his baseball life—the night of appreciation for the all-time hit king that otherwise has been deferred indefinitely. Rose will be honored as part of a pregame ceremony naming the four greatest players in Reds history.
Our conversation covered many miles and many subjects. In addition to those addressed in the magazine, here are more topics addressed by the man who calls himself "the biggest ambassador" for baseball.
On signing autographs 15-20 times a month in Las Vegas:
"Twelve [noon] to 4:30. It's fun doing what I do. To me it's like playing a doubleheader every day. I get to sit there and talk to people about baseball every day and help kids.
Strike Zone Podcast: Tom Verducci talks All-Star Game rosters, memories
"I don't say it amazes me, but it is gratifying. How many young kids come in and get my autograph? I'm talking about kids 10 and under. I got good demographics because the grandpas like me because they brought their sons up on me, and now the sons they have they're bringing them up on me. So there must be a lot of talk at home about me.
"I'm the biggest ambassador [for baseball]. I am. I don't say that as a cocky guy. But I don't knock the game, and you know as well as I, it's an easy game to knock the last five, six, seven, eight years. And people don't come in and get my autograph and talk about football. They talk about baseball."
On Cincinnati and the Reds:
"I'm a Cincinnati guy. I spread the gospel everywhere I go. We really think we're the baseball capital of the world in Cincinnati. Baseball started here in 1869, the first night game in 1935 … I can remember, hell, when I was a kid if you got a ticket to Opening Day you got out of school. For many years when I was a player, the first day of the season we were the only game. Nobody else played, and ESPN kind of screwed that because they started putting the World Series team on Sunday night.
"[Reds owner] Mr. [Bob] Castellini, he's a local guy. He's the type of guy you'd love to play for. He's just, he's full of vinegar. He hates to lose. They blow a game in the ninth inning at home, he storms out of that box, they hold the elevator for him, down to his car and right out. No [messing] around.
"And he spent a lot of money on that team. He gave Joey [Votto] that big contract, Homer Bailey that big contract, [Brandon] Phillips that big contract, [Jay] Bruce that big contract. It's going to cost him because he might have to get rid of [Johnny] Cueto. He might even have to get rid of [Aroldis] Chapman. You take Cueto and Chapman off that team and they're an also-ran."
On The Big Red Machine:
"I'll tell you how good it was. I told the group last night I spoke to: I'm never going to get in front of a crowd or talk to a reporter like you and say the Big Red Machine was the greatest team ever. But I will say this and I really believe this: the big Red Machine was the most entertaining team ever. We had Gold Glove guys up the middle, with [shortstop] Davey [Concepcion] and [centerfielder] Cesar [Geronimo] and [catcher] Johnny [Bench] and [second baseman Joe] Morgan. We had batting title type players like me. We had RBI guys like [Tony] Perez. We had MVP type players like Morgan and Bench. We had other guys like [George] Foster and [Ken] Griffey, a .300 hitter. We had basestealers. We had personality. We had white stars, we had black stars, we had Latino stars, and we had a Hall of Fame manager. So what else do you need?"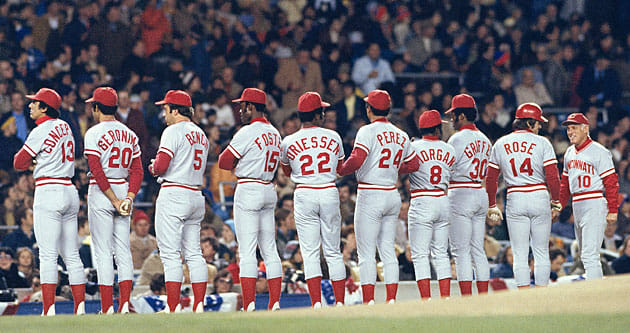 On the Hall of Fame candidacy of players connected to steroids:
"I'm gonna pass on [Mark] McGwire, and I'll tell you why. McGwire was a Hall of Fame home run hitter. So was Dave Kingman. McGwire didn't run the bases, he didn't score a lot of runs, he didn't play great defense. So without the steroids, I don't know if he makes the Hall of Fame.
"My whole thing is not whether they took steroids or not. It's none of my business. But I'm willing to give them a second chance. That's what my statement about those guys belonging in the Hall of Fame is about. And they're all friends of mine.
The Outsider: A long, strange trip from Las Vegas to L.A. with Pete Rose
"I don't want to sit here and knock 'em because they made mistakes. They know they made mistakes, like I know I made mistakes. So give 'em a second chance.
"[Barry] Bonds admitted he took steroids but said he didn't know what he was doing. [Rafael] Palmeiro flunked a test so he knew what he was doing. And I think Alex [Rodriguez] is still a little confused about when he stopped taking them and when he started taking them. Because if you look at his record when he was with Texas, and all of a sudden he goes to the Yankees, he's going to stop? I mean, it doesn't make any sense to me.
"But I like Alex. I'll tell you why I like Alex. You know as well as I, he's got some strong credentials. Two thousand RBI, 3,000 hits, 600 home run and is he a .300 hitter? And he was a Gold Glove shortstop? He just removed the standards for a shortstop. And what I like about Alex is he loves the game and he loves the history of the game. He used to come out to Vegas and I'd go to lunch with him and he'd want to talk about Mays and Aaron and Clemente. He'd talk about how good those guys were for the game. You could just see the gleam in his eye, that he liked the history of the game."
On analytics in baseball:
"I'm all about winning. I'm not worried about what some expert says who never played the game. It's just like—he's probably a hell of a guy; you know him, I don't—I'm not a big believer in Moneyball. If Moneyball wins every other year then I believe in it.
"I don't want to hear from [A's general manager] Billy Beane that 'We can't win because we're a small market.' Does he look at St. Louis? Does he look at Pittsburgh now? Cincinnati? They're in the playoffs all the time. Those are small markets. So you don't need to be in a major market to be in the playoffs."
On Pete Rose the manager:
"I think my success as a manager, when you take a last place team and finish second four years in a row you made the team better, and I think a lot of my success as a manager was because of the kind of player I was. It would be hard to play for the Reds with Pete Rose as your manager and not bust your ass. I think it would be hard to do that. It would be hard to play for Billy Martin and not bust your ass. It would be hard to play for Sparky Anderson and not give it your all."
On baseball fundamentals:
Pete Rose joins Fox broadcast booth as part of MLB All-Star Game coverage
"You know a show I've never been on in my life? I don't even think they have it any more. The blooper show. I never did a blooper. All them games I never made an ass of myself. I made errors. Everybody makes errors. I wasn't a mental error guy. I just wasn't a mental error guy. My dad wouldn't tolerate mental errors. He taught me the right way to play. I learned the same way Don Zimmer did. Same high school, same Little League field, same Little League coach, same high school coach, same neighborhood."
On how steroids changed statistics:
"The Hall of Fame is numbers. It's the history of the game. That's why so many people are ticked off about the statistics of baseball.
"Wouldn't it be nice if you could be sitting in the car right now and ride with Roger Maris or Babe Ruth or Hank Aaron? Those are the guys whose records got shattered. Not mine.
"If someone beat my record of 4,256 hits who was linked to steroids, we'd need an eight-hour car ride … I would be pissed. I would be pissed. But you know what I'd do? I'd still be willing to give the guy a second chance. And most guys, most guys given a second chance, they start to take advantage of it. When a guy starts taking advantage of a third chance, then you've got to flush him down the toilet. But America is known for giving second chances."