The Revenant: How Jake Arrieta came back from the baseball dead
Three years ago, Jake Arrieta was one of the worst pitchers in the majors. Now, he pitches like the second coming of Bob Gibson. How did he do it?
Get all of Tom Verducci's columns as soon as they're published. Download the new Sports Illustrated app (iOS or Android) and personalize your experience by following your favorite teams and SI writers.
This story appeared in the March 28, 2016 issue of SPORTS ILLUSTRATED. To subscribe to the magazine, click here.
*****
"Everyone is the architect of their own happiness."
—Joseph Pilates
"I pitched for years not being comfortable with anything I was doing. I was trying to be somebody else."
—Jake Arrieta
Battered and left for dead, Hugh Glass, as the legend goes, wriggled and stumbled with neither weapons nor supplies across 350 miles of feral upper Midwest frontier in 1823. That quintessential American legend of rugged individualism has been retold in print, in film and now, in spirit, on the like-bearded face of Cubs pitcher Jake Arrieta.
The beard is thoroughly 19th century—dark, as thick as ancient woods, unkempt and redolent of Arrieta's most recent meal. From 60 feet, six inches away, especially at night, Arrieta gives a hitter the visage of Pestilence, the horseman of the Apocalypse: the expansive swath of black whiskers, the bushy brow scrunched into a knot, the flat brim of the cap pulled low, obsidian eyes cutting through a veil of gloom. It is a face that mimics Arrieta's dark intention with the baseball: Give away nothing.
"Beast," says his wife, Brittany. "That's our nickname for him. I would not like to face him if I were a baseball player. You don't know what's going through his mind. You can't even get the guy to flinch.
"Not everybody can pull off that beard. His back and chest and face are all hairy. We have a werewolf in the family. And it's like his eyes are locked in on you."
The real mayhem begins when Arrieta slowly bows his head, taps his right foot in the dirt in front of the rubber—a reminder that the impending violence comes from his entire body, from the ground up—and lifts his left leg. Here ... it ... comes. Hitting a baseball has almost never been more difficult than it was against Arrieta in 2015.
At 6'4" and 225 pounds, broad-shouldered and thick-chested, the 30-year-old Arrieta is one of the strongest pitchers in the game. "And those legs and glutes," Cubs bullpen coach Mike Borzello says, "are unmatched in baseball."
Arrieta must be this strong to throw a baseball the way he does, such is the torque he asks of his body. He pushes off the far third base side of the rubber, closes his front to the hitter, raises his left shoulder higher than his right and strides with his left foot toward the third base dugout. At that moment it appears as if Arrieta is trying to heave a ball into the second deck on the third base side of the stands. But suddenly, mid-flight, he appears to change his mind. No, throw it over here! His hips spin open—belt buckle facing the hitter—and then his torso spins. This separation between the two twisting actions, like one tornado atop another, is a key to power pitching. Only then, after the ball is "loaded" behind his head with his arm bent at less than 90 degrees, does the arm begin to fire. It's as if Arrieta is throwing around a corner.
The flight of the baseball is menacing. It comes at the batter not only from an extreme angle but also at high speed (up to 98 mph) and almost always with ferocious spin that causes late movement right or left and down.
"The first thing that stands out is that he can throw the ball so hard and make it go both ways," says Giants catcher Buster Posey, the only player to manage a hit off Arrieta with a runner in scoring position after Aug. 15. "You don't see a guy who can two-seam the ball at 95 and throw a cutter at 93, 94. Usually it's one or the other. And he's got a power curveball to go with them."
The cutter, Arrieta's signature pitch, also resembles a slider. It's a freak of physics that he throws anywhere between 83 and 95 mph on four different planes. Since Arrieta joined the Cubs in 2013 he has thrown 648 two-strike cutter/sliders without allowing a home run. "It's a closer's cutter," Posey says, "except for eight or nine innings, not one."
No one dominated hitters quite like Arrieta did in his 15 starts after the All‑Star break last year, when he posted a record-low 0.75 ERA in 15 starts. After mid-July more men ran for president of the U.S. than scored an earned run off Arrieta (nine). "No disrespect to major league hitters," says Chicago reliever Clayton Richard, "but it was like you were at a high school game or a Little League game, and there's that one guy who just dominates. You just know the hitters don't have much of a chance. That's what it looked like—not just once, but every fifth day."
Says Arrieta, "I don't want to sound like an [ass] about it, but I don't know if that second half will ever be broken. It's hard to put into words. Being in the same sentence as Bob Gibson, that's incredible." Arrieta finished the season with a 1.77 ERA while holding hitters to a .185 batting average. Since the mound was lowered after Gibson's 1.12 ERA in 1968, only Arrieta and Pedro Martinez of the 2000 Red Sox have managed an ERA and batting average against that low.
This kind of history brings us to the part where Arrieta, bearded or not, resembles Hugh Glass. Of the 45 pitchers to post a sub-2.00 ERA since the live ball era began in 1920, Arrieta is among the least likely, having carried the second-worst career ERA (4.64) into that historic season. The Cubs acquired him midway through 2013 only because the Orioles gave up his pitching career for dead: With a 5.46 ERA in a Baltimore uniform, he was the worst starting pitcher since the franchise began in Baltimore in 1954 (minimum 60 starts). So what Arrieta then did, covering the ground from record futility to an all‑time great season in less than three years, was the baseball equivalent of crawling 350 miles through the frontier after getting mauled by a bear. This pitcher who was so bad that he wanted to quit is now revenant and savior—the revenant who haunts Baltimore and the savior for Cubs fans, who yearn for their team's first World Series title since 1908. Doubt him, as Baltimore did, at your own peril.
"The only thing that can stop him now is injury," says Dodgers first baseman Adrian Gonzalez. "Hitters are in trouble facing this guy. He's just like Kersh [Clayton Kershaw]. Hitters are not going to adjust. C'mon. His stuff and confidence are that good."
"I'm thinking about not playing anymore after this season."
—Jake Arrieta, 2013
Before he was Beast, before he had unstoppable stuff and confidence, Arrieta was so lost on a pitching mound that he shared with Brittany his recurring thoughts about quitting baseball. This was three seasons ago, after the Orioles demoted him to Triple A Norfolk just four appearances after making him their home opener starter. He languished there for two months, interrupted by one start with Baltimore in which he gave up 10 hits and five runs in fewer than five innings, swelling his ERA to an unsightly 7.23.
He was 27 years old. He looked at his newborn son, Cooper, and realized that he didn't like what the misery of pitching was doing to him as a father and husband. He needed only a few more credits to complete his business marketing degree from TCU. He was good with people. He could go into business, maybe sales.
An hour or so later the competitor inside Arrieta sounded an alarm: How crazy an idea is that—that you would stop playing this game you love?
But then the next time Triple A hitters smacked his pitches around the yard, Arrieta sank into the abyss of doubt again. Flight or fight, fight or flight. The waves kept washing over him. "Norfolk in general was O.K.," says Brittany, who has known Jake since elementary school, "but I'm O.K. if we never [go] back."
Arrieta was cursed with a great arm. Cursed because he threw the ball with such natural power that everybody expected more from him. After a year at Weatherford (Texas) Junior College, he was pitching in the Texas Collegiate League when TCU coach Jim Schlossnagle showed up at one of his starts to scout a reliever who was to follow Arrieta. After the second inning, as Arrieta fired in the mid-90s, Schlossnagle dialed his assistant coach and said, "Forget the reliever. Who is this Arrieta guy?" Schlossnagle made Arrieta an offer right through the chain-link fence separating the field from the stands. "Listen, our best pitcher just left campus, and 130 innings went with him," the coach said. "I need you to come to campus and be our Friday-night starter."
• MORE MLB: Check out all 30 team previews for the 2016 season
Says Arrieta, "I tell everybody to this day that that's the best opportunity I've been given my entire career. Somebody like that, to have the faith in me after seeing me pitch just once.... I never looked back from that moment."
Arrieta went 23–7 in two years at TCU, was drafted by Baltimore in the fifth round in 2007 and was the talk of the Orioles spring training camp just two years later, along with fellow starters Chris Tillman and Brian Matusz. "I've been watching pitchers for a long time," gushed then manager Dave Trembley, "and I would say those three guys are as good as I have seen at any one time coming up through somebody's system."
By 2011, Arrieta had earned a steady run in the Baltimore rotation. Midway through that season pitching coach Mark Connor quit for personal reasons. He was replaced by bullpen coach Rick Adair.
At the time, Arrieta pitched with his crossfire style from the first base side of the rubber and started his delivery with his hands at his belt. A month later he was pitching from the middle of the rubber and swinging his hands over his head. A few months later the Orioles forbade their pitchers to use the cutter for fear that it sapped fastball velocity.
By the next April, Arrieta still pitched from the middle of the rubber, but his hands were back at his belt. By May he was back on the first base side of the rubber. By September he had trimmed his windup to a modified stretch position. By the next year he was back to the middle of the rubber with a huge change: Adair took away his crossfire step in favor of a stride directly to the plate.
Over the two calendar years under Adair, Arrieta went 6–16 with a 6.30 ERA. "There were so many things in Baltimore not many people know about," Arrieta says. "I had struggles with my pitching coach. A lot of guys did. Three or four guys—Tillman, Matusz, [Zach] Britton—were just really uncomfortable in their own skins at the time, trying to be the guys they weren't. You can attest how difficult it is to try to reinvent your mechanics against the best competition in the world.
"I feel like I was playing a constant tug-of-war, trying to make the adjustments I was being told to make and knowing in the back of my mind that I can do things differently and be better. It was such a tremendous struggle for me because as a second and third-year player, you want to be coachable. I knew I got [to the majors] for a reason, and I was confused about why I was changing that now. You feel everybody has your best interests in mind, but you come to find out that's not necessarily the case."
Adair, who took a leave of absence in August 2013 and remains out of baseball, told MASNsports.com last October that "the biggest thing" that held Arrieta back in Baltimore was a bone spur in his elbow that was removed in August 2011.
"But that was 2011," Arrieta says. "I was in Baltimore in 2012 and 2013."
"Your feel is probably the last thing that comes [back]," says Adair now. "It takes time to regain it. I'm sure he wasn't comfortable." In any case he has only positive things to say about Arrieta and his success: "I would tell Buck [Showalter], 'This guy's got the best stuff I've ever seen.' ... He's the best in the game."
On the morning of July 2, 2013, the Orioles were 2 1/2 games out of first place and in the second wild-card position. They were blessed with an abundance of young power arms that could stock the franchise's staff for years, including Pedro Strop, 28; Arrieta, Wei-Yin Chen and Troy Patton, 27; Matusz, 26; Britton and Tillman, 25; Kevin Gausman, 22; Dylan Bundy and Eduardo Rodriguez, 20; Josh Hader, 19; and Hunter Harvey, 18. Today, because of injuries, trades and ineffectiveness, only Tillman and, to an extent, Gausman are established starters in Baltimore.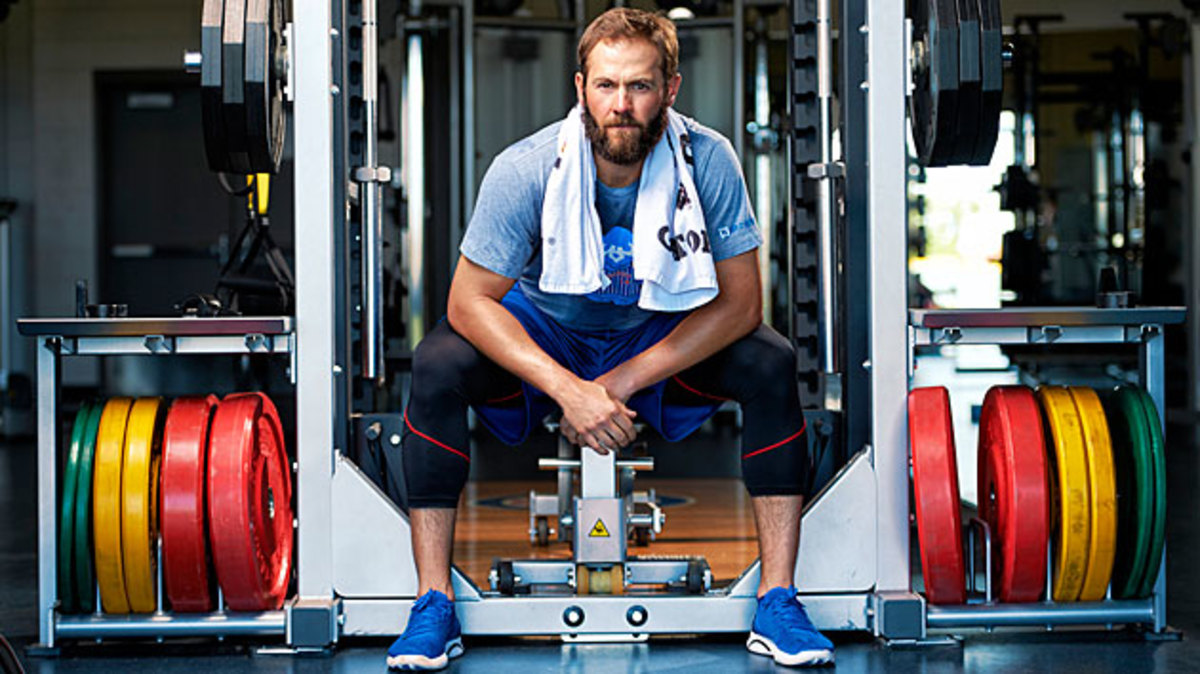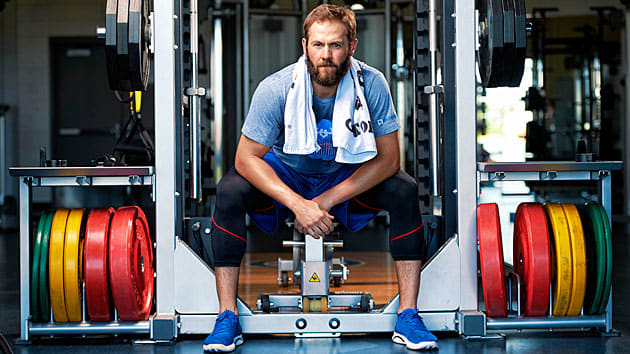 At the end of every season Cubs president Theo Epstein asks his 40 or so scouts and baseball operations people to submit a list of major and minor league players they believe will flourish with a change of scenery and to explain why. Clashes with managers ... problems at home ... an injury kept quiet ... a positional logjam ... anything that could be holding a player back. As the Change of Scenery survey results came in after the 2012 season, the one name that kept coming up was Jake Arrieta's.
The Cubs' intelligence was clear: Arrieta was healthy and had an excellent work ethic but was stymied in Baltimore. It was the curse of the great arm. During an Arrieta start in April 2012, for instance, White Sox first baseman Paul Konerko told Baltimore first baseman Chris Davis, "That's the nastiest guy I've seen in the past five years." Another time, on a trip to Toronto, Arrieta was working out in the Blue Jays' weight room when he noticed on the wall a picture of 2003 Cy Young Award winner Roy Halladay, who just two years earlier, with a career ERA of 5.77 after 57 games, had gone all the way down to Class A ball to overhaul his mechanics. I can be that guy, Arrieta thought. He meant come back from the nearly dead.
2016 MLB season preview: Chicago Cubs
By late June 2013, Cubs general manager Jed Hoyer was engaged in discussions with Orioles GM Dan Duquette, who needed a veteran starter as Baltimore chased Boston in the American League East. Duquette was interested in Scott Feldman, who was eligible for free agency after the season. The Cubs, flush with top position players, were desperate to add power arms. Hoyer asked for Arrieta. Duquette quickly agreed. But Hoyer wanted another power arm. He asked about Strop, a reliever with a 97‑mph sinker who, like Arrieta, had an ERA north of seven. Duquette needed another player from Chicago to make it work. He agreed to take Steve Clevenger, a backup catcher with Baltimore-area roots. It was done: The Orioles traded Arrieta and Strop, two pitchers with mid‑90s velocity and three years of team control, for three months of Feldman and a backup catcher.
On the night of July 2, 2013, Duquette called Arrieta in Norfolk. "We appreciate everything you've done in an Orioles uniform," Duquette said. "We just think it's appropriate to move on."
"Thank you," Arrieta responded. "I enjoyed my time in Baltimore."
"I really did," he says now. "I learned so much. It got me to this point."