Nationals shore up bullpen with deal for All-Star closer Mark Melancon
The Nationals stabilized their bullpen on Saturday with a trade for Mark Melancon, a deal that makes sense for both sides.
Forget those Lucas Giolito-for-Andrew Miller rumors, the Nationals landed a closer Saturday afternoon at a much lower price, acquiring Mark Melancon and a reported $500,000 from the Pirates for lefty reliever Felipe Rivero and minor league lefty Taylor Hearn. The move not only stabilizes the bullpen of the National League East-leading Nationals, but signals that the Pirates, despite entering Saturday's action just three games out of the second wild-card spot in the NL, are indeed selling.
Melancon joins the Nationals in the wake of three ugly outings by incumbent Washington closer Jonathan Papelbon, who missed three weeks with an intercostal strain in late June. Papelbon retired just three of the 15 batters he faced over those last three appearances, walking four (one intentional) and allowing seven hits (on man reached on an error) and was charged with eight runs (seven earned) in just one official inning of work, blowing a save in Cleveland on Tuesday and taking the loss in that game as well as Sunday's loss to the Padres. The blown save in Cleveland was just the third of the season for Papelbon, and he had just two losses prior doubling that total this week. However, the Nationals' confidence in Papelbon was clearly down.
• Improving baseball, part 3: Six ways to grow the game off the field
There are good reasons for that. The 35-year-old veteran's velocity has declined yet again this season, with his average fastball falling below 92 miles per hour for the first time in his career. His strikeout-to-walk ratio of 2.31 is by far his lowest since his first major league season in 2005 due to his walk rate more than doubling this season. Those last three outings were more likely flukes than the start of a sudden collapse, but it's clear that Papelbon is no longer the lights-out closer he was at his peak.
Melancon, on the other hand, is still performing at his peak level at the age of 31. With Pittsburgh this season, he converted 30 of 33 save opportunities, taking just one loss, and posting a 1.51 ERA, 0.96 WHIP and 4.22 strikeout-to-walk ratio. Over the past four seasons combined, three of which have seen Melancon selected to the NL All-Star team, he has posted a 1.80 ERA, 0.93 WHIP and 5.74 K/BB. His 209 ERA+ over that span is the third-best in the majors among pitchers with at least 100 innings pitched since 2013, trailing only Darren O'Day (217) and Dellin Betances (211). Melancon doesn't throw any harder than Papelbon, but he doesn't need to because he limits his walks and generates a ton of ground balls, which also limit home runs. His walk rate has increased in each of the last four years, but is still below two per nine innings (1.9 BB/9 to be exact), his home run rate is half the league average, and all of those groundballs have helped suppress his hits as well (6.9 H/9 over since the start of 2013).
A key part of the Pirates' return to contention over the last four seasons, Melancon was surely difficult for Pittsburgh to part with, but his impending free agency and the Pirates' limited budget and slim chance of a meaningful playoff run necessitated it. With the Cubs running away with the NL Central division, the Pirates only path to the Division Series leads through the wild-card game, which they have participated in each of the last three years and lost in each of the last two. Per Baseball Prospectus's Playoff Odds Report, entering Saturday's action, the Bucs' chances of even making that coin-flip game were a mere 11.9%. With Jung-Ho Kang still under investigation due to sexual assault allegations, and their starting rotation in shambles, Pittsburgh's best approach was to turn their eyes to next year and cash in their impending free agents, which included Melancon, David Freese, Matt Joyce, Sean Rodriguez and Neftali Feliz
They've gotten off to a good start here, replacing the departing Melancon in their bullpen with the 25-year-old sophomore Rivero. A converted starter, Rivero is a lefty who compliments triple-digit heat with a changeup and slider, has good control (fewer than three walks per nine innings), can handle righties (.190/.246/.322 in 228 plate appearance in his career) and has five years of team control remaining. Rivero has struggled against his fellow southpaws this season, but that's almost entirely a BABIP-fueled fluke. Lefties have hit .400 on balls in play against him this year, but have averaged fewer bases per hit than righties have against him, while their on-base percentage has been spiked by the five times Rivera has hit a lefty with a pitch. With Tony Watson entering his walk year next year, Rivero could emerge as the top lefty in the Pirates bullpen in short order and could even be a future closer.
• MLB trade rumors: Latest news, buzz ahead of deadline
Hearn has late-game potential as well. The Nationals' fifth-round pick in the 2015 draft, Hearn isn't an elite prospect, but he, too, throws in the upper 90s and has struck out 31 men in 22 2/3 innings since being promoted to the full-season Sally League earlier this month. A lanky, 6'5" Texan lefty, Hearn was drafted by the Pirates out of high school in the 22nd round of the 2012 draft, but chose to go to college instead, eventually landing at Oklahoma Baptist University.
Notable Trade Deadline Deals (2016)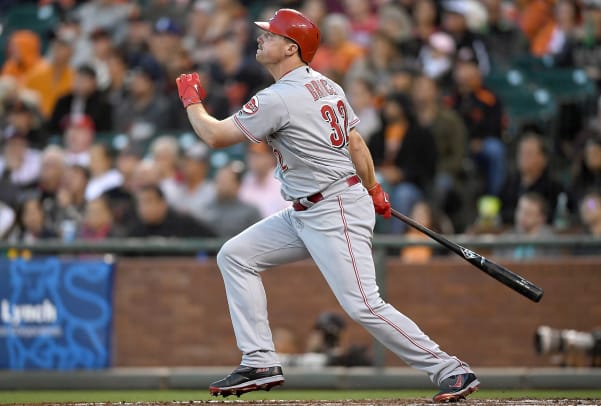 Hearn will turn 22 at the end of August and had been working regular three-inning stints in relief since his promotion to full-season ball, rather than stretching out as a proper starter. That doesn't necessarily indicate that the Nationals didn't think he had a future as a starter, but the Pirates, who have obviously been watching him for a long time, likely have their own ideas for his future path. One possible motive for converting Hearn to relief might be his history of elbow problems. He strained his ulnar collateral ligament in high school, and, while he avoided surgery in that case, had to have a screw inserted in his elbow in college following a pair of stress fractures to his humerus bone.
Though a compelling arm, Hearn was an easy price to pay for Washington. Rivero is the bigger loss, though it may have been easier for the Nats to deal Rivero in the wake of fellow lefty Sammy Solis's return from the disabled list on Wednesday. Solis, who also has five team-controlled seasons remaining, is another three-pitch lefty with a good fastball who gives Washington a second lefty alongside veteran Oliver Perez, who is signed through 2017. Regardless, Melancon is an obvious upgrade on Rivero, in terms of the Nationals' overall bullpen depth, and Papelbon, in terms of their closer situation, for the remainder of the season. He is also a player the Nationals might want to extend or re-sign with Papelbon also due to become a free agent after the season.