Cubs fans keep World Series celebration going with parade, rally to honor champions
Two days after the Cubs won their first world championship since 1908 the city of Chicago held a party more than 100 years in the making that drew an estimated five million people.
CHICAGO—It's 10:30 a.m. on a Friday morning, and the Brown Line is already a traveling cocktail bar. Coffees have been dumped in trash cans, their contents replaced with beers or mixed with liquor, and every stranger who gets on the 'L' at the Sedgwick stop gets a cheers from at least one stranger. The more audacious Cubs fans have chosen to disguise their drinks with nothing more than a solo cup, and the train smells like a hangover. On the platform at the Chicago Avenue stop, a young man in a Jon Lester jersey chugs before making his way down the stairs. "Cheers to the m------------ Cubs!" his friends chant.
This bacchanalia is 108 years in the making in a city whose favorite hobby is an afternoon at the bar. It's been barely more than a year since the Blackhawks hosted a parade after winning their third Stanley Cup of this decade and drew a crowd estimated at two million people. The Cubs? Five million. The city dyed the river blue and the sky followed suit and fans flooded River North and the Loop from the North Side and the suburbs and beyond. To kick off the rally in Grant Park, the team's legendary radio broadcaster Pat Hughes addresses the crowd. "Did anybody go to work today?" he asked. "Did anybody go to school today? No worries, because your teachers and your bosses are here too."
Buy your favorite SI commemorative Cubs issue
In Lakeview, just a few blocks from where the parade was scheduled to begin at Wrigley Field, fans stood three or four deep on the street and climbed a public parking garage, their legs swinging as they sat on the edges of each level for a birds-eye view. The procession of trolleys and buses, scheduled to begin at 10 a.m., didn't get underway until close to 11, and so the buzz that had been building since before dawn continued. These fans were accustomed to waiting.
Reign Men: The storm, the speech and the inside story of the Cubs' Game 7 triumph
At the corner of Michigan and Huron, a woman balanced on a two-foot-tall fence that hems in a flowerbed. She and her family are in town for Saturday's rugby match between New Zealand's All Blacks and the Irish national team at Soldier Field; they live in Florida now, but their Irish accents are strong. She had to see this, she says. The Cubs only won, she says, because the city was flooded with tens of thousands of Irish people. The luck of the Irish broke the curse.
Chicago Cubs Victory Parade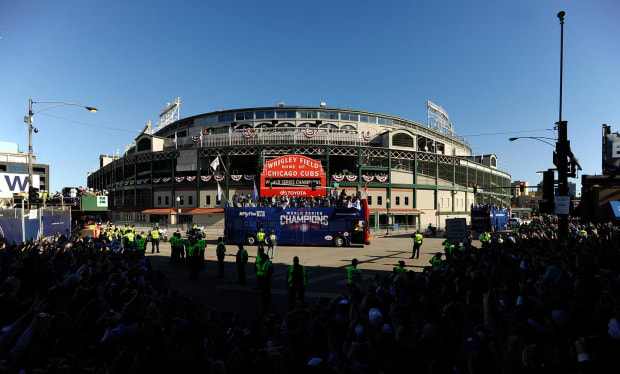 The parade itself was gone in a blink of an eye. Several trolleys filtered off of Lakeshore Drive onto Michigan Avenue, delayed because they'd slowed their pace to wave to all the fans unexpectedly lined up along Lake Michigan. Next came the double-decker buses. Tom Ricketts, the money behind the operation, stood at the front of his, some bizarre cross between Ted Cruz and George Washington crossing the Delaware. The loudest cheers were for Theo Epstein—Theeeo, Theeeo, Theeeo—unremarkable in a sweatshirt, sufficiently recovered from whatever Bill Murray-induced hangover he must have suffered the day before. And the players, well, they looked like a bunch of men not too far removed from being teenagers who've had the week of their lives—except for 22-year-old Addison Russell, who as he rolls past Huron has the look of a man who's baffled any of this is happening to him.
You can't blame them if they still think it might have been a dream.
Get your Cubs championship package from SI
Here's the thing about parades: We get four of them a year for our major sports. Already in 2016 we got Cleveland losing its mind over LeBron and Denver celebrating against the backdrop of the Rocky Mountains and Pittsburgh—well, I'll admit I didn't watch that one. Sorry, Pittsburgh. The point is, this is rote. We cheer, and we talk about the people we wish were there, and players get drunk, and it feels like a giant hug—quite literally if you're sandwiched into Grant Park. It is fun, but it's nothing compared to the moment a championship is finally won. On local television, one commentator called Friday, Nov. 4, 2016 the best day in Chicago history, when in reality, it wasn't even the best day this week.
Scenes from Wrigleyville: Quiet days and long nights near the ballpark
Normal rules didn't apply. Cops waved flags and told hotel security guards to let fans stand on fences. They watched young boys perch on five-foot-high newspaper dispensers without blinking an eye. Making your alcohol less obvious and keeping your obscenities below a scream seemed to be the rule of the day, as journalists turned into fans and fans turned into crying, singing, screaming, sloppy, happy puddles.
As the parade moved south, some fans rushed toward Grant Park to get a spot at the edge of the eventual rally. Others wandered away from the route, seemingly uncertain where to go next. A bar? Home? There was no sense in going back to work. Most restaurants in River North had coverage of the parade on all their TVs, and their windows were open to the 60-degree breeze. Interviews with players boomed out of buildings, with highlights of this magical season interspersed. At the corner of Grand and Clark, a man in an Ernie Banks jersey turned to his friend. "If we go home," he said, "then it's over."