Scooter Gennett: Eight things to know about the Reds hitter who tied home run history
Gennett matched a big league record by slugging four homers in Cincinnati's 13-1 win over the Cardinals on Tuesday, earning himself a permanent place in baseball lore.
This story originally appeared on FoxSports.com
Here are eight things to know about Scooter Gennett, who was a relatively anonymous major leaguer before Tuesday night, when he became the first player in the Cincinnati Reds' 135-year history to hit four home runs in a game and the first player in MLB history with five hits, four homers and 10 RBIs in a game.
1. Gennett, 27, was born in Cincinnati, but his family moved to Sarasota, Fla., when he was 10 so he could play baseball year-round. He attended Sarasota High School, the same alma mater as Rockies infielder/outfielder Ian Desmond and Royals lefthander Eric Skoglund.
2. Gennett's actual first name is Ryan, but according to a New York Times story from 2014, he told a police officer as a youngster that his name was "Scooter"—after the Muppet—when his mother took him to a police station to scare him after he kept taking off his seat belt.
3. The Brewers drafted Gennett in the 16th round of the 2009 draft, 496th overall. Tim McIlvaine, the son of former Padres and Mets general manager Joe McIlvaine, was the scout who persuaded him to turn down a scholarship to Florida State and instead sign with the Brewers for $260,000.
Scooter Gennett's four-HR game is one of the most impressive—and improbable—ever
4. Gennett always showed an ability to hit. He batted .298 with a .750 OPS in 2,198 minor league plate appearances and .279 with a .738 OPS in three-plus seasons with the Brewers. In 2016 he hit a career-high 14 home runs.
5. The Angels and the Brewers had discussions several years back about a Gennett-for-C.J. Cron trade. Los Angeles needed a second baseman at the time, Milwaukee a first baseman. But the teams could not complete the deal.
6. The Brewers signed Gennett to a one-year, $2.525 million deal that avoided arbitration but cut him at the end of spring training, unwilling to pay that kind of money for a backup. Milwaukee, after acquiring Travis Shaw to play third base in a trade with the Red Sox last December, moved Jonathan Villar to second, which had been Gennett's spot. The Reds claimed Gennett on March 28.
7. Gennett started in leftfield on Tuesday night, a position he had not played before this season. His previous outfield experience consisted of one inning in right in 2014, but the Reds have used him this year at second, third, leftfield and rightfield.
8. Prior to last season, the lefthanded-hitting Gennett had a paltry .297 OPS in 119 plate appearances against lefthanded pitching. But he improved to .708 in 2016 and hit a go-ahead, two-run double off Cardinals lefty Kevin Siegrist on Monday night, foreshadowing his even greater heroics 24 hours later.
Four-Home Run Games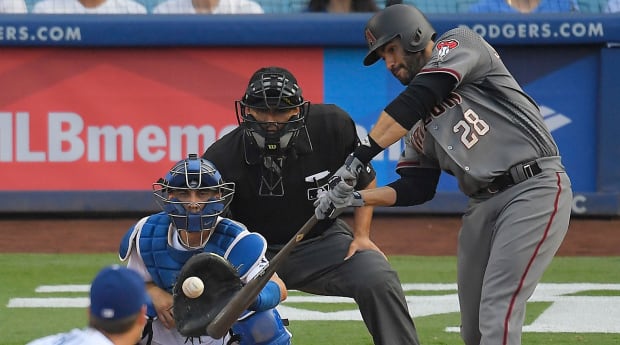 Ken Rosenthal is a senior writer for FoxSports.com and a reporter for MLB On Fox.